Oppo announced the all-new Oppo Enco X2, truly wireless earbuds with impressive specs and features.
The Enco X2 offers a pure listening experience with up to 40 hours of battery life, AAC audio decoding, IP54 water resistance, and advanced noise cancelation.
Stay connected on the go with the latest Bluetooth 5.0 technology and access your music, calls, and notifications with ease.
The Oppo Enco X2 TWS is a new pair of True Wireless Earbuds that boasts some impressive features.
Key Features of Oppo Enco X2
These earbuds are designed for those who want the best sound quality possible.
The earbuds feature a special hybrid driver system that uses both balanced armature and dynamic drivers.
This ensures that the earbuds produce clear, high-quality sound.
In addition, the earbuds are noise-canceling, so you can enjoy your music without being distracted by background noise.
The earbuds also come with a charging case, so you can keep them charged and ready to use.
Pros and Cons of Oppo Enco X2
Pros:
Outstanding audio quality.
Excellent noise cancellation.
Ultra-comfortable.
Decent battery life.
Cons:
Mediocre call quality.
Not the most stable fit.
Read Also:
Now let's discuss the detailed specifications of Oppo Enco X2
Design and Comfort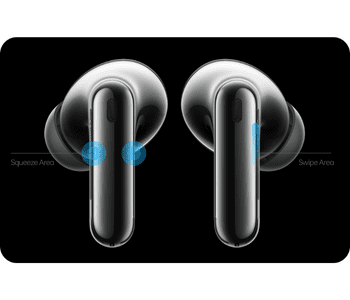 The Enco X2 are some of the most comfortable earbuds we've ever tested.
They weigh just 4 grams each and have memory foam ear tips that conform to your ear shape for a snug, secure fit.
We wore them for hours at a time with no discomfort whatsoever.
However, we did find that they didn't stay in our ears as well as some other earbuds we've tested (such as the Sony WF-1000XM3).
Active Noise Cancellation
The noise cancellation on the Enco X2 is also excellent. If you're looking for a pair of earbuds that will block out all external noise, these are definitely worth considering.
Thanks to the three microphones (two on the outer casing and one on the inner stems), the Enco X2 does a great job of reducing ambient noise without affecting your voice quality too much.
Active Noise Cancellation (ANC), helps to block out ambient noise.
These earbuds feature two noise-canceling microphones with a high signal-to-noise ratio, as well as a triple-core chip with a 50% performance boost.
The noise cancellation frequency can reach up to 4,000Hz to reduce human voices at a frequency range that traditional noise-canceling earbuds can't reach.
In other words, you'll be able to enjoy your music or podcasts without any interruptions from the outside world.
Driver Size
In terms of sound quality, the Oppo Enco X2 TWS offers Hi-Res Audio support and comes with 10mm dynamic drivers.
Optical Sensors
The earbuds also feature optical sensors that can detect when they're in your ears and automatically pause/play your music accordingly.
Antibacterial Anti-earwax Ear Tips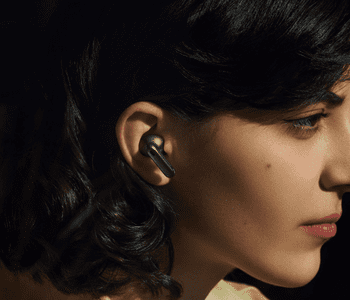 Oppo Enco X2 TWS are not only sleek and stylish but also feature advanced antibacterial technology.
The Enco X2 earbuds feature earwax prevention layers that keep the speaker outlets clear and easy to clean.
In addition, the inorganic ion antibacterial coatings inhibit bacteria growth, making them comfortable and safe to wear for extended periods of time.
Whether you're working out at the gym, or just enjoying your favorite tunes on the go, the Enco X2 earbuds are the perfect choice for a hassle-free listening experience.
Battery life
The earbuds have a claimed battery life of 5 hours (with ANC turned on) or 8 hours (with ANC turned off).
They also come with a charging case that offers an additional 40 hours of battery life.
Fast Charging
The Oppo Enco X2 TWS earbuds offer fast charging, allowing you to enjoy 2 hours of music playback on a 5-minute charge.
This feature is ideal for busy users who need to top up their earbuds quickly, or for those who often find themselves running low on battery power.
The Oppo Enco X2 TWS also comes with a charging case that offers up to 40 hours of battery life, making it the perfect choice for long days out and about.
Whether you're an everyday commuter or an occasional traveler, the Oppo Enco X2 TWS will keep you connected and entertained all day long.
Connectivity
With support for Qualcomm's aptX Adaptive codec, these earbuds can stream hi-res audio over Bluetooth 5.0.
This means you'll get lossless 24-bit/48kHz sound as long as your source device also supports aptX Adaptive.
Bass
They have a well-balanced sound signature with plenty of detail and clarity.
The bass is deep and powerful without overwhelming the mix, and the highs are crisp and articulate without sounding harsh or fatiguing.
Dolby Audio Binaural Recording
Oppo Enco X2 earbuds with Dolby binaural recording, the perfect way to record crystal clear, natural, and crisp audio.
With this unique feature, you can easily capture all the wonderful moments in your life exactly as they happened.
Whether you're recording a special event or just capturing everyday sounds, the Oppo Enco X2 TWS earbuds are sure to provide superior sound quality that you'll love.
Water Resistance
OPPO Enco X2 is the perfect wireless earbuds for people with an active lifestyle.
The earbuds are IP54 dust and water resistant, meaning you can use them during exercise without worrying about sweat or rain damage.
Functionality
With a single squeeze, you can play or pause your music, double squeeze for the next track, or squeeze and hold to turn noise cancellation on or off.
You can also slide your finger up or down on the earbuds to adjust the volume without taking out your phone.
Whether you're commuting or working out, these earbuds are perfect for any situation.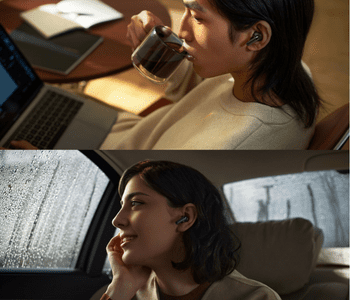 Dual Connections
Listen to your favorite tunes with the Oppo Enco X2 TWS earbuds.
These earbuds feature dual connections and easy switching, so you can connect to two devices at a time.
They also feature a comfortable fit, so you can wear them all day long.
Plus, with their noise-canceling design, you'll be able to enjoy your music without any distractions.
So you can always enjoy your music, movies, and more.
HeyMelody App
The Enco X2 features the all-new HeyMelody App, which gives you ultimate control over your listening experience.
With the App, you can customize your sound profiles, control Noise Cancellation modes, Enco Master EQ, Golden Sound, Dual Connection, Wear detection, and Update your earbuds' firmware wirelessly.
Google Fast Pair
Google Fast Pair makes it quick and easy to connect your Oppo Enco X2 TWS earbuds to your Android devices.
With just one tap, you can effortlessly establish a Bluetooth connection for a hassle-free listening experience.
Whether you're at the gym, on the go, or just relaxing at home, the Enco X2 provides high-quality sound that immerses you in your music.
Conclusion
The Oppo Enco X2 True Wireless Earbuds are a great option for those looking for quality sound and long battery life.
They're also affordable, which is always a bonus. Have you tried out the Oppo Enco X2 earbuds?
Let us know in the comments below what you think of them.