For those who keep making video calls or creating videos for YouTube, Asus has brought a new "Asus AI noise canceling Mic adapter".
Asus the Taiwan-based giant tech company has established new parameters in the world of laptops and gaming smartphones.
Read Also:
Asus ROG Phone 3: Price in India, Specifications & Review
Asus ZenFone 7 & ZenFone 7 Pro: With Triple Lens Flip Camera
Samsung Galaxy Buds Plus: Full Review & Price
In the sense of quality, the Asus's gadgets can be said trustworthy.
It is said that "Necessity is the mother of invention".
Asus also keeps manufacturing new gadgets to meet the need of users.
This time the company has paid attention to the need for noise cancellation in the mic.
While performing video calls, or creating video content for Youtube, etc, the unwanted outside noise is troublesome for us and we want to get rid of it. Keeping the issue in mind, Asus has created a noise cancellation mic adapter equipped with artificial intelligence.
This adapter is a digital-to-analog converter having a USB-C type connection on one side and a 3.5mm jack on the other side.
You can connect your smartphone or laptop with your mic via this device.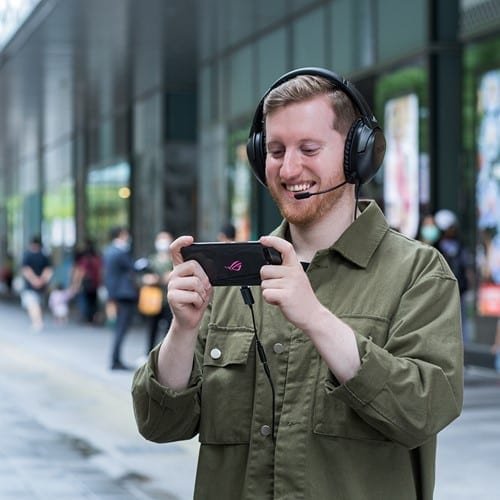 Multi-tasking adapter:
A good adapter:
Earlier smartphones used to have a 3.5mm jack to attach the headphones, earphones, mic, etc.
But now wireless earphones and earbuds are in trend.
However, the phone maker companies are providing an adapter along with the phones but it is an ordinary device.
In order to fulfill the need for a quality adapter, Asus has manufactured a unique headset adapter.
It is a sophisticated device equipped with artificial intelligence and advanced noise cancellation technology.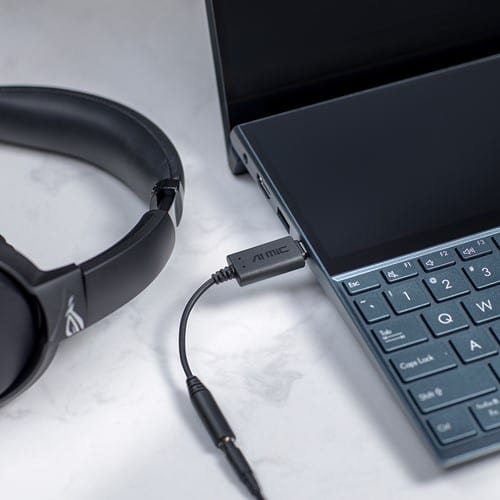 Noise Canceling Device :
Nowadays much attention is being paid to noise cancellation technology in earphones and earbuds.
Almost all big brands are offering a noise cancellation system in earbuds.
But Asus presents a noise cancellation feature even in the microphone via its smart adapter so that the listener can get your clear voice.
Asus' Hyper-Grounding technology prevents electromagnetic interference and delivers the crystal clear audio which is free from unwanted external noise.
Asus AI noise cancellation mic adapter is really a multitasking device.
It would be important to note here that this adapter does not turn your normal earphones into noise-canceling ones. It is particularly a mic adapter device.
Asus recommends using it with the headset having an inbuilt microphone.
What are the uses of the Asus AI noise-canceling mic adapter?
Asus AI noise cancellation Mic adapter may be of great use for you
in the following conditions: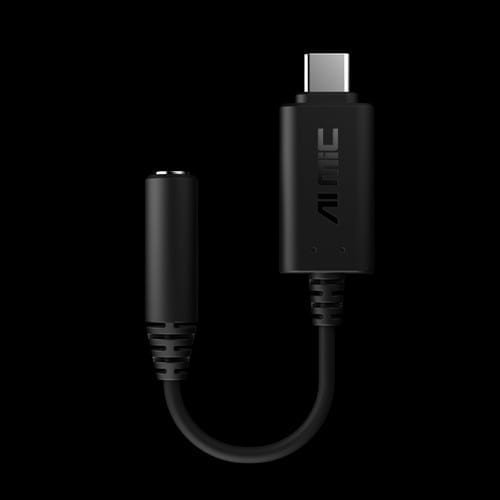 For professional Youtubers:
If you are a professional YouTuber and make audio and video content then you want to fill the best sound in your content. But often, unwanted noise enters your content, causing you to face problems.
Asus' new adapter has an AI-enabled noise cancellation system that eliminates unwanted noise before it enters your content and the content has only the pure voice that you want to present to the audience.
For video callers:
When you make video calls you need to deliver clear sound to the person on the other side. This device is helpful for you in this matter.
For Video Conference:
When you join a video conference, you may need this device to provide pure sound to the other participants.
For Gamers:
If you are playing multiplayer games and need to talk to your team members. You may need this adapter making noise free talk with them.
Benefits of Asus' mic adapter:
It is able to give high-quality audio output.
The adapter is ready to plug and play.
It is useful during video calls, video conferences, etc.
It can be an important tool for professional Youtubers.
Conclusion:
Asus AI noise cancellation Mic adapter is a good device to satisfy the need of providing clear sound by canceling the external noise.
If we talk about its price, it seems a little high.
But, you should remember that it is not a simple adapter. It is equipped with ultra-advanced features including artificial intelligence and noise cancellation technology.
In view of its advanced features, the price of it is reasonable.
Overall it is a useful device with quality features.