Don't you think buying an earbud that offers excellent sound, long-lasting battery life, and effective noise canceling is a prudent choice? Here is everything that you need to know about Apple AirPods Pro.
Do you want to get active noise canceling without wearing heavy cans?
Are you an iPhone owner? Are you searching for in-ear fit earbuds which are secure and provide you with a comfortable fit even while exercising? If the answers to these questions are YES, then why don't you look at a fantastic Apple product – the Apple AirPods Pro product? 
Well, if you do not know more about this product then do not worry. This blog will shed light on the pros, cons, specifications, and a few fantastic features of this product.
Read Also – Apple AirPods Max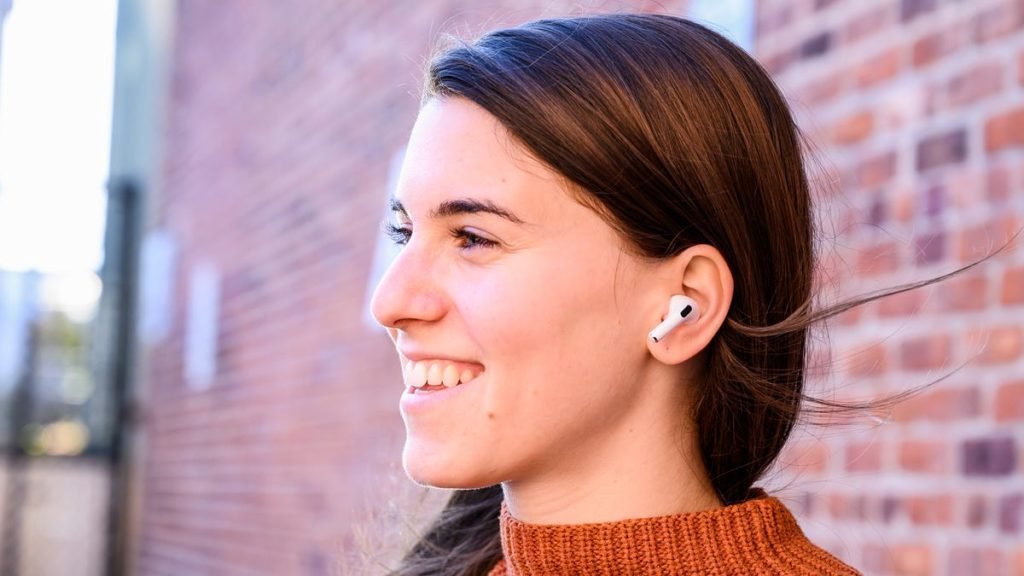 Therefore, without further ado, let us get started.
Let us first start with the pros and cons of this product.
| | |
| --- | --- |
| Reason to Buy | Reason Not to Buy |
| Clear and well-balanced sound | This product is available only in white color. |
| Safe and comfortable fit | It might get loose during workouts |
| Noise cancellation is strong | It does not contain any companion app. |
| Great sound | |
| Excellent for tracking your hearing health | |
Let's have a look at Apple AirPods Pro's Specifications in brief.
Apple AirPods Pro Key Specifications:
IPX4 rated for sweat and water resistance
H1 chip along with "Hey Siri'' support
Earphones come with three pairs of ear tips for a customizable fit
Bluetooth 5.0
Battery Life – 4.5 hours
Wireless
Noise Cancellation
Weight – 5.4 gram
Driver Type – Dynamic driver
Compatibility – Tablet, Mobile Phone, and Media Player
Price – $249
Now, let us go through some important features of this product.
Design:
Featuring first on the list is the design of the Apple AirPods Pro. Its design is different than the AirPods.
The primary and noticeable difference is the presence of silicone tips that helps in improving the fit.
Each bud of this product measures 30.9 * 21.8 * 24 mm, and its weight is 5.4 grams.
The wireless charging case incorporated measures 45.2 * 60.6 * 21.7 mm, and its weight is 45.6 grams.
Comfort:
Generally, when you wear AirPods, you will feel it is lightweight, but you will always be worried that it may fall out without a tight seal.
However, it is not the case with the Apple AirPods Pro.
In Apple AirPods Pro, Apple has included three silicone ear tips – Small, Medium, and Large.
But, how will you know which size will be perfect for you?
Don't worry. Your iPhone will tell you about it.
For that, go to iOS Settings Menu -> Bluetooth -> AirPods Tab -> Ear Tip Fit Test.
You can take a test run. When you hear a clear sound you will get a green seal notification. Thus you can choose the perfect ear tips for your ear.
Sound Quality:
The sound quality which you will get with this product will be excellent. All thanks to its in-built speaker technology and Adaptive EQ functionality.
Adaptive EQ will play low and mid-frequency music as per the shape of each person's ear, which offers its users a rich and immersive listening experience.
Price:
You can buy them by paying $249, which you might feel is costly, but it is worth the price in reality.
It is available at Apple Stores and various other retailers.
Noise Cancellation:
Noise cancellation is considered a great feature in earphones.
Actually, when we are on call or listening to music, the ambient noise is much disturbing to us.
To deal with this problem the earphone manufacturing companies are now packing the premium devices with noise-canceling arrangements.
There are two types of noise-cancellation features in an earphone set:
Active Noise Cancellation
Passive Noise Cancellation
As far as AirPods Pro is concerned, Active Noise Cancelling is one of their most important features.
To do that, AirPods Pro uses in-built microphones. They check for the wavelength of ambient noise around you and generate the wavelength according to that to destroy it. Even it dumbs down external sound.
As well as the AirPods are shaped in such a way that they fit in the ear perfectly to prohibit the ambient noise from entering the ears.
Thus they are perfect for passive noise cancellation.
Should you Buy Apple AirPods Pro?
If you are wondering whether you should buy the Apple AirPods Pro or not, here is a summary of it.
You Should Purchase Apple AirPods Pro If…
You are tired of the fit and comfort of the original AirPods.
You are a proud iPhone owner and looking for great sound quality along with convenience.
Your email wants to take better care of your ears.
You Should Not Purchase Apple AirPods Pro If…
You are on a tight budget.
You are fitness enthusiastic.
You are not a great fan of true wireless headphones.
Price:
Conclusion
Apple is considered a high-ranked prestigious brand across the world. It is known for presenting superb quality gadgets.
Airpods Pro is also an excellent product of Apple.
It has an attractive design, perfect fit, strong noise cancellation system, quality sound, and various advanced features.
In all, if you value quality products, Airpods Pro is of course a perfect choice for you.