Yamaha TW-E5B is the new earbuds presented by The Yamaha the famous Japan-based company.
As soon as we hear the name Yamaha, we think of Yamaha bikes. Yamaha is known for manufacturing stylish and powerful bikes. Its bikes are very popular with youngsters.
Few people would be aware that Yamaha originally started as a company making musical instruments. Japan-based company Yamaha made its first product piano since its inception in the year 1887.
Currently, Yamaha makes a variety of musical instruments such as pianos, guitars, drums, speakers, sound bars, etc.
Yamaha introduced the new earbuds TW-E5B in the range of their musical instruments.
The company claims that the new E5B earbuds are equipped with advanced technology. They provide extraordinary detailed and clear sound with a listening care feature.
The user can make crystal clear calls with advanced mic design and Qualcomm clear voice capture (CVC) feature. The battery is also powerful enough with a total of 30 hours of backup.
Let us now take a detailed review of the earbuds.
Read Also
Sony WF-1000XM4 Premium Quality Earbuds
Razer Hammerhead True Wireless Pro TWS
Yamaha TW-E5B: Specifications
Design:
The Yamaha TW-E5B earbuds were designed with comfort in mind. This design also allows for easy and intuitive control over your music, making it easy to adjust volume, switch tracks, and take calls without missing a beat.
In addition, the TW-E5B earbuds come with 3 sets of ear tips (S/M/L) to ensure a perfect fit for all users. Whether you're on the go or just relaxing at home, the Yamaha TW-E5B earbuds are designed to provide superior comfort and an immersive listening experience.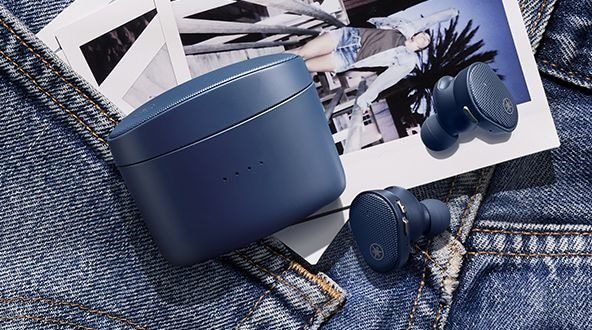 Drivers Size: 7mm
The driver is the loudspeaker inside the earbud that emits sound. The size of the driver is important because it directly impacts the quality of the sound. A larger driver can reproduce lower frequencies with more power, making for a richer, fuller sound.
On the other hand, a smaller driver is more efficient and can produce higher frequencies more accurately.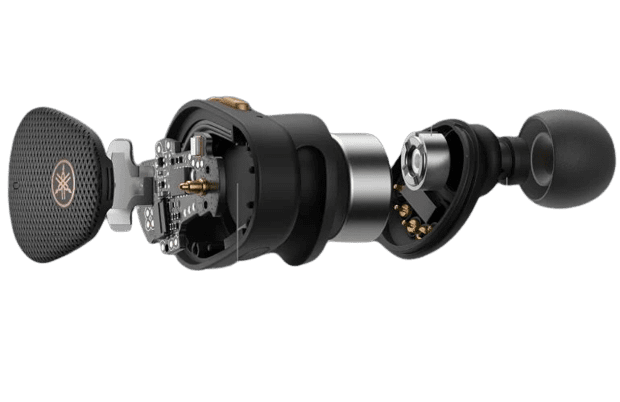 As a result, many people prefer earbuds with larger drivers for music listening, as they tend to provide a more well-rounded sound. However, smaller drivers are often preferred for phone calls and other voice applications, as they can provide clearer audio.
The Yamaha TW-E5B Earbuds have a dynamic 7mm driver size, providing clear, high-quality sound for all your audio needs. When you are making a call or listening to music, the TW-E5Bs deliver excellent audio.
Frequency Response:
The frequency response of an earbud is important because it determines the range of sounds that the earbud can reproduce.
The human ear can hear sounds in the range of 20Hz to 20000 Hz, so an earbud with a frequency response of 20Hz to 20000 Hz will be able to reproduce all the sounds that the human ear can hear.
However, an earbud with a frequency response below 20Hz will not be able to reproduce the lowest frequencies that the human ear can hear, and an earbud with a frequency response above 20000 Hz will not be able to reproduce the highest frequencies that the human ear can hear.
The Yamaha TW-E5B Earbuds have a frequency response of 20Hz to 20000 Hz, so they can reproduce all the sounds that the human ear can hear.
Ambient Sound:
The Yamaha TW-E5B Earbuds let you hear both music and the world around you, thanks to its innovative Ambient Sound Mode. This is a great feature for those who want to stay aware of their surroundings while still enjoying their music.
The earbuds use two microphones to pick up sound from both inside and outside of your ear. This allows you to hear both the music and the ambient noise around you.
You can even adjust the level of ambient sound that you want to hear so that you can stay tuned in to your surroundings without being distracted by them.
Whether you're running outdoors or commuting on public transportation, the Yamaha TW-E5B Earbuds with Ambient Sound Mode will help you stay safe and connected to the world around you.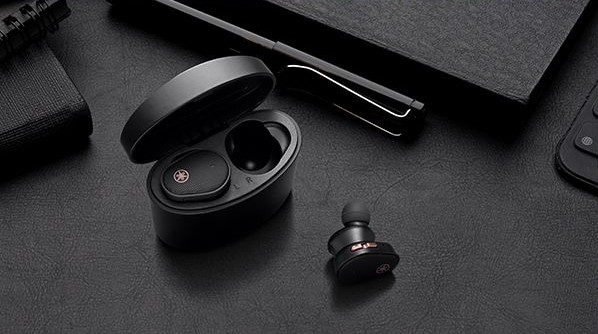 Water and Sweat Resistance:
Whether you're working out at the gym or just trying to get through your commute, earbuds are a great way to enjoy your music on the go.
But when you're sweating and moving around, it's important to choose a pair that can withstand the elements. That's where Yamaha TW-E5B earbuds come in.
These earbuds are designed for active users, with a water and sweat resistance rating of IPX5. That means they can handle even the most intense workouts without skipping a beat.
So if you're looking for a pair of earbuds that can keep up with your active lifestyle, look no further than the Yamaha TW-E5B.
Bluetooth:
V5.2, range 32.8 feet.
Strong Connectivity with Qualcomm Mirroring technology:
Yamaha TW-E5B provides you the strong, rapid, and seamless connectivity as it is equipped with the next Mirroring technology.
With mirroring technology, only one of the two earbuds makes a Bluetooth connection with the smartphone. While the other earbud mirrors the connected earbud.
Even if the user removes the connected earbud, the other one will assume the connection without interruption.
Thus, users find stable connectivity without any interruption.
Fast Charging:
TW-E5B features fast charging that allows you to fully charge the earbuds in 1.5 hours, and with the case in 2.5 hours.
If you are in a hurry, you can charge for just 10 minutes, It will give you 1 hour of playtime. This is ideal for busy people who don't have time to wait around for their earbuds to charge fully.
Battery backup:
The Yamaha TW-E5B is a reliable and versatile Bluetooth speaker that provides great sound quality and long-lasting battery life. This speaker is perfect for any occasion, whether you're hosting a party or just relaxing at home.
It gives a playtime of 8.5 hours after a single charge. Additionally, earbuds can be charged with their case. It gives additional playtime of 21.5 hours.
Thus with a total of 30 hours of battery life, you can be sure that your music will always be playing.
Gaming Mode:
The Yamaha TW-E5B is a great gaming mode that can reduce the lag between sound and video when you are watching videos or playing games. It also has many other features that can help improve your gaming experience.
For example, it can help to improve the audio quality of your games, and it can also help to reduce the amount of background noise.
In addition, the Yamaha TW-E5B also has a built-in equalizer that can help to customize the sound of your games.
Overall, the Yamaha TW-E5B is a great gaming mode that can help to improve your gaming experience.
Colors:
Conclusion:
The Yamaha TW-E5B is a great addition to any workout routine.
Though the absence of an active noise cancellation feature is a bit disappointing. But they are designed in such a way that they completely isolate the ears. This prevents ambient noise from reaching the user's ears.
However, the new earbuds are equipped with various advanced features, such as water and sweat resistance, fast charging, gaming mode, and long battery life. These features make them a top contender in the market.
Additionally, its frequency response of 20Hz to 20000 Hz ensures that you get the best sound quality possible while you're breaking a sweat.
Yamaha is a reputed brand known for offering quality products. Yamaha has a brand value of its own. It has its own huge market share. A large number of people like Yamaha's products.
The TW-E5B offered by Yamaha are also quality earbuds with advanced features.
If you are planning to buy quality earbuds then Yamaha TW-E5B can be a good choice for you.
Be sure to check out this product today!