Are you planning to buy an electric car but don't know where to look? Here is a list of the top 7 upcoming electric cars in India.
Cars have proven to be the most luxurious means of transport. Traveling on private transport like a bus or train can be a highly daunting experience and cost a lot of time.
Apart from being a means of personal locomotion, cars also are a symbol of status. In India, owning a personal four-wheeler is like owning a fortune be it a luxury or a non-luxury one.
Nevertheless, keeping aside all the points favoring the use of a car as a luxurious commodity and personal conveyance, many of us are still reluctant to buy one. Environmental concerns are one of the most oft-quoted issues with using cars.
Electrical cars are regarded as the best as they are eco-friendly since they do not use combustible fuel like petrol or diesel. They need to be charged on electricity and run for kilometers without running out of power.
Read Also
2021 Ford Mustang Mach E: Smart and Luxurious Electric Car
AUDI E-TRON SUV: Powerful electric car with special features.
The below list comprises some of the upcoming cars in India, in 2021 that run on electricity.
Here is the list of Upcoming Electric Cars in India:
Audi e-Tron: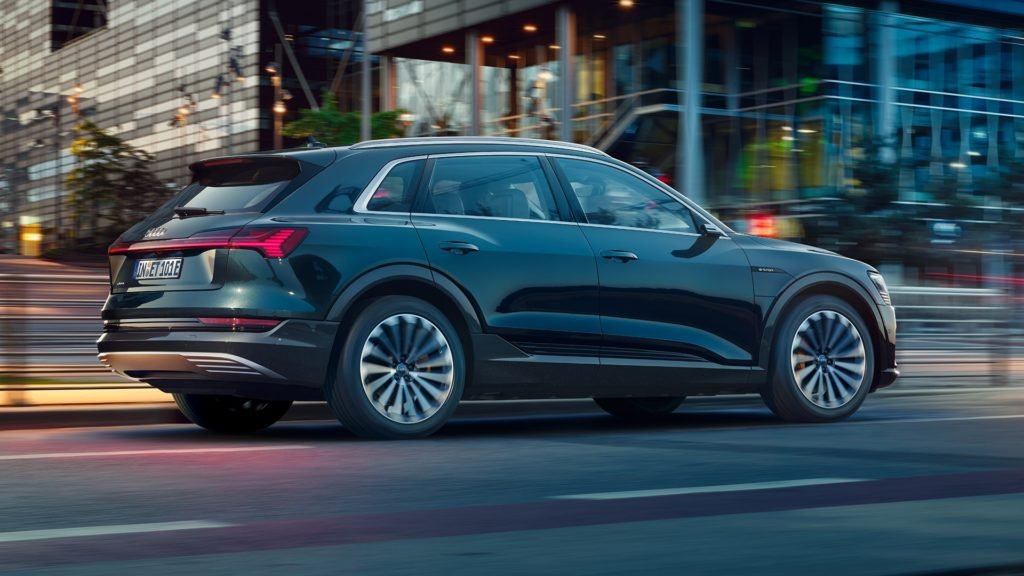 When it comes to driving with comfort, not a lot of cars make it to the list. Besides, there are even fewer models that run on electricity meeting this standard.
Audi e-Tron gives you a superior experience of powerful driving. The driver's compartment is spacious such that it allows you to place the legs comfortably stretched. With a great deal of road nimbleness, you can drive it off the concrete road, which adds another dimension to the car's capability.
The price point says it all. You can get the best of each standard that the electric car falls in.
Specifications:
Combined Power consumption: 24.3–21.4 kWh/100km (NEDC); 26.1–21.7 kWh/100km
Expected launch: June 2021
Combined CO₂ emissions: 0 g/km
Battery capacity: 95 kWh
Seating capacity: 5
Distance per charge: 472 Km
Tentative price: 1.5 crores onwards
Tata Tigor EV:
For a low price point, we have some options to choose from; however, not all of them stand their ground so firmly on the list. Tata Tigor EV is an exception. The 5 seaters electric car with automatic gear shifting is vibrant and feature-rich in many aspects.
Available in four variants, namely Tata Tigor EV XE, Tata Tigor EV XM, Tata Tigor EV XZ Plus, and Tata Tigor EV Plus Dual Tone, the model offers a whole plethora of options to its would-be customers.
Specifications:
Seating capacity: 5
12 lakhs to 13.15 lakhs
Distance per charge: 306 Km
Expected launch: Available
Battery capacity: 16.2 kWh
Combined CO₂ emissions: 0 g/km
Haima Bird Electric EV1:
The Santa Monica, California-based firm, Bird has sought to make its electric car available on the Indian market.
With a tie-up with Haima, a Chinese brand, the American transportation firm has really understood Indian needs and expectations of personal locomotion. The EV1, hence, assures safety, great value for money, and technological inclusion along with eco-friendliness, which is its primary purpose.
The hatchback design along with entry-level price points are the biggest points of attraction in the car.
Specifications:
Seating capacity: 5
10 lakhs+
Distance per charge: 200 or 300 Km, depending on the battery choice
Expected launch: Available
Battery capacity: 20.5 kWh or 28.5 kWh
Combined CO₂ emissions: 0 g/km
Hyundai Kona Electric:

The Japanese giant car manufacturer has been making electric cars for a while now. However, it is recently sought to make one model that suits the Indian roads and market.
Along with the feature-rich car model, Hyundai has done its best to keep the price competitive. The Kona Electric model packs specifications that are undoubtedly great. Although a little pricey when compared with the starting price point in electric cars, users of the car can rest assured of the feeling of driving a beast.
Specifications:
Seating capacity: 5
23.75 lakhs+
Distance per charge: 452 Km with a single charge
Expected launch: August of 2021
Battery capacity: 39.2 kWh
Combined CO₂ emissions: 0 g/km
Volvo XC40 Recharge:
The purely electric car offered by Volvo is the first of its type manufactured by the Swedish car manufacturer. Its eye-catching design is its center of attraction. The brand has ensured to continue its legacy of the XC40 lineage albeit making it completely electric.
As the gossip has it that the brand wants to equal its sales of electric cars with those of non-renewable fuel-run cars by 2025, the company has been aggressively pushing its electric-car-for-all agenda in its global market.
Specifications:
Seating capacity: 5
60 lakhs+
Distance per charge: 418 Km on a single charge
Expected launch: October 2021
Battery capacity: 78 kWh
Combined CO₂ emissions: 0 g/km
Maruti WagonR Electric:
While talking about cars that are indigenous to the Indian land, Tata is not the only option. Maruti, a formidable car manufacturer is completely Indian, i.e. in its understanding of the need of potential customers, the market, and hardware suitability with the road.
It can be the most sought-after option due to its lowest price point on the list. However, do not underestimate its performance; the elec-terrific car houses a great power-producing capability, thanks to its competitive hardware.
Specifications:
Seating capacity: 5
8 lakhs+
Distance per charge: 200 Km on a single charge
Expected launch: September 2021
Battery capacity: 50 kWh
Combined CO₂ emissions: 0 g/km
Mahindra eKUV100:
A yet another India's own car brand, Mahindra has spread its charm in the Indian vehicle market with its electric cars.
After the REVAi line of business, the respectable Indian car manufacturer has vouched to continue offering its electrifying experience in the form of eKUV100, which is expected to run the Indian roads in December of 2021.
The price also has been kept in accordance with the Indian market.
Specifications:
Seating capacity: 5
8.25 lakhs+
Distance per charge: 200 Km on a single charge
Expected launch: December 2021
Battery capacity: 40 kWh
Combined CO₂ emissions: 0 g/km
Epilogue:
With this, we come to an end of the list. We hope that you have found the right information on the expected launch of electric cars at the year-end. With the points for comparison, finally, you can take a decision on which suits you the best.