It is crucial to have the appropriate tools in the fast-changing world of productivity and technology.
The demand for solutions that boost productivity and enable effective multitasking is rising as our personal and professional lives become more digital.
The ultra-wide display is one such product that has skyrocketed in popularity in recent years. The way we work has been entirely reimagined by ultra-wide monitors, which provide a large workspace for multitasking and efficiency.
We'll look at how these monitors alter the workplace by offering more screen space, boosting workflow effectiveness, and raising productivity in this post.
The Evolution of Monitors
It's important to comprehend the history of monitor technology before exploring the advantages of ultra-wide monitors. Bulky CRT monitors with little screen space and quality were the norm in the early days of computing.
As technology advanced, LCD monitors became commonplace, bringing better image clarity and more compact designs.
Users weren't able to fully capitalize on multitasking and productivity, though, until the advent of ultra-wide monitors. Unlike most regular monitors and televisions, which have a traditional 16:9 aspect ratio, these displays have a larger aspect ratio, usually 21:9 or 32:9.
Choosing the Right Ultra-Wide Monitor
When considering an ultra-wide monitor for productivity and multitasking, several factors should guide your decision:
Screen Size
Resolution
Refresh Rate
Panel Type
Connectivity
Curved or Flat
Price
The Best Ultrawide Monitors for 2023
Samsung Odyssey OLED G9/G95SC S49CG95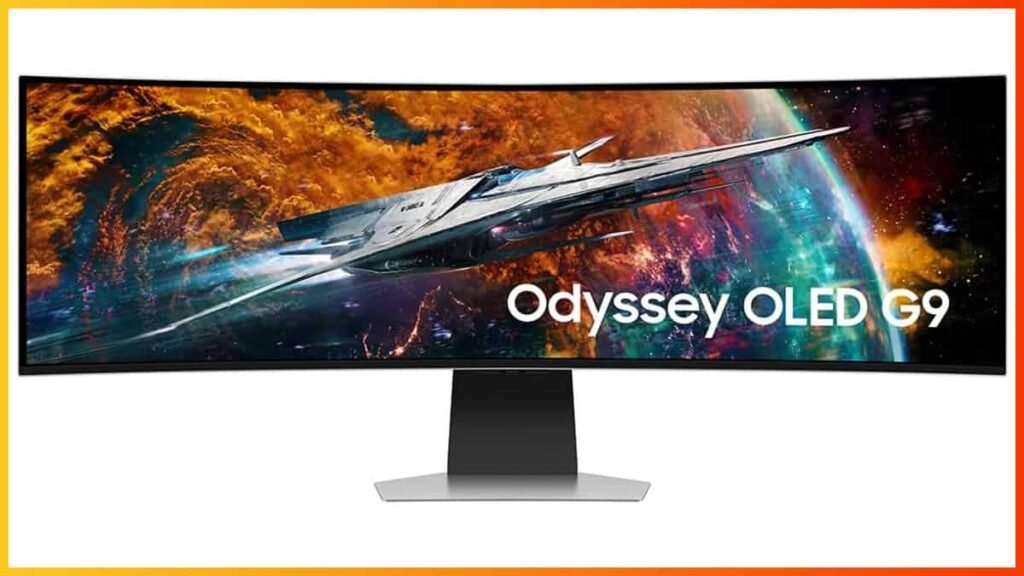 Check out the Samsung Odyssey OLED G9/G95SC S49CG95 if you enjoy the super ultrawide format of the Samsung Odyssey Neo G9 and desire the superb picture quality and amazing gaming performance of the Dell Alienware AW3423DW.
Its 240Hz refresh rate, which is higher than Dell's, is its lone benefit, making it ideal for gamers who want to play games at high refresh rates and have high-end graphics cards that support compression.
Dell Alienware AW3423DW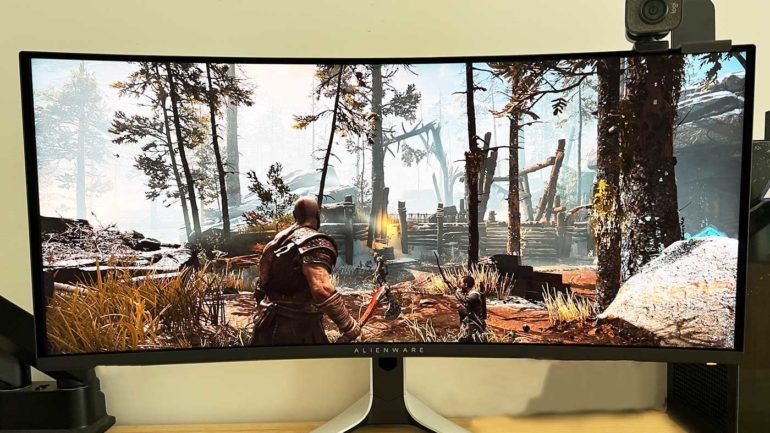 The Dell Alienware AW3423DW's 34.2-inch Curved WQHD (3440 x 1440) QD-OLED curved display raises the bar for user experience. It has a 178-degree viewing angle and an 1800R curvature for an immersive viewing experience.
The monitor's excellent 175Hz refresh rate has a customizable refresh rate for best performance. The anti-reflective screen coating display makes the smooth, continuous graphics even more bright, with a 0.1ms grey-to-grey reaction time.
Gigabyte M34WQ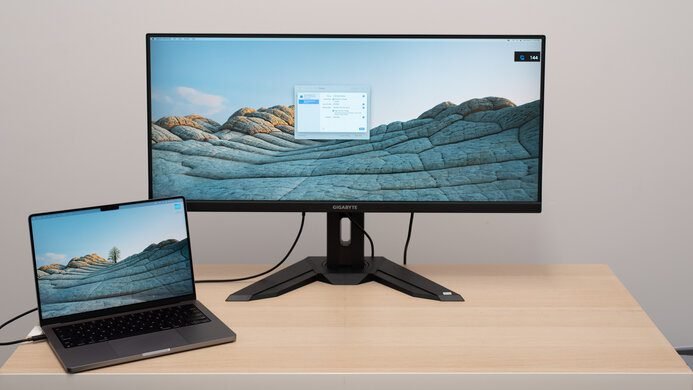 Buying an affordable ultrawide display like the Gigabyte M34WQ can help you save a lot of money if you're looking for an ultrawide monitor on a tight budget.
Although it isn't as fantastic for gaming as the Dell Alienware AW3423DW or for work as the LG 40WP95C-W, it's still excellent for both.
Similar to the Dell, it has a 34-inch screen with a 3440×1440 resolution, but it employs a different type of panel with higher text clarity and poses less of a risk of irreversible burn-in, making it suitable for both work and pleasure.
Philips Brilliance 499P9H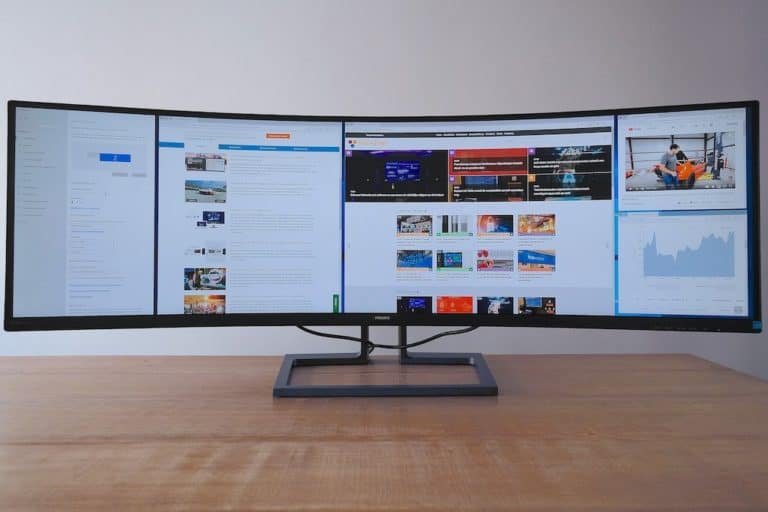 With its 48.8-inch VA LCD curved display, the Philips Brilliance 499P9H monitor provides a wide, immersive viewing experience. It provides clear, lively graphics thanks to a resolution of 5120 x 1440 and W-LED backlight display technology.
A crisp image is guaranteed from any angle thanks to the 178-degree viewing angle, and fast-moving images are transitioned smoothly because of the 70Hz refresh rate and customizable refresh rate.
The Benefits of Ultra-Wide Monitors
Improved Workflow
Your workflow can be greatly streamlined by using ultra-wide monitors. Having a larger canvas enables you to see more of your project at once, regardless of whether you're a content writer, designer, programmer, or data analyst.
This implies less time spent browsing or adjusting the zoom level, which leads to a more efficient and effective work process.
Reduced Clutter
By removing the need for several monitors, which call for additional cables and power sources, ultra-wide monitors aid in the reduction of desktop clutter. Your focus may be improved and visual distractions may be decreased in this cleaner, more organized workspace.
Better Ergonomics
Better ergonomics can also be achieved with ultra-wide monitors. Because of the bigger screen's promotion of more natural side-to-side eye movement, switching between numerous monitors lessens the pressure on the neck and eyes.
Enhanced Multitasking
Working with numerous programs at once without the need for additional displays is one of the most important benefits of ultra-wide monitors.
It is simpler to refer to papers, compare data, or handle many jobs at once when you have multiple windows open side by side on the enlarged horizontal screen. This fluid multitasking can result in significant time savings and improved productivity.
Enhanced Gaming Experience
Ultra-wide monitors are designed with productivity in mind, but they also have gaming in mind. With a larger field of vision and the ability to see more of the game world without the distraction of bezels, these monitors provide a more immersive gaming experience.
Many ultra-wide monitors have fast refresh rates and minimal input lag, both of which are advantageous to gamers.
Customizable Layouts
Many ultra-wide monitors are equipped with software that lets you alter the screen layout, allowing you to divide the screen into separate areas for different purposes.
This tool makes it easier for you to customize your workspace to meet your unique requirements, whether they involve video editing, coding, or data research.
Cinematic Viewing
The immersive cinematic experience offered by ultra-wide monitors extends beyond duties linked to work. These screens provide a more expansive and delightful viewing experience, boosting your leisure time when you watch films and Television episodes on them.
Conclusion
Ultra-wide monitors have become essential tools for professionals in a time when productivity and efficiency are key considerations across a range of industries.
They are valuable in today's fast-paced environment because they make multitasking easier, streamline workflows, and boost productivity overall.
Ultra-wide monitors have something to offer everyone, whether you're a creative worker looking for a roomy canvas to bring your ideas to life, a data analyst looking for a better way to manage large datasets, or just someone who wants a more immersive entertainment experience.
To stay up-to-date with the latest technology updates, follow us on Instagram, Facebook & Twitter, or join our Telegram Group.