Sony WH-1000XM5 is a new awesome headphone presented by Sony. It is the successor to the popular Sony WH-1000XM4.
WH-1000XM5 comes with better features and a higher price tag in comparison to its predecessor.
You must be well aware that Sony is one of the leading companies in the world in the field of electronic technology.
Sony has been competing with the audio giant Bose for a long time in terms of providing high-end audio gadgets like earbuds, and headphones.
Although Apple has also joined this race for some time now.
If we talk about audio equipment, then Sony has introduced great earphones, earbuds, and headphones one after the other for the users.
In this sequence, now Sony's latest offering is the Sony WH-1000XM 5, which is a great headphone set.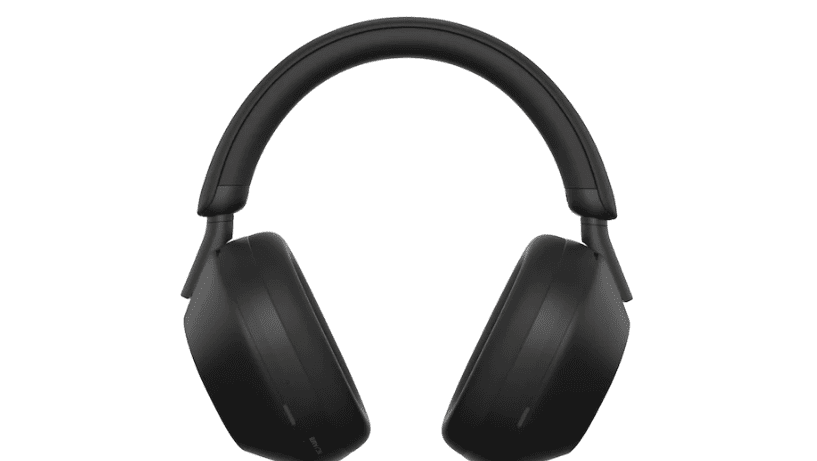 Sony WH-1000XM5: Why should you buy this headphone set?
Well, nowadays many users are choosing to buy earbuds. But there is no dearth of headphone lovers either.
Actually, headphones have their own characteristics, due to which their market value has never decreased.
Headphones are much larger in size than earbuds. Nowadays new technologies are coming in the field of audio. Because of this many components have to be installed in audio gadgets.
For example, for some time now, additional microphones are being fitted in audio equipment to provide Active Noise Cancellation technology. For which space is needed in the audio device?
If there is a need to fit many components in the device to improve the audio quality, then headphones are more suitable due to their spaciousness.
Although the earbuds are small in size, they are also equipped with all the technology. But it is easy and convenient to fit a large number of components in headphones.
For example, if we talk about the drivers, then large-size drivers can be provided in sufficient numbers in the headphones. Due to this, there is an improvement in sound quality.
Additionally, since the headphones are worn over the ears, they are kept at a sufficient distance from the eardrums. This reduces the chances of damage to the eardrums by loud audio.
So if you have planned to get a headphone set then it is very good. Now the question is why should we buy Sony WH-1000XM5? So in answer to this question I would like to say that Sony is a reputed brand.
It is known for new innovations in technology. Its competition in the field of audio is only the world's giant company Bose, which is considered to be the champion of audio.
Considering the brand value of Sony and the great quality of its previous audio devices, you can consider buying this newly introduced headphone set.
Read Also:
Best Wireless Headphones Under ₹30,000
What should you look for when buying a new headphone set?
Nowadays the expectations of the users have increased a lot. Users use headphones for different purposes. For example, for calling, listening to music, watching movies, gaming, etc.
Therefore, audio device makers have also been presenting devices with extremely sophisticated technology keeping in mind the expectations of the users.
That's why I often advise people to pay attention to the following features while buying a headphone set.
Design
Drivers size
Noise cancellation technology
Frequency response
Battery backup
Other advanced features
Now let us review the Sony WH-1000XM5 on the basis of the above-mentioned features.
What are the specifications of the Sony WH-1000XM5?
Design:
Sony WH-1000XM5 is a headphone set handsome in look.
Its ear cups are made of high-quality material. They are well cushioned with quality foam. They are comfortable even worn for a long session.
The ear cups are also having control buttons and a touch control panel. This allows you to have all control of headphones at your fingertips.
You can play and pause music, skip tracks, and control volume through the touch panel given on the right side ear cup.
Two buttons are given on the left side ear cup of the headphones. One of which is the power button while the other one is the active noise cancellation mode button.
What is the size of the Drivers in the Sony WH-1000XM5?
The driver is one of the main components of an audio device.
It converts the electric current into sound. In fact, the sound we hear is generated by the driver.
The larger driver is able to generate more sound.
So the size of drivers in an audio device is a considerable factor.
It is important to mention here that the size of the driver is not the only factor ensuring the
quality of sound.
Actually, there are many things that work together to produce natural and quality audio.
Generally, the size of drivers in headphones lies between 20mm to 50mm.
As far as Sony WH-1000XM5 is concerned, it has a driver of 30mm.
Although the size of drivers equipped in its predecessor was 40mm.
Thus we see that the drivers in the newly presented headphones are smaller in comparison to previous headphones.
But Sony claims that it has improved the quality of frequency response in WH-1000XM5 in order to provide more natural sound.
I have already mentioned above that the size of drivers is not the only factor responsible for good sound.
Since the drivers' size may lie between 20mm to 50mm in a headphone set.
So the drivers of 30mm provided in Sony WH-1000XM5 headphones are sufficient to deliver quality sound.
Noise Cancellation Technology:
When you are calling, listening to music, or watching a video, and there is a noise nearby you, this unwanted noise disturbs you a lot.
The audio device makers have paid attention to this problem.
Now the headphones and earbuds have been equipped with noise cancellation technology.
There are two types of noise cancellation technology.
Active Noise Cancellation (ANC).
Passive Noise Cancellation.
Active Noise Cancellation:
Additional microphones are embedded in the headphones for active noise cancellation. These mics detect the frequency of ambient noise and produce sound waves of the same frequency.
Thus they cancel out ambient noise before it reaches your ears.
By the way, most of the headphones and earbuds these days are coming with an active noise cancellation feature. But it is not necessary that this feature is quality in all.
If we talk about Sony WH-1000XM5, then the active noise cancellation feature in it is of very high quality.
In fact, turning its ANC on gives complete freedom from outside noise. The user is completely isolated from the outside world and lost in his own world.
A total of 8 microphones have been provided in the new headphone set including two QN1 audio processors. Sony claims that the new headphones have a great focus on sound quality.
Passive Noise Cancellation:
For passive noise cancellation, headphones or earbuds are designed in such a way that they completely cover the ears of the users. Due to this, the ambient noise does not reach the ears of the user and the user remains free from unwanted noise.
The ear cups of Sony WH-1000XM5 are designed so decently that they cover the ears of the user completely and make them air-tight.
Thus the unwanted ambient noise can not reach inside the ears.
Thus we see that in these headphones from Sony, elaborate arrangements have been made to keep the user free from unwanted ambient noise.
In these, a very high level of active noise cancellation technology has been made available. Also, their ear cups are well designed for passive noise cancellation.
Ambient Sound Mode:
When you are on ANC mode, the system keeps you free from ambient noise, and you are lost in your own world.
But sometimes such a situation also comes that you want to be in touch with the outside world as well. Like when you are crossing the street or want to listen to someone.
So in such a situation, you can switch from ANC mode to ambient mode.
You can select ANC on, ANC off, or ambient sound mode through the ANC mode button given on your left side ear cup.
What is the Adaptive Sound Control System in WH-1000XM5?
The new WH-1000XM5 headphones are equipped with a smart adaptive sound control feature.
This smart feature senses where you are and what you are doing.
It senses your surroundings and adjusts the settings of the headphones according to the ambient noise.
Thus it provides the ideal listening atmosphere for you.
It understands your behavior.
It also remembers the places you frequently visit like your favorite cafe or mall etc.
So when you go there, it adjusts the sound according to the atmosphere there. It gives you a better listening experience.
Frequency Response:
We know that the human ears are able to hear the sounds of frequencies lying between 20 Hz to 20000 Hz only.
A standard audio device should have the capacity of reproducing the sound waves of frequencies lying between 20 Hz to 20000 Hz.
So that all the sound waves produced by the audio source may reach the user. The capacity of an audio device to reproduce the sound waves is called its
Sony WH-1000XM5 has a frequency response from 20 Hz to 20000 Hz.
It means it can reproduce the full range of audible sounds. This is an ideal condition.
Battery Backup:
The battery backup of WH-1000XM5 is very good. It runs for 30 hours on a single charge.
Their charging system also works very fast.
If you are in a hurry, just charge them for 3 minutes with an optional USB-PD compatible AC adapter, then they will work for a full three hours.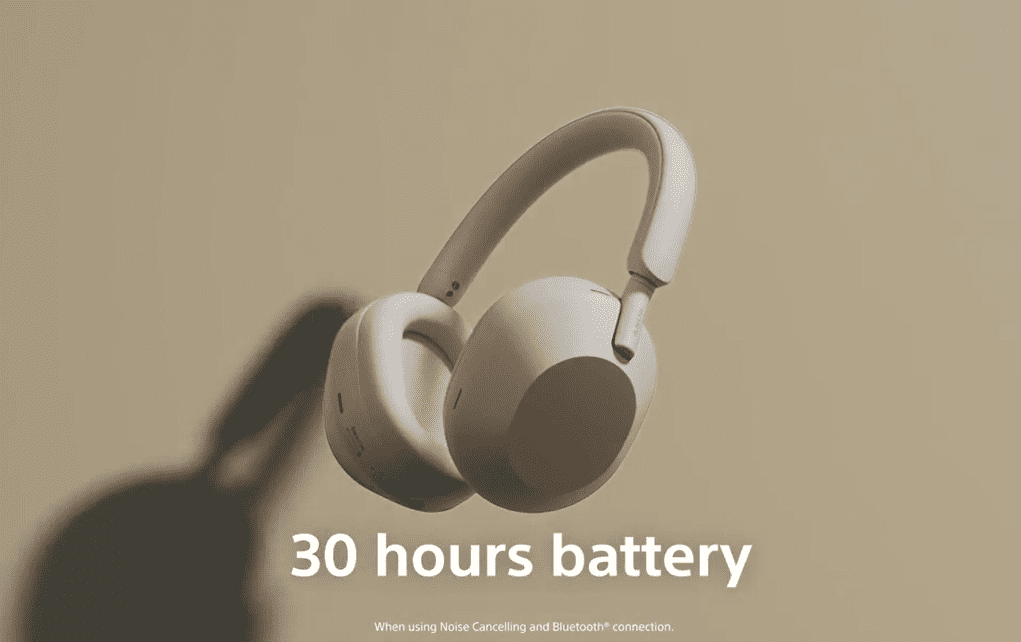 Charging Interface:
There is a USB-C charging cable for charging the device.
Well, if it ever happens that you don't have your USB-C cable with you and you can't charge the headphone set, don't worry.
A 3.5mm audio jack is available with the headphones. You can use it for wired connectivity and run your work.
Read Also: Best Wireless Headphones Under ₹35000
Connectivity:
The headphones come with Bluetooth v5.2 with AAC, SBC, LDAC, and wired connectivity support.
Sony WH-1000XM5: What Are Other Advanced Features?
The new headphones are equipped with many advanced features that provide you with a lot of facilities along with a better audio experience.
BRAVIA XR and 360 Spatial Sound Experience:
In Sony BRAVIA XR TVs users get a real multidimensional sound experience.
WH-1000XM5 is able to provide you the enjoyment of the Dolby Atmos experience with BRAVIA XR.
Sony's WLA-NS7 wireless transmitter works with some selected Sony headphones. It creates atmospheric personal cinema and provides you with a whole new listening experience.
The new Sony WH-1000XM5 is compatible with WLA-NS7.
The WH-1000XM5 is able to provide you 360 degree Dolby Atmos cinematic surround sound with BRAVIA XR TVs and wireless WLA-NS7.
High Resolution-Audio with and without wire:
WH-1000XM5 supports high-resolution audio with wire or without wire. Actually, it is supported by LDAC.
Sony's industry-adopted audio coding technology LDAC helps to transmit approximately three times more data in comparison to the conventional Bluetooth.
Voice Pickup Technology:
Sony's precise voice pickup technology has been used in the new headphones.
It uses four beam-forming microphones and AI-based noise reduction algorithms to accurately isolate your voice. Its wind noise reduction structure minimizes wind noise during your calls.
This technology ensures that wherever you are, you always hear the voice of the other person clearly and the person on the other side also hears your voice clearly.
Multiple Connection Facility:
Your headphones can be connected to two Bluetooth devices at a time. If you receive a call on one of these phones, your headphones recognize which phone the call is coming from. And your headphones connect you to that phone instantly.
Find your misplaced headphones with Fast Paring:
New Sony headphones support the Google Fast Pair feature.
If your headphones have been misplaced, then it lets you find them by a tone sound.
You may also know their last location with the help of Google's Find My Device app on your smartphone.
Easy Pairing With Laptops And Tablets:
The new headphones can be easily paired with desktops, laptops, and tablets containing windows 11 or Windows 10.
Personal Assistant:
Colour Options:
Sony Headphones Connect App Support:
Sony Headphones Connect App is a Sony App that helps the user to access all features and functionalities of Sony's headphones.
If your headphones are computable to the Sony Headphone Connect app, you should of course download this app to get the maximum output of the headphones.
By the way, the Sony WH-1000XM5 is compatible with the Sony Headphone Connect app. So you should get the support of this app.
Sony Headphones Connect App will be helpful to you in the optimization of various features like ANC, 360-degree Reality Audio, etc. It will let you adjust the bass level to get a better listening experience. Like this, it will help to get the better performance of various features of the headphones.
Is the water and sweat resistance feature available in WH-1000XM5?
Sony has not announced the IPX rating of the headphones.
It means they have no water resistance power.
Nowadays users use headphones and earbuds even while doing exercise in the gym. They also bring their devices to the sea beach etc to enjoy the music.
In such a position their device is feared to be wet from sweat or water.
So they need the device with water and sweat resistance features.
Nowadays almost all the earbuds and headphones are having a water resistance feature.
Sony WH-1000XM5 is expensive enough.
Though it is equipped with a number of quality features, the lack of water-resistant features in it disappoints a bit.
What Is In The Box?
You find the following things in the box:
Headphones set
A carrying case
3.5mm audio jack with 1.2m cable
USB charging cord
Eco-friendly Packaging:
It is noteworthy that the company claims that no plastic has been used in the packaging of WH-1000XM5.
According to the company, the product box is prepared with recycled and sustainable materials developed specially for Sony.
The company says that in WH-1000XM5 the recycled plastic materials from automobile parts have been used.
It is clear from this that Sony understands its responsibility toward protecting the environment. This is a very important thing in the present context.
Sony WH-1000XM5 Price:
Conclusion:
Sony WH-1000XM5 is a smart headphone set. It is equipped with the industry-leading high-quality active noise cancellation technology.
It had various advanced features including 360-degree spatial sound, high-resolution audio and voice pickup technology, etc.
If we come to the cost of these headphones set, it is of course a little expensive. But it is said that quality always demands a premium price.
Sony is a reputed name in world electronics. It is known for making innovations. It spends a lot on Research & Development and presents quality products in the market. That's why Sony's products are often expensive.
Sony WH-1000XM5 is a quality product. It is equipped with various quality specifications.
So if you want to buy a premium quality headphones set from a prestigious company, I think it will be a good deal for you to buy Sony WH-1000XM5.