Are you looking for impressive sound and performance? If yes, Sony WF-1000XM4 is the best noise-canceling earbuds. Read on to get its in-depth & honest review.
Sony WF-1000XM4 is a premium-level presentation of Sony. For some time now, since earbuds have come in trend, almost all the companies manufacturing electronic gadgets are offering earbuds.
There are earbuds available in the market in different price ranges for different segments of society.
In the presented article, we are talking about the Sony WF-1000XM4. This is Sony's premium quality audio device.
In fact, it is the successor to the Sony WF-1000XM3 that was launched last year. Although it is smaller in size than that. That is, it is its compact version.
Sony WF-1000XM4 Key Specifications:
| | |
| --- | --- |
| Water Resistance | IPX4 |
| Connectivity | Bluetooth 5.2, SBC, AAC, LDAC |
| Battery Life | 8 hours with ANC, up to 24 hours with the case |
| Earbud Weight | 7.3g |
| Driver Size | 6mm |
| Charging Case Weight | 40g |
| Case Charging | USB-C, Qi wireless charging |
| Frequency Response | 20 Hz – 20,000 Hz |
Key Features:
Industry-leading noise-cancellation
Integrated Processor V1
Minimized wind noise
6mm driver unit
Exceptional sound quality
Beamforming microphones
Excellent call quality
Easy pairing with your PC
Easy wireless charging with Qi technology
Smaller size
High-resolution audio without wires
Read Also:
Sony WF-H800 True Wireless Earbuds Review
Why should you consider the Sony WF-1000XM4?
Sony is known for making quality gadgets. That's why people also trust Sony's products.
Those who want to get high-quality earbuds can consider this. If we talk about other earbuds of its level, then Apple's Airpods Pro, and Bose's Quietcomfort can be called its level earbuds.
However, in terms of battery backup, this Sony device is far ahead of its other competitors.
While the Apple Airpods Pro delivers 4.5 hours of playtime on a single charge, and the Bose Quietcomfort offers 5 hours of backup, the Sony WF-1000XM4 offers 8 hours of playtime on a single charge. It can be charged twice in its case. Thus its total playtime is 24 hours.
The price of the Sony WF-1000XM4 may feel a bit high. But it is a good offer for those who do not want to compromise with the quality.
What features should you look for in earbuds you are going to buy?
In my opinion, while buying earbuds, you should test them on the following parameters.
Design and look
Driver Size
Active Noise Cancellation
Frequency Response
Battery Backup
Water Resistance Power
Latency rate
Let us review Sony WH-1000XM4 on the basis of the above parameters.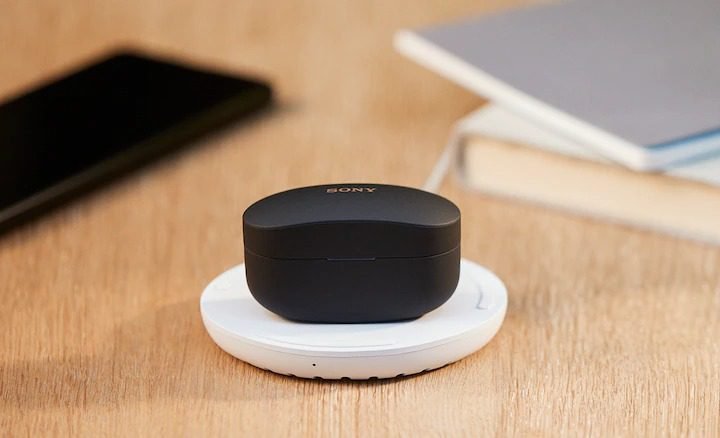 Sony WF-1000XM4: Specifications Review
Design and look:
When we buy a gadget, we want that along with quality, its design and look should also be attractive.
As far as Sony WF-1000XM4 earbuds are concerned, they are well designed with an attractive look. These are made of plastic with a nice finish. They fit perfectly in the ears.
There are three silicone ear tips of different sizes available with the device. Users can choose from among these ear tips that fit most comfortably in their ears.
Sony's name is highlighted on each earbud which shows its brand value. There is a metal ring on each earbud that houses one of the external microphones. These metal rings give the earbuds a great look.
Earbuds are designed in such a way that they are comfortable for the users. They look great with a high-end finish.
Driver Size:
Why is the driver size of earbuds an important factor?
It is the driver of an audio device that converts the electric signals into sound. The larger driver is capable of generating a greater amount of sound.
Although the sound quality in audio devices does not depend only on the driver. It also depends on many things. But still, the loudness of the sound depends on the size of the driver.
This is why the driver size of an audio device is a considerable factor. Though earbuds are small in size the space for the drivers is limited.
How the company fits more and more powerful drivers in these tiny earbuds, it shows its technical capability.
What is the size of drivers fitted in Sony WF-1000XM4?
The Sony WF-1000XM4 earbuds have been fitted with 6mm drivers.
These drivers are of proper size in view of the size of earbuds.
Despite their small size, they are able to reproduce a dynamic sound.
The integrated processor V1 fitted in the device also helps to enhance the sound quality and reduce distortion.
The whole setup works together to provide a dynamic sound and rich bass.
Active Noise Cancellation:
What is the importance of Active Noise Cancellation in earbuds?
While calling or listening to music the ambient noise is really a great problem. Audio device makers are constantly improving their gadgets. To deal with the problem of unwanted noise, an active noise cancellation system is being installed in the earbuds.
The active noise cancellation system consists of a microphone in each earbud. These microphones recognize the frequency of ambient noise and produce waves of the same frequency to nullify the effect of outer noise. Thus ANC prohibits the maximum quantity of unwanted noise before it enters the user's ears.
How effective the ANC of a device is, depends upon the quality of the microphones equipped in the device.
How effective is the ANC system in Sony WF-1000XM4?
As far as Sony's WF-1000XM4 is concerned, Sony has put a lot of emphasis on the ANC of these earbuds. The company claims that these earbuds have a very good quality ANC system.
On testing them I have also found that the ANC system of these earbuds is quite good. It is also capable of getting rid of the noise generated by washing machines, juice makers, motor vehicles, etc. to a great extent.
That is, they are successful in preventing as much external noise as possible from reaching the users.
Frequency Response:
Why is frequency response important in audio devices and musical instruments?
We know that humans are able to hear the sounds of the frequency falling between 20Hz to 20000 Hz.
In the sense of musical and audio devices, frequency response means the ability of an instrument to reproduce the range of sound frequencies.
In view of musical instruments, this range is divided into three parts. Roughly speaking, this division is under.
Bass- 20 Hz to 300 Hz
Middle- 300 Hz to 4000 Hz
Treble- Above 4000 Hz
A standard audio device should be able to reproduce the full spectrum of sound frequencies from 20 Hz to 20 kHz. So that user can listen to every type of sound delivered by the audio source i.e. bass, middle and treble.
What is the frequency response of the Sony WF-1000XM4?
We find that Sony WF-1000XM4 has a frequency response from 20 Hz to 20000 Hz.
It means these earbuds are ideal from the point of view of frequency response. These are capable of reproducing the sound of every audible frequency. Users will, of course, enjoy the blasting bass as well as sweet treble.
What is the Battery Backup of the Sony WF-1000XM4?
We know that battery backup is one of the most important specifications in battery-supported devices.
Since earbuds are tiny in size, it is very difficult to place a powerful battery in them. It depends upon the technological power of the manufacturer company how powerful the battery it places in small earbuds.
As we have mentioned above, if we compare Sony WF-1000XM4 with two of its competitors Apple Airpod Pro and Bose Quietcomfort we find that their battery backup is 4.5 hours and 5 hours respectively after a single charge.
In this sense, Sony WF-1000XM4 is better than their competitors, as they have 8-hour backup after a single charge. After getting charged twice from the case they can play for 24 hours.
Charging Speed:
If we talk about the charging speed, they have fast charging support with Qi technology. If you are in a hurry, charge them for only 5 minutes, they will play for a whole hour.
What is the water-resistance power of the Sony WF-1000XM4?
Because nowadays the use of earbuds is becoming very much. Even while working out, our youth are wearing them, due to which there is a danger of getting wet in their sweat, etc. Apart from this, there is also a fear that the earbuds may not fall into the water or get damaged by coming in contact with dust, etc.
Keeping all these fears in mind nowadays earbuds are being made with water, sweat, and dust resistance power.
Sony WF-1000XM4 is secured by water, sweat, and dust resistance power having an IPX4 rating.
Sony WF-1000XM4: Other advanced features
LDAC Bluetooth codec support:
Sony WF-1000XM4 has the LDAC Bluetooth codec support. You know that LDAC is an audio coding technology developed by Sony.
LDAC technology is able to transmit three times more data at the maximum transfer rate of 990kbps than the conventional Bluetooth.
By LDAC technology, users get the enjoyment of high-quality wireless audio via Bluetooth audio.
This technology is used in various Sony products. Sony WF-1000XM4 is also supported by this technology.
Speak to chat function:
If you are enjoying music and you have to talk to someone in between, the music will stop as soon as you speak. When your talk is over, then it will be right to start playing again.
Actually, Sony WF-1000XM4 is supported by Precise Voice Pick Up technology. It recognizes your voice and reacts to it.
Adaptive Sound Control System Support:
Sony WF-1000XM4 is supported by the Adaptive Sound Control function.
What is the Adaptive Sound Control function?
It is an advanced function that detects four patterns of behavior (staying/walking/running/transport) of yours by using the acceleration sensor of your smartphone.
The adaptive Sound Control function detects your location and adjusts the noise cancellation to match.
It automatically switches between noise canceling and ambient sound control.
Sony WF-1000XM4 allows you to choose four places of your choice you frequently visit like your office, gym, coffee cafe, or mall. The adaptive sound control will adjust the sound at every place to suit the situation.
Voice Assistant:
The earbuds have Google Assistant and Alexa support.
Fast Pairing Feature:
Sony WF-1000XM4 earbuds support Google's fast pairing feature with your android devices. In case the earbuds are misplaced, the fast pairing feature enables you to find the last location of your earbuds.
You also get notifications when your battery is going too low and needs charging.
Instant Pause and Play:
If you suddenly have to talk to someone while listening to music, then take both the earbuds out of your ears. This puts the earbuds on pause mode. When they are put back in the ears they return to play mode.
Touch control on your fingertips:
Sony WF-1000XM4 is controlled by your fingertips.
What is the latency rate of the Sony WF-1000XM4?
Latency rate also becomes an important factor when you are listening to music, watching a movie, and especially while you are gaming.
When you are playing games then you need very fast data transmission.
Sony WF-1000XM4 is powered by fast connectivity technology. The company claims that the latency rate in the earbuds is so low that you can feel the data transmission in real-time.
What is in the box:
On opening the box we find 3 noise isolation ear tips of different sizes and a USB-C charging cable.
Colors: Black & Silver.
Price:
This Sony WF-1000XM4 will cost you approx. $280. There are two color options you will get with these earbuds. You can buy either black earbuds or grey-colored earbuds.
Conclusion:
Sony is known for making gadgets based on high technology. These earbuds are also equipped with advanced technology.
They are equipped with digital ANC, LDAC technology, adaptive sound control, and other advanced features. They have a powerful battery that runs for 24 hours even with ANC.
It is a good battery backup. They also have Qi technology-based fast charging systems.
Its integrated processor V1 enables the device to provide dynamic sound.
The earbuds are a bit expensive but in view of their quality, it is a good deal to buy them.