Samsung Note 10 Lite is a premium smartphone in the mid-range price.
Keeping in view the needs of different classes of people, Samsung continues to manufacture phones with different price tags.
The company has made the M-series phones for the budget segment, the A-series phones for the middle segment, the S and Note series phones for the premium segment.
A-Series
S-Series
The company has made available a large range of mobile phones in the market. People can get phones according to their needs and affordability.
But if we look at the prices of premium phones and mid-range phones, we find that there is a considerable difference between both of them.
So there was a need for a phone between the two, which is like a premium phone in terms of features as well as being economical in terms of price.
In order to fulfill this need, the company has showcased two new phones named Samsung Galaxy Note 10 Lite and Samsung Galaxy S10 Lite at CES 2020, Las Vegas, US. It is a premium phone with a mid-range price tag.
Samsung Galaxy Note 10 Lite has awesome features as under.
Display:
The phone is featured with a 6.7-inch full HD+ screen having the 1080 × 2400 Pixel Resolution. It is powered with the Super AMOLED Infinity-O edge to edge display. It gives a high-resolution quality picture on edge to edge display which gives the user a pleasant feeling.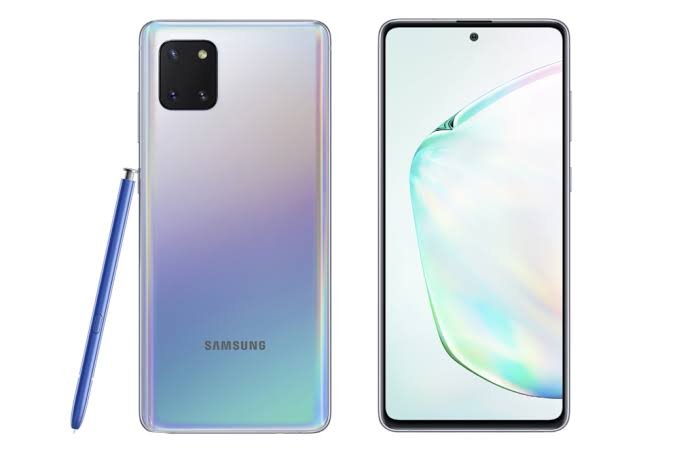 Processor:
Samsung Galaxy Note 10 Lite runs with the power of the Exynos 9810 processor.
RAM:
Samsung Galaxy Note 10 Lite is available with 6 GB and 8GB RAM options. The users can choose the phone according to their needs.
Storage:
The phone has a storage capacity of 128 GB with 1TB micro SD support.
Camera:
Note 10 Lite is equipped with a powerful camera setup having 3 rear cameras each of 12 MP and a selfie camera of 32 MP.
Battery:
Galaxy Note 10 Lite has the power of 4500 mAh battery.
It is available with a 25-watt fast charging support system.
Colors:
Samsung Galaxy Note 10 Lite is available in three color variants:
Aura Black, Aura Red, and Aura Glow.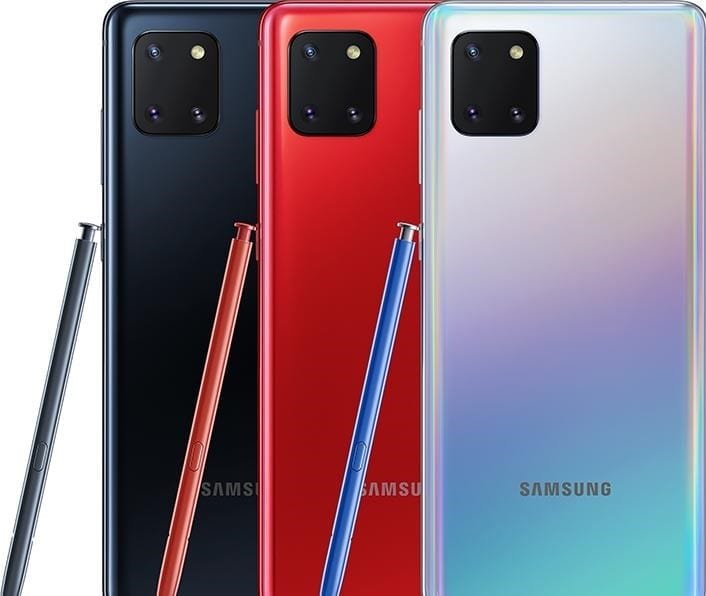 Price:
Note 10 Lite is available in two price tags.
Phone with 6 GB RAM costs Rs 38,999 while its top model powered with 8 GB RAM costs Rs 40,999.
Discount offer on Samsung Note 10 Lite:
The company has offered a discount worth Rs 5000 on the purchase of Note 10 Lite.
This discount will be available only on taking this phone in lieu of Samsung's old phone.
Along with this, the amount of discount will depend on the price of the old phone in return for which you are buying a new phone.
The discount offer is available on the purchase of both the variants of the phone having 6 GB and 8 GB RAM.
If you get a discount of Rs 5000 in exchange for your old phone, then the effective price of the new phone will be only Rs 33,999.
Taking a premium segment phone at this price would prove to be a good deal.
The discount can be availed at selected outlets of Samsung or online purchases by the Samsung Shop app. It is available till 29th February 2020.
Read also –
Poco X2 Full Specifications, Price & Features
Conclusion:
Samsung Galaxy Note 10 Lite is a premium segment phone in the mid-range price.
It gives complete satisfaction to its users with its features. Its purchase guarantees the user full recovery of money.