The new Samsung Galaxy Buds Pro has been all over in the news since their arrival in the market space.
From comparisons with the Apple Airpods Pro to offering a low price than many of its competitors, they have grabbed all the right attention.
Highlights:
Intelligent ANC
27+ hours Music Playtime
Intuitive Controls
IPX7 Rating
---
---
Do these live up to the billing, let's find out.
Read Also
Best Earbuds Under 20000 ($250)
10 Essential Features of TWS (True Wireless Earbuds)
Samsung Galaxy Buds Pro Features:
Design:
Galaxy Buds Pro has a premium look with a glossy reflective plastic finish.
The inner molding of the Earbuds is well crafted to ensure noise isolation and houses a wind guard that works for the same.
On the inside they have proximity sensors, charging contact points, and a microphone each, while on the outside they have touch controls and two microphones each.
The Ear tips significantly contribute to a perfect fit with three different sized pairs included.
The sound designer AKG, a subsidiary of Harman helped tune the Earbuds to get the EQ just right.
The Buds Pro has a balanced sound quality that handles the trebles and bass very well and also has a great low and high-end performance.
A 360 Audio support feature may be updated soon as well.
With the pro-grade technology, Galaxy Buds Pro allows you to immerse yourself in music like never before.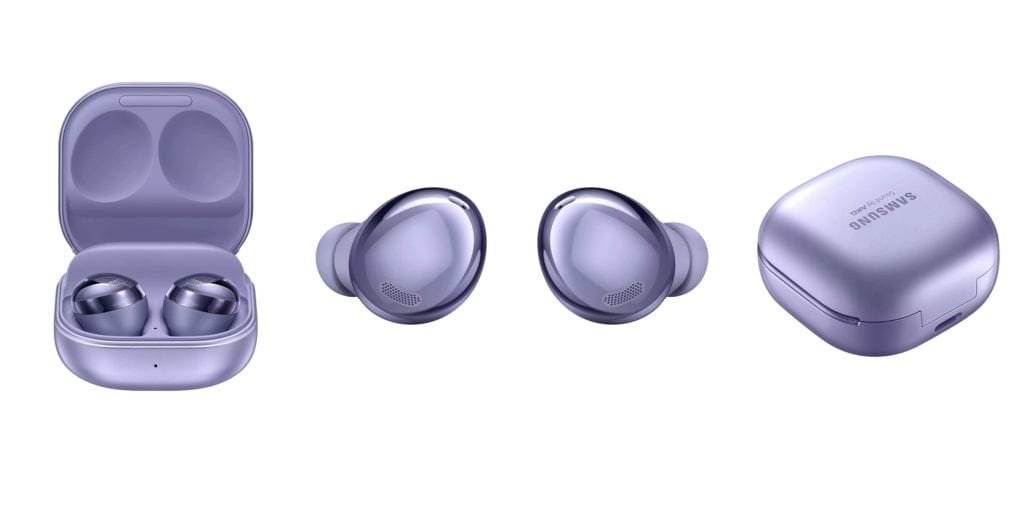 Noise Cancellation:
The Intelligent ANC lets you switch between active noise cancellation and adjustable ambient sound. You can choose how much sound you want to let in and keep out.
Battery & Playtime:
You can get a music playtime of 7 hours with the Buds Pro Earbuds and an additional 20 hours with the charging case. The charging case is sleek and compact.
With a USB Type-C port at its back and fast charge support, a 10 minutes charge is enough for 85 minutes of music playtime. Qi wireless charging is also supported.
Controls & Smart Features:
The touch sensors are simple and can be customized.
Although the basic controls for playing music and answering calls cannot be changed, the long-press gesture is customizable through the app and can be set to control the noise cancellation and ambient sound modes, volume, or Bixby, or to launch Spotify on the connected smartphone.
Also, the Galaxy Wearable App can be used for switching between ANC and ambient sound mode, setting the ANC and Ambient Sound levels, using the voice detect feature, updating the firmware, adjusting the equalizer, and much more.
Water Resistant:
The class-leading IPX7 rating makes it water-resistant.
You don't have to worry if they fall into the bathtub for a minute or if you have to clean them under running water.
Colors:
They come in 3-colour variants: Phantom Black, Phantom Silver, and Phantom Violet.
Price:
---
---
Conclusion:
The Samsung Galaxy Buds Pro hits the right chords. Effective features and specifications with the promise of Samsung make it a worthy option.
Lower pricing than many of its competitors also raises its case.