Razer Viper 8kHz is the new presentation of Razer, an American-Singaporean multinational tech company.
Razer Viper 8kHz has a power of 8000 polling rate Which makes you able to play very fast. Its high performance gives you the power to surpass your competitors.
Razer Viper 8kHz Key Features:
8000 Hz polling rate.
0.125 millisecond click latency.
Super sensitive with 20000 DPI.
No debounce delay
RGB support
Read Also:
Razer: A reliable brand of gaming products
Razer has become a big brand in the world of tech companies.
It has made a special identity as a gaming hardware manufacturer.
Actually, it has introduced many gadgets which are dedicated to gaming. That's why it has become a favorite brand of gamers.
To make its mark as a manufacturer of pro gaming products, Razer not only made gaming-friendly products but also paid a lot of attention to their design and look.
The designs of Razer's products are such that they look different from others, strong, and attractive.
Not only this, but Razer also names most of its gaming products after dangerous creatures. As the presented mouse is named Viper. We know that Viper is a dangerous poisonous snake.
Overall, Razer tries to make an impression with its product name and design that it is specially made for hardcore gamers.
But it is not that the company only pays attention to the name and design of the product. It also takes special care of the performance of its products.
Of course, its products have been successful in meeting the needs of gamers.
This is the reason why Razer has become the favorite brand of gamers today.
Razer Viper 8000 Hz: Specifications
The Razer Viper 8000 Hz is a high-speed gaming mouse.
Let's have a look at the specifications of this new presentation of Razer.
Colour Variants:
Razer Viper 8kHz is available in two color variants.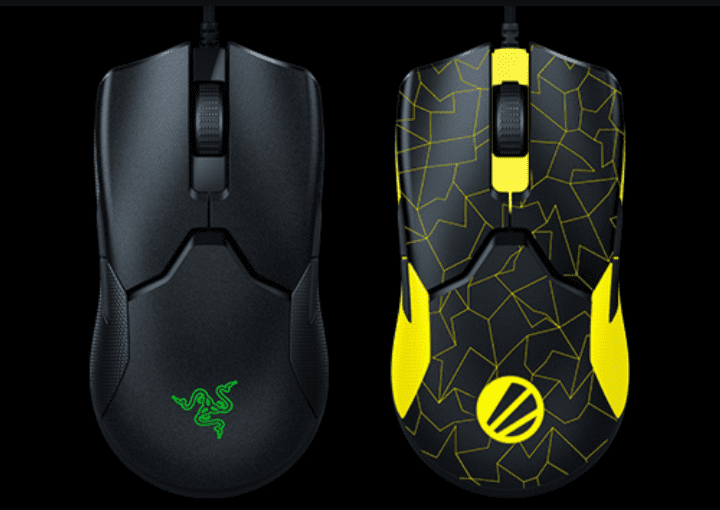 Polling rate:
The polling rate is one of the main features of a mouse.
What is the polling rate on a computer mouse?
How fast a mouse reports its position to the computer is called its polling rate. It is measured in Hertz (Hz).
For example, if the polling rate of the mouse is 125 Hz, it means that the mouse reports its position to the computer 125 times a second.
Let's measure it in milliseconds.
Since there are 1000 milliseconds in a second, it would be said that the mouse is capable of reporting data in just 8 milliseconds.
Similarly, if the mouse has a polling rate of 500 Hz, it means that the mouse reports data to the computer 500 times in a second, or it takes 2 milliseconds to report.
A mouse with a polling rate of 1000 is considered the best because it is capable of reporting its position to the computer 1000 times per second.
In other words, it takes only one millisecond to report its position i.e. its click latency is 1 millisecond.
What is the polling rate of Razer Viper 8 kHz?
The company claims the polling rate of Razer Viper 8 kHz is 8000.
As we have seen above, the mouse with a 1000 Hz polling rate is considered the best. But the Razer Viper 8KHz comes with a polling rate of 8000 Hz. It means it sends 8 times more data in a second.
If we say in milliseconds, it takes 1/8 milliseconds to report the data.
Thus its click latency is 0.125 milliseconds. Its high efficiency is really awesome.
Razer Viper 8 kHz: Super smooth and sensitive cursor with high DPI.
DPI is also one of the main specifications of a mouse.
What is the DPI of a mouse?
DPI stands for the Dot Per Inch.
It refers to the sensitivity of a mouse.
When you move the mouse, how fast your cursor moves on the computer screen depends on the DPI of the mouse. The higher the DPI of your mouse, the faster your cursor will be able to move.
Due to this, you will have to move the mouse less for the movement of the cursor.
Generally, the DPI of a standard mouse ranges from 800 to 2000. But the case of gaming is a bit different. Gamers have to move the cursor very fast.
Although it also depends on the size and resolution of your computer's screen, how much DPI mouse you need.
If you are using the high-resolution screen you need more DPI mice.
Though the most high-end gaming mice gave DPI between 5000 to 10000.
What is the DPI of Razer Viper 8 kHz?
The DPI of Razer Viper 8 kHz is 20000 which is much more than generally found in high-end gaming mice.
It is a super smooth and sensitive mouse.
Even if the screen of your computer is large and its resolution is also high, your mouse will support you.
Denounce Delay: Razer Viper has no need for debounce period?
Debounce delay is the time that passes before the next click after a click is accepted.
It is found in the mouse having metal switches that send the electric signals by physical contacts.
But Razer Viper 8 kHz is an optical mouse so it has no debounce period.
It means it allows you to click without any delay during gaming.
Razer Viper 8 KHz: A lightweight mouse.
Razer Viper is a high-performing heavy hitter but it is very light in weight. It weighs only 71gm.
Rubber Side Grips:
The Razer Viper 8kHz has rubber grips on either side. This helps you keep the mouse in your grip. So that you can perform better.
RGB Support:
Razer Viper 8 kHz has RGB support by which the user enjoys 16.8 million colors, countless patterns, and dynamic in-game lighting effects.
High-Speed USB Support:
Razer Viper 8 KHz is supported by a high-speed USB interface.
Conclusion:
The Razer Viper 8KHz is a super-sensitive optical mouse that operates at an 8KHz polling rate. It has 20000 dpi.
When you're gaming, the most important thing you need is speed, which gives you the power to overtake your competitors.
The high performance of the Razer Viper, of course, helps you play faster.
RGB support enhances your gaming enjoyment.
If you are a gamer and you want to buy a highly efficient mouse, then Razer Viper 8KHz is the right choice for you.
Price: