Snippet: Are you looking for a laptop packed full of gaming power? If yes, Razer Blade 14 is the perfect pick for you. Read on to know more about it.
The Razer Blade 14 is just like the MacBook Pro, which is a great gaming laptop. The best things about this laptop are – it's attractive, slim, portable, and a high-end laptop with unbelievable gaming power. With it, you can experience an uncompromising gaming experience that is hard to beat.
Are you not convinced?
Let's have a look at a quick overview of this fantastic product.
| | |
| --- | --- |
| Pros | Cons |
| It is VR-ready. | It does not have an SD card reader. |
| Super-slim 14-inch | It is pretty loud under load. |
| Metal build | Expensive |
| It comes with HDMI, USB-C, and 1 TB of SSD storage | No ethernet port |
| Great touchpad and per-key RGB lightning | Configuration options are limited |
| Excellent battery life | Its fans get hot when gaming. |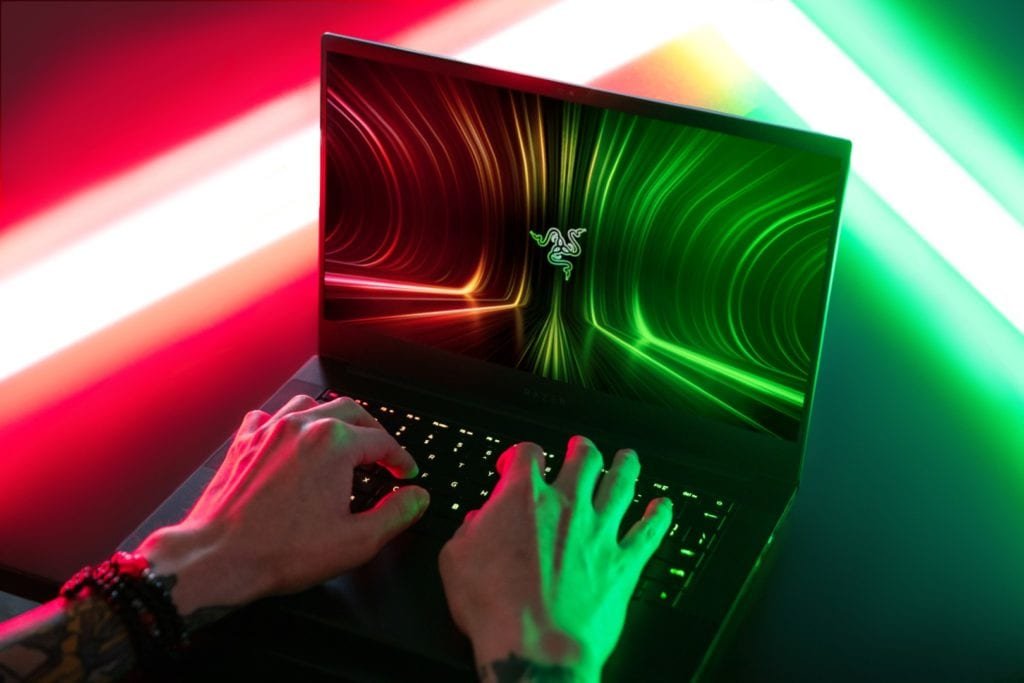 Now, as you are aware of this laptop's basic plus and minus points, let's dive deep into its key specifications.
Razer Blade 14 Key Specifications:
| | |
| --- | --- |
| Display Size | 14-inch |
| RAM | 16 GB |
| Operating System | Windows 10 Home |
| SSD | 1 TB |
| Display Resolution | 2560 * 1440 pixels |
| Processor | Ryzen |
| Weight | 1.78 kg |
| Hardisk | No |
| Graphics | Nvidia GeForce RTX 3060 |
Read Also
Razer Blade Pro 17: The Ultimate Gaming Laptop
Up to US$500 OFF on Selected Razer Blade Gaming Laptops
Display:
The Razer Balde 14 comes with a 14-inch FHD display and a 144 Hz refresh rate on the base model.
If you opt for its top model, then you will get to enjoy a 14-inch QHD display + 165 Hz refresh rate.
This laptop's FHD model fully supports sRGB, and its QHD model lets you enjoy a wide color space of 100% DCI-P3.
If you are searching for a color-calibrated screen for your professional and personal use, both models will provide you with satisfying performance.
Design:
The laptop weighs 3.9 pounds and measures 12.6 * 8.7 * 0.66 inches. It makes it one of the slimmest laptops available on the market these days.
When it comes to design, this laptop is as iconic as a MacBook. 
The laptop comes with a metal build along with rounded corners. 
In short, this laptop comes with a dignified design – a lot of overblown logos, a matte-black finish, radiant lights, and outlandish heads. 
Performance:
This laptop is the first laptop from Razer that runs on an AMD Ryzen chip.
It runs on Ryzen 9 5900 HX processor.
This laptop's chip has eight cores, and 16 threads along with a clock speed up to 4.6 GHz, making it one of the best CPU chipsets out there.
The laptop comes with 16 GB of DDR4 – 3200 MHz RAM, so it can handle every software and video game.
GPU:
This laptop comes in 3 different models.
Its base model comes with Nvidia GeForce RTX 3060 GPU and 6 GB of VRAM.
The elderly model lets you enjoy GeForce RTX 3070 GPU with 8GB of VRAM.
Its top model comes with GeForce RTX 3080 GPU with 8 GB of VRAM.
The best thing about these GPUs is that they provide you with top-of-the-line performance when it comes to advanced Ray tracing, AI-VR, and DLSS.
Storage and Ports:
When it comes to on-device storage, the laptop comes with a 1TB SSD.
This storage you can expand later on because there are many free slots on the device.
The laptop is very well equipped when it comes to ports. It comes with 2x USB-A 3.2 Gen 2 ports and 2x USB-C 3.2 Gen 2 ports which completely support charging and display.
The best thing about this laptop is that the laptop provides you with faster wireless connectivity with its Wi-Fi 6 feature.
Besides all these, the laptop has an HDMI port, TPM 2.0 security, and a 3.5 mm combo jack.
Battery Life:
One of the most attractive things about this amazing gaming laptop is its battery life.
The laptop provides you with 12 hours of battery life.
The device comes with liquid-vapor cooling, 88 blades, and a larger surface that offers better heat dissipation. As a result, it facilitates better performance and excellent battery life.
Keyboard and Touchpad:
The Razer Blade 14's keyboard provides you with a comfortable typing experience. Its keys offer firm bounce.
The laptop comes with Synapse 3.0 software that will illuminate your keys. So, you can easily type. Even its touchpad is big enough.
Price:
Closing Thoughts:
In a nutshell, if you are searching for an ultra-thin, responsive, immersive, fast, and powerful gaming laptop, then this is an ideal pick for you. This laptop is thinner and lighter than its predecessor and much more powerful.
Of course, this laptop will cost you a lot of bucks, but if you want considerable power in small packages, then the Razer Blade 14 will be worth investing in.