Razer Blackshark V2 X is a powerful gaming overhead phone presented by Razer.
Razer, an American Singapore-based tech company, is known to be a brand that understands the needs of gamers.
It has launched so many products for gamers that it seems like it follows the theme of "for the gamers, by the gamers".
Razer BlackShark v2 X:
Razer BlackShark v2 X is a good overhead phone presented by Razer.
It is equipped with various smart features.
Let us look at the specifications of Razer BlackShark v2 X.
Other Headsets for Razer:
Razer BlackShark v2 X Specifications:
Design:
Razer BlackShark v2 X is a fantastic combination of black and silver. The body is made of black-colored plastic with the touch of silvery metal. And the cables are neon green in color, which makes them different in appearance. But the headset is not affluent for regular use.
It has been claimed that BlackShark is perfect for the Pilots of the helicopter. The headset is modest and not too loaded with keys. The logo is not so vibrant; it's black in offset effect. No RGB existed. Only the cables in neon green are attractive and catchy.
The band of the headset and the inner portion of the ear cups are made with leatherette. But the best part is fabric plastic of good quality. Even it can resist sweat too. There is slight foam in the ear cups. But the attachment strategy of the drivers to the headset is not so good as it carries the chances to be torn.
The neon green cables are 4.2 ft. They are carefully draped in a coating of heavy plastic-like substance. But for the design, it's simple to wear.
Triforce 50mm drivers deliver powerful audio:
Razer BlackShark v2 X has Triforce 50 mm divers. It gives a glimpse of three multiple drivers in a single audio source.
The all-new triforce design is able to reproduce high, mid, and low frequencies which deliver richer trebles, clearer sound, and blasting bass.
Noise Cancellation:
When we are calling, listening to music, or gaming the unwanted ambient noise disturbs us. To get rid of this problem the quality headphones have been equipped with a noise cancellation system.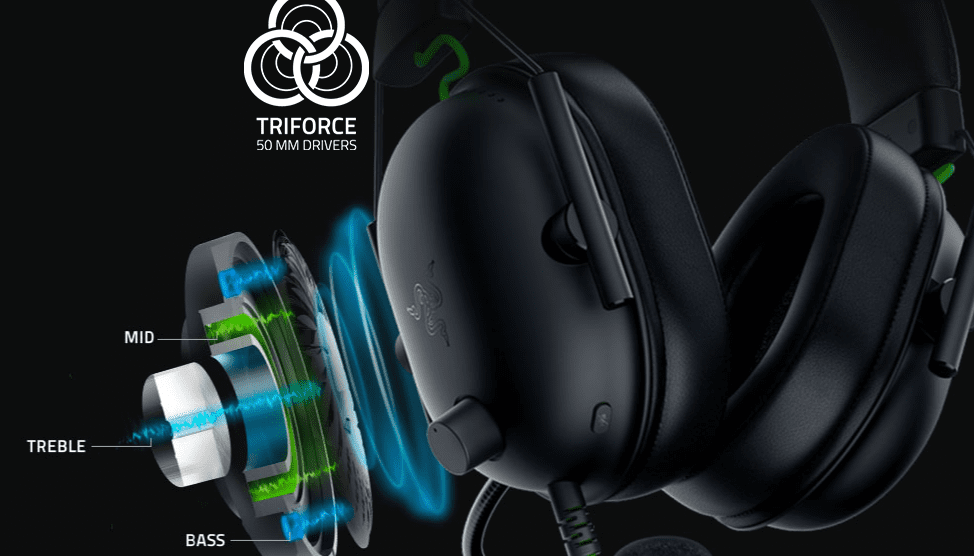 The noise cancellation system is of two types:
Active noise cancellation
Passive noise cancellation
For active noise cancellation, the headphones or earphones are fitted with additional microphones to cancel the unwanted outer noise before it may enter your ears.
For passive noise cancellation, earbuds or headphone cups are designed in such a way that they seal the user's ears properly. Due to this, external noise does not get into the ears of the user. Thus the user gets a noise-free environment.
Razer Blackshark v2X is not equipped with Active Noise Cancellation.
Since most headphones these days come with ANC, it is surprising that the BlackShark v2 X lacks ANC.
However, it is equipped with passive noise cancellation which protects the user from outside noise to a great extent.
Razer Blackshark v2 X has advanced Passive Noise Cancellation:
The Razer Blackshark v2 X has special ear cups that completely cover your ears. These ear cups are filled with soft cushions wrapped in a combination of breathable fabric and fine quality leatherette. These ear cups seal well over your ears to protect you from unwanted outside noise. Thus you find a calm environment to focus on your work.
Also, the headset is quite light and comfortable. Its weight is 240 gm. Even if you wear it for a long time, you will not feel any problem.
Frequency Response:
Frequency response is an important factor of audible devices which determines the quality of sound.
As we know that humans are able to hear the sounds of wavelengths falling between 20Hz to 20000 Hz.
It is expected that an ideal audio device will be able to reproduce the sounds of wavelengths from 20 Hz to 20 kHz.
Most of the quality earbuds or overhead phones are able to reproduce the above range of wavelengths.
As far as BlackShark v2X is concerned, it is powered with a frequency response from 12 Hz to 28000 Hz. It is able to cover the full spectrum of audible sounds.
It is able to reproduce the low, mid, and high frequencies with the help of which it delivers quality sound with rich treble and deep bass.
Connectivity Modes:
Compatible with other platforms with 3.5mm Audio Jack:
One good thing is that the Razer BlackShark v2 X comes with a 3.5mm audio jack. Due to this, it is able to work on many platforms. You can connect the headset to different devices if needed, such as:
PC
Mac
PS4
Xbox One
Nintendo Switch
Smartphone (if it has a 3.5mm port)
Microphone:
This headset has a Hyper Clear Cardioid microphone. The microphone quality is also decent. Even the recorded calls are heard a little clearer. The best part is, the microphone also can avoid noise so that the outside loud sound can never disturb you.
Software:
Razer BlackShark v2 X has no additional USB slot. The 7.1 Surround sound app is operated by this headset. With this app, you can regulate many aspects.
Color variants:
Pros & Cons:
Pros:
Advanced passive noise cancellation.
Attractive design
Comfortable to wear
Good for gaming.
Lightweight to carry.
Cons:
No active noise cancellation.
No Razer Chroma RGB lighting.
No USB assistance.
Poor bass quality.
Conclusion:
Razer BlackShark v2 X is the headphones made with fine material.
Its ear cups are soft and comfortable.
Though it lacks ANC, it is equipped with effective passive noise cancellation which protects you from unwanted outer noise.
The triforce drivers are excellent.
You can even control the features with the help of the 7.1 Surround sound app.
If we talk about its price, then considering all its advanced specifications, the price is also reasonable.
Finally, it can be said that in view of its attractive design and advanced features, Razer BlackShark v2 X is a worth buying headset in this price range.
Razer BlackShark v2 X Price: