The OnePlus Buds Z2 has been presented by OnePlus, a renowned tech company.
OnePlus has made a good reputation in the market. The company is known for offering gadgets with better specifications at a comparatively low price. Users also trust OnePlus products. After all, they are getting good products at a lower price than the products of other companies.
Why should you consider OnePlus Buds Z2?
OnePlus Buds Z2 is being treated as the successor of the OnePlus Buds Z.
Actually, the OnePlus Buds Z2 has come with various improvements compared to its predecessors, like ANC, improved driver size longer battery backup, etc.
This is a budget range product. If we look at its specifications, like its larger drivers, powerful battery, and noise cancellation feature then we find that the company has presented a powerful gadget at an economical price.
What should you look at while purchasing the earbuds?
In my opinion, when you go to buy earbuds you should mainly consider the following specifications.
Design and look
Driver Size
Noise Cancellation System
Frequency Response
Battery Backup
Charging Support
Connectivity Support
Water and sweat resistance
Latency Rate
Read Also:
OnePlus Buds Z2: Specifications
If we talk about the specifications of the new OnePlus Buds Z2, we find that the device is equipped with almost all the features that a user wants.
Rather it is equipped with more powerful features than other devices in its class.
Let us see its features in detail.
Design:
OnePlus Buds Z2 are attractive in look. For the comfortable fitting, they come with three silicone ear tips. You can choose the most appreciated size from them which is suitable for your ears.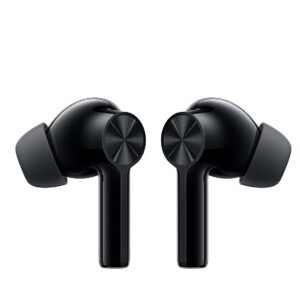 Driver Size:
What is the driver side of the OnePlus Buds Z2?
OnePlus Buds Z2 is equipped with 11mm drivers with Dolby Atmos support.
The driver is the most important part of earbuds because it converts the electric signals into sound. It is the driver that makes the sound you hear. You can deem it as a tiny loudspeaker in your ear. Though the size of drivers of the earbuds determines the loudness of sound, it is not the only determinant of sound.
There are many other factors that affect the quality of audio. However, the larger driver is considered better for bass.
We see that the different earphones are equipped with drivers of different sizes. Their size may be from 6mm to 15mm.
Fitting so many essential devices in a small earbud to deliver quality audio is indeed a very challenging task for a device manufacturer.
Nevertheless, the OnePlus Buds Z2 has 11mm drivers, which is a good effort by the company.
Of course, the drivers of 11mm along with the support of Dolby Atmos are able to produce a dynamic sound and strong bass.
Do the OnePlus Buds Z2 have a Noise Cancellation System?
Of course, they have.
After all, noise cancellation is one of the most desired features in earbuds.
When you are calling or listening to music, the unwanted outer noise creates a great disturbance for you.
Nowadays, almost all quality earbuds are being equipped with active noise cancellation (ANC) technology.
For active noise cancellation, extra microphones are fitted in the earbuds. These microphones recognize the frequency of outer noise and generate waves of the same frequency. Thus they nullify the waves of ambient noise before they enter your ears. Thus the outer noise is canceled.
The OnePlus Buds Z2 is powered with active noise cancellation (up to 40db), having 3 mics in each earbud.
There are a total of 6 mics in both earbuds. The whole setup of mics is dedicated to preventing you from outer noise and providing you with a quality calling experience.
What is the Frequency Response of OnePlus Buds Z2?
It is 20Hz to 20000 Hz.
It is an ideal frequency response of an audio device.
As we know humans are able to hear sounds that have a frequency from 20 Hz to 20000Hz.
So a standard audio device should be able to reproduce waves of frequencies from 20Hz to 20kHz. So that all kinds of sounds produced from the audio source can reach the listener. The ability of a device to reproduce the waves is called its frequency response.
As far as the OnePlus Buds Z2 are concerned, they are able to reproduce the full spectrum of waves from 20Hz to 20000 Hz. So their frequency response is perfect.
What is the Battery Backup of the OnePlus Buds Z2?
Battery backup is one of the main issues in the matter of battery-based devices.
If we talk about the OnePlus Buds Z2, each bud of them is equipped with a 40 mAh battery. The charging case is powered by a 520 mAh battery.
The whole mechanism is powerful enough to give a battery backup of a total of 38 hours.
The playback time of earbuds on different modes is as under:
ANC on – 5 hours
ANC off – 7 hours
Combined playback time along with charging from the case:
ANC on – 27 hours
ANC off – 38 hours
Charging Support:
The earbuds are powered with fast charging support. If you are in a hurry, charge your earbuds for just 10 minutes. It is enough for them to work for the whole 2 hours. Though the combined charging (earbuds+case) of 10 minutes is able to give a playback time of a total of 5 hours.
You can understand it as under:
Only earbuds:
10 minutes charging – 2 hour playback time.
Earbud+Case:
10 minutes charging – 5 hours playback time.
For charging, USB Type-C support is available.
Connectivity Support:
The earbuds run on Bluetooth v5.2.
The wireless connectivity range is 10 meters. For data transmission, the earbuds have SBC and AAC technology support.
Water and sweat resistance:
For getting security against water, sweat, and dust the earbuds are protected by an IP55 rating. Its charging case has an IPX4 rating.
What is the Latency Rate of OnePlus Buds Z2?
Every user wants the fast transmission of data with the lowest latency rate in earbuds.
Especially while playing games latency rate becomes the most important factor. Since during gaming quick actions are taken, the transmission of data without any delay is also desirable.
The OnePlus Buds Z2 has an ultra-low latency rate of 94ms. It is able to transmit data in almost real-time.
Other advanced features:
OnePlus Buds Z2 is powered with google fast pairing support.
For quality sound, they have Dolby Atmos support.
They are also compatible with the HeyMelody App. If you don't have the OnePlus smartphone, you are not to worry. You can customize the settings of your OnePlus Buds Z2 with the help of HeyMelody.
Color variants:
Obsidian Black & Pearl White.
Conclusion:
OnePlus is a famous tech company that has a good reputation. Its products are deemed to be reliable in terms of quality. That is why it has occupied a big space in the tech market.
The OnePlus Buds Z2 is being considered the successor of the company's last launch, the OnePlusZ.
It has come with more features.
The earbuds have effective ANC and long-lasting power backup of a total of 38 hours.
Their large-sized drivers powered by Dolby Atmos support are able to provide dynamic sound.
Overall, the OnePlus Buds Z2 is equipped with almost all the features that are desired by users. In view of the features they have, their price is also genuine.
So, in my opinion, if you buy one plus Buds Z2, it would be a good deal.