Marshall, the renowned tech company has presented the new earbuds, Marshall Minor III.
Marshall Amplification is a London-based, British company that was established in 1962 by Jim Marshall. It has a good reputation in the music industry.
Marshall is best known for its guitar amplifiers and its high-quality product line has made it a trendy brand.
The company's products are used by some of the world's most famous musicians, including Slash, Jimi Hendrix, and Kurt Cobain.
Marshall amplifiers are also used in many recording studios and live venues.
In recent years, Marshall has started to make other music products including headphones, speakers, earbuds, and other musical accessories. Marshall's products are sold in over 100 countries.
Marshall has a strong presence in the World. The brand's value is estimated to be over $1 billion.
In the range of audio devices, Marshall has presented the new earbuds, Marshall Minor III.
Marshall Minor III: Key Features
Marshall Minor III is the latest in a long line of high-quality earbuds from the audio experts at Marshall.
These earbuds feature 12mm dynamic drivers that produce rich, powerful sound, and they come with a fast-charging system. Its massive battery provides a total of 25 hours of playtime.
The earbuds themselves are also very comfortable to wear, thanks to their soft silicone tips.
For those who like to customize their sound, Marshall Minor III comes with three different EQ settings (normal, bass boost, and treble boost).
Whether you're looking for your next pair of everyday earbuds that can provide an immersive listening experience, Marshall Minor III is a great option.
Let us know the specifications of Marshall Minor III in detail.
Read Also:
Marshall Minor III Specifications in Details:
Design & Look:
The Marshall Minor III earbuds have a sleek, modern look that is sure to turn heads. The earbuds and their case are made of high-quality materials and feature a textured finish.
Both the earbuds and case are having the logo of Marshall making them attractive in look.
The design is minimalistic and elegant, and the earbuds are very lightweight and comfortable to wear.
The TheMarshall Minor III earbuds are a great choice for anyone looking for high-quality, stylish earbuds.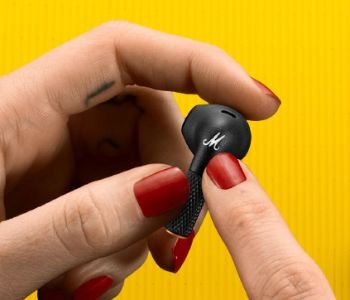 Dynamic Drivers:
Drivers are one of the most important components of earbuds. They change the electric current into sound. So the sound we hear is produced by the drivers.
The more significant drivers are able to produce a greater amount of sound. Usually, the size of the drivers in the earbuds lies between 6mm to 12mm.
Marshall Minor III earbuds feature 12mm, Dynamic Drivers.
Thus, the size of drivers in Minor III is quite perfect. This means that they are able to deliver an ideal sound.
In addition, the DRIVER SENSITIVITY of Minor III is 93 dB SPL. This makes them one of the most sensitive drivers on the market. As a result, you can expect to enjoy crystal clear sound quality when using these earbuds.
Finally, the DRIVER IMPEDANCE is 32 Ω. This ensures that you will get the most out of your music listening experience.
Batter Backup:
The battery of Marshall Minor III provides up to 5 hours of playtime on a single charge.
It also features wireless charging, so you can keep your device powered up without having to worry about cords.
The case is also equipped with a built-in power bank that can provide an additional 20 hours of playtime, for a total of 25 hours of use.
Marshall Minor III is a great choice for those who want a reliable battery backup that can keep their devices powered up for extended periods of time.
Fast Charging:
Marshall Minor III is a pair of fast-charging earbuds. The buds themselves take 1.5 hours to fully charge, while the case takes 2 hours.
If you don't have sufficient time to recharge your earbuds you charge them for just 15 minutes, they will offer you 1.5 hours of playtime.
The charging case is also designed to be slim and lightweight, making it easy to carry around in your pocket or bag.
Overall, Marshall Minor III is a great option for anyone who wants a pair of fast-charging earbuds that offer plenty of playtime and a compact charging case.
Read Also:
Frequency Response:
When it comes to earbuds, frequency response is incredibly important.
The human ear can hear frequencies in the range of 20 Hz to 20,000 Hz, and any good pair of earbuds should be able to reproduce sound within that range.
However, not all earbuds are created equal. Some may have a very limited frequency response, while others may have a wide frequency response but poor sound quality.
The Marshall Minor III earbuds have a frequency response of 20 Hz to 20,000 Hz, making them some of the best on the market.
Not only do they provide clear and accurate sound reproduction, but they also have a very wide frequency response.
This means that you'll be able to hear all the details in your music, from the lowest lows to the highest highs.
If you're looking for a great pair of earbuds with excellent frequency response, Marshall Minor III is a great option.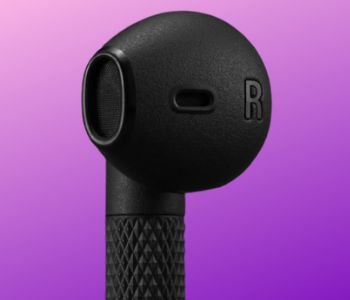 Active Noise Cancellation: Not Available
Marshall Minor III is equipped with advanced features that are expected in quality earbuds.
One downside, however, is that they don't have active noise cancellation.
For people who are looking for earbuds that can completely block out ambient noise, these might not be the best choice.
Touch Response Functions:
The Marshall Minor III earbuds feature touch response functions that allow you to control your music and manage your calls with ease.
With a simple tap or swipe, you can play, pause, or skip tracks, as well as receive, reject, and end calls.
The earbuds also feature an integrated microphone and call button, so you can take calls on the go without having to reach for your phone.
Other Features:
Wireless Range – up to 10 m (30 ft).
Colors: Black with Textured Finish.
Voice Command: Not available.
Marshall Minor III Price:
Conclusion:
Marshall is a brand known for manufacturing premium quality products.
Marshall Minor III are also quality earbuds offered by Marshall.
They have almost all the advanced features which are expected in quality earbuds.
Although they don't have an active noise cancellation feature, it's a bit disappointing.
Yet they come equipped with various specifications like bigger drivers, stronger battery, fast charging, strong connectivity, smooth touch controls, etc.
Their design is also very attractive.
Considering the brand image of Marshall and the specifications of Marshall Minor III, we can say that the new earbuds are good.
If you buy Marshall Minor III then this will be a good deal for you.