Expanding the tone-free line up the giant tech company LG has presented LG Tone Free Earbuds HBS-FN7 1st Bacteria Free TWS.
With changing lifestyles true wireless earbuds are becoming very popular day by day. The especially young generation is liking them due to their cool features and stylish look.
In fact, true earbuds are the most advanced form of traditional earphones.
Traditional earphones have the hassle of wires.
While the wireless earphones are connected to each other by a neckband-like string.
But the true earbuds are free from the wire. As well as they are smart also to follow your command.
That is why they are so popular nowadays.
Since the craze of earbuds has increased, realizing the huge potential of the earbuds market, almost all tech brands have been presenting their earbuds.
LG is already a giant tech company that is known for innovating for the comfort of its consumers.
For the earbuds fans, LG has presented new LG Tone Free HBS-FN7 Earbuds which are powered with a unique feature that kills bacteria and keeps the earbuds clean.
LG Tone Free Earbuds 1st Bacteria Free TWS:
The newly designed LG Tone-free HBS-FN7 earbuds are equipped with nanotechnology that kills 99.9% of bacteria and makes the earbuds sanitized.
Actually, these are equipped with a UVnano charging cradle that is able to kill bacteria while charging.
The term UVnano means Ultra Violet nanometer. The company claims that the independent testing shows that the UVnano charging credit kills 99.99% of bacteria on the speaker mess of the earbuds within 10 minutes while charging.
The UV LED function works only when the charging cradle is connected to the power cable.
However, the UV LED is invisible and it is activated only when the charging cradle is closed with the earbuds placed inside.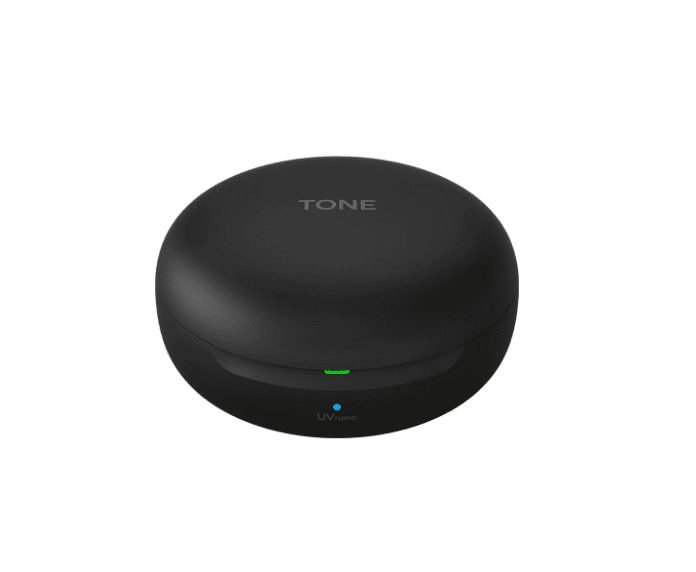 Perfect Audio with Meridian:
New LG earbuds are manufactured with the collaboration of the world-famous British Meridian audio company.
The advanced technology used in earbuds makes them able to deliver the perfect sound with deep bass and clear treble.
The hardware of earbuds is also playing a significant role in producing the roaring bass.
Its diaphragm's edge is made of high-quality silicone. The dome is built of strong steel.
The hardware supports generating the blasting bass.
Read Also
Razer Hammerhead Earbuds (True Wireless)
Best Earbuds Under 10000 (True Wireless)
Noise Cancellation Arrangement:
The disturbance caused by outer noise during calling or listening to music creates a problem for users.
Hence to provide a noise-free atmosphere, the premium-level earbuds are equipped with noise-cancellation technology.
For noise cancellation, two methods are adopted.
Active Noise Cancellation
Passive Noise Cancellation
For active noise cancellation, the new LG earbuds are equipped with microphones. They recognize the frequency of outer noise and generate a sound of equal frequency to cancel that.
Apart from the above, as a passive noise cancellation arrangement, the earbuds have been designed to be perfectly fit in the ears. This prohibits the outer noise from entering the ears.
Thus the earbuds are equipped with enough arrangements for noise cancellation.
So you can make calls or enjoy music without any disturbance.
Sophisticated Call Quality:
Each LG Tone FN7 earbud is equipped with three built-in microphones. One upper microphone recognizes the outer noise, the inner one cancels out the outer noise. The lower microphone catches and amplifies your vocal.
The high-performance microphone setup ensures clear sound delivery even in crowded spaces.
Comfortable in wearing:
LG Tone Free HBS-FN7 Earbuds' vortex ribs allow them to adapt to all ear shapes.
It provides high comfort and increases the immersive listening experience. It also delivers vocals with pristine clarity.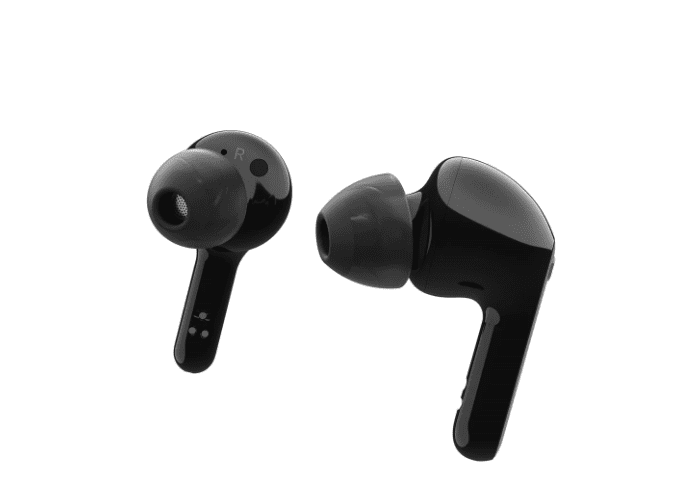 Water Resistance:
The water resistance feature protects the earbuds from rain and sweat.
The LG earbuds have an IPX4 rating. It means it has enough water resistance power.
Battery Backup:
You can enjoy a total of 21hrs of battery life from one charge. You get 7 hours of playback from earbuds after one charge and an extra 14-hour playback from the cradle.
If you are in hurry and do not have sufficient time to get the device charged, there is no need to worry. You can get one hour of playback time after just 5 minutes of charging.
Connectivity:
Connectivity is one of the main features of wireless earphones. The faster connectivity ensures the faster transmission of data.
The new LG earbuds are powered with the latest Bluetooth v5.
Perfect Size:
LG Tone Free HBS-FN7 is a True Wireless Earbud that is lightweight and its compact size allows it to fit in the palm.
Advanced Finger Touch-Control:
Your earbuds are controlled by just your finger's touch. Not only this FN7 provides you a haptic sound for every touch. It helps us know that your earbuds have recognized your command.
FEATURES:
Product size- 16.2×32.7×26.8mm
Charging case size- 54.5×54.5×27.5mm
Display- LED indicator (BT, Power On, Battery)
Bluetooth version- 5.0
ANC- Yes
Mic Tyler Digital Analog MEMS
No of mics- 3 pairs
Meridian Audio turning
Roaring bass
IP×4 water resistance
Weight- 5.7gm each
Color Availability:
Modern Glossy White
Stylish Matte Black
Price:
Conclusion:
LG Tone Free HBS-FN7 TWS delivers good sound quality. It is the first time the earbuds have nanotechnology which keeps them sanitized and bacteria-free. They have a compact smart design along with ANC.
In view of high-performance features and quality, the earbuds are worth buying.