Introduction
Wireless earphones have become an essential part of our daily lives in an era where technology is continually developing. They provide us the ability to take calls, listen to our favorite music, and enjoy auditory experiences without being constrained by cables.
With the release of the Jabra Elite 5 earbuds, a well-known brand in the field of audio technology has once again lifted the standard as demand for high-quality audio and seamless communication increases. This is the updated version of Jabra Elite 4.
Finding the ideal set of earbuds can be challenging in the ever-changing world of audio technology.
Audiophiles and tech enthusiasts now have a tempting option that combines cutting-edge functionality with superb sound quality in the form of the Jabra Elite 5 Earbuds.
An in-depth analysis of the Jabra Elite 5 Earbuds' design, audio quality, connectivity, and overall consumer value will be covered in this thorough review.
Jabra Elite 5 Specification
Build and Design Quality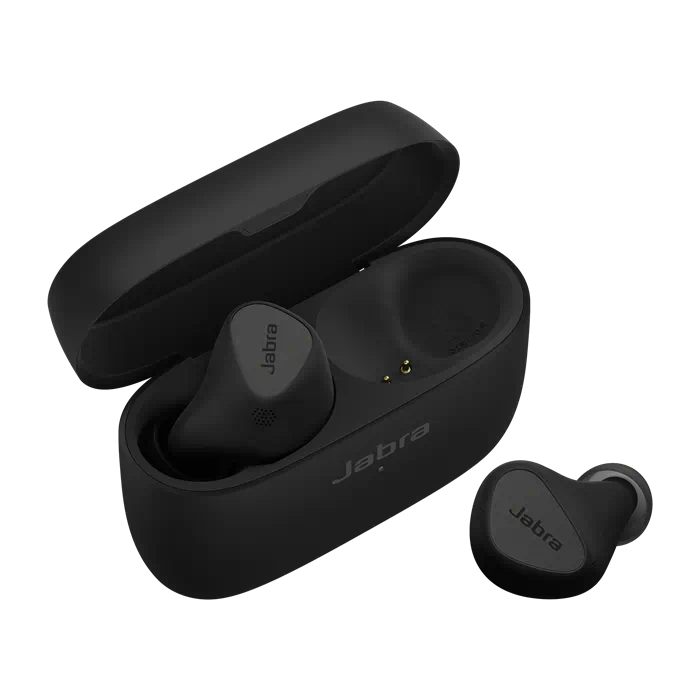 The Jabra Elite 5 Earbuds' sleek and simple style is one of the first features that draws your attention.
These earphones were carefully and precisely made, and they have a high-end look that goes with any outfit. They look more upscale thanks to the earbuds' matte texture and sophisticated Jabra logo.
Thanks to a variety of ear tip options and an ergonomic design, the earbuds provide a comfortable and reliable fit.
These earbuds keep securely in place, delivering a snug and comfortable fit whether you're using them for exercises, commutes, or regular listening.
The Audio Revolution Has Begun
The Jabra Elite 5 Earbuds are a shining illustration of how innovation and user-centric design can combine to improve your listening experience in the changing world of audio technology. These earbuds have raised the bar for wireless earbuds with their gorgeous looks, excellent sound quality, cutting-edge connection, and remarkable battery life.
Audio Composition
The Jabra Elite 5 Earbuds deliver excellent audio quality, which is the essence of any earbud. These earbuds provide an amazing audio experience because they are outfitted with cutting-edge technology and sophisticated drivers.
Sound Performance
Rich, well-balanced sound with distinct highs, mids, and a powerful bass can be heard with the Jabra Elite 5 earbuds. The audio quality is consistently excellent whether you're accepting calls, listening to music or podcasts, or both.
Noise Cancellation Active (ANC)
ANC is a crucial element in a world that is getting louder all the time. With the exceptional noise cancellation provided by the Elite 5 Earbuds, you can fully immerse yourself in your audio without interruptions.
Mode of Transparency
The transparency option increases ambient noise without degrading audio quality for those times when you need to be aware of your surroundings.
5.2 Bluetooth
These earphones deliver stable and seamless connections to your devices thanks to the most recent Bluetooth technology. You can listen to music without interruption and get crystal-clear call quality.
Battery's life
With the charging case, the Elite 5 Earbuds' excellent battery life may be increased to a whopping 32 hours. They can last up to 8 hours on a single charge. You may receive hours of playback with just a brief charge thanks to quick charging capabilities. It excels in the area of connectivity, which is essential to the wireless earbud experience.
Extraordinary Qualities
Jabra has added a number of features to improve the overall user experience, including:
Touch Controls
You may control playback and make adjustments with the earphones' touch-sensitive controls.
Using a Voice Assistant
With just a tap, you can quickly and easily contact your chosen voice assistant, like Siri, Google Assistant, or Alexa.
Water and Dust Resistance
The Elite 5 Earbuds have an IP57 rating, making them water and dust-resistant. They will be able to endure your active lifestyle thanks to their durability.
Worth the Money
Given the variety of functions offered by the Jabra Elite 5 Earbuds, the pricing is reasonable. They are an attractive option for both audiophiles and regular users because of their excellent sound quality, comfortable fit, long battery life, and solid connectivity.
It's crucial to understand the meaning of "value for money" before delving deeper into the world of the Jabra Elite 5 Earbuds.
This idea goes beyond the purely financial considerations of a purchase and incorporates a wider perspective that includes the product's quality, features, durability, and entire experience.
In essence, it's about getting a degree of satisfaction and value that matches or exceeds the cost.
Value for money suggests that you are making an investment rather than just buying a thing. Beyond the initial purchase, this investment is considered a long-term partnership where the product constantly fulfills its promises, making every dollar spent valuable.
Conclusion
The Jabra Elite 5 Earbuds stand out as a superb alternative for anyone looking for a high-quality audio experience in a fashionable and user-friendly package in a market inundated with options.
These earbuds redefine what wireless earbuds are capable of with their excellent sound quality, cutting-edge functionality, and stylish style.
The Jabra Elite 5 Earbuds are a monument to Jabra's dedication to innovation and perfection in audio technology, whether you're a music lover, a fitness enthusiast, or simply in need of dependable audio companions.
In conclusion, the Jabra Elite 5 Earbuds provide a seamless fusion of style, audio quality, connectivity, and affordability. They should be at the top of your wish list since they are ready to transform your listening experience.
To stay up-to-date with the latest technology updates, follow us on Instagram, Facebook & Twitter, or join our Telegram Group.