Google's long-awaited smartwatch, the Pixel Watch, is finally launched in 2022.
This watch is designed to provide a more seamless user experience with the Android Wear OS and offers a wide range of features that are sure to appeal to smartwatch users.
Read on for more details about this exciting new product.
Here's everything we know about the Google Pixel Watch so far
Design and Display
The body of the watch is made of stainless steel with a polished finish. The watchband has premium leather and it is available in multiple colors.
The Google Pixel Watch will have a round face with a stainless steel body and a Gorilla Glass 5 display. The watch is available in 41mm size.
The smartwatch has a 1.2-inch display of 450 x 450 pixels (~320 PPI density).
The watch will come in 3 different colors: Matte Black, Polished Silver, and Champagne Gold.
There will also be many different strap options available.
Google Pixel Watch Bands
The Pixel Watch has over 20 different bands that are available for purchase.
The Pixel Watch band is made of a comfortable silicone material that is soft to the touch and doesn't cause skin irritation.
The Pixel Watch band is also water resistant and can be worn in the shower or in the pool.
The Pixel Watch band is also adjustable to fit any wrist size.
The band is easy to put on and take off, and it's also very comfortable to wear.
If you're looking for a watch that is both stylish and functional, then the Pixel Watch is a great choice.
Read Also: Google's Fitbit Launches 3 New Models in India Inspire 3, Versa 4, and Sense 2
Google Pixel Watch Features
The Google Pixel Watch will run on a modified version of Android Wear OS 3.5 that is optimized for use on a watch.
The watch will be compatible with both Android and iOS smartphones.
The watch runs on Dual-core 1.15 GHz Exynos 9110 (10 nm) Chipset Processor.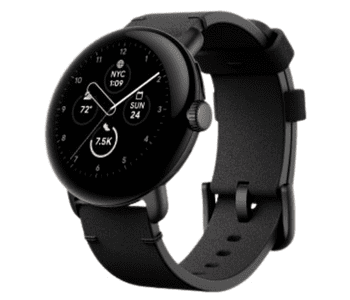 Health Features
The watch will also have a heart rate sensor, a microphone, and a speaker.
The Google Pixel Watch also has some new health features.
These features include blood oxygen tracking, stress tracking, and the ability to measure electrodermal activity (EDA).
Connectivity
The new Google Pixel Watch offers 4G LTE connectivity, meaning that you can leave your phone at home and still stay connected.
The watch also features Bluetooth and Wi-Fi connectivity, so you can still receive calls, texts, and emails even if you're not in the range of 4G.
In addition, the watch comes with a built-in Speaker so you can make calls directly from the watch.
Watch Faces
The Google Pixel Watch comes with a variety of pre-loaded watch faces to choose from, and you can also download new ones from the Google Play Store.
Whether you're looking for something simple or something more complex, there's a watch face for you.
Some of the Unique watch faces include an analog watch face with a customizable background, a digital watch face with an always-on display, and a fitness watch face that tracks your steps and heart rate.
You can also find watch faces that display the current weather, your calendar, or your upcoming flights.
With so many options available, you're sure to find a Google Pixel Watch face that fits your style.
Google Assistant
Google Pixel Watch has a Google Assistant built-in. With the Google Pixel Watch, you can use your voice to control your watch and get more done.
The Google Pixel Watch also has a built-in speaker so you can make phone calls and talk to Google Assistant hands-free.
Get the most out of your Google Pixel Watch with Google Assistant.
Exercises Tracking
The new Google Pixel Watch is fitness-focused, with tracking workouts across 40 exercises.
It has a built-in GPS so you can map your run or cycling route, and it's water-resistant up to 50 meters so you can take it swimming.
The watch also measures your heart rate and tracks your steps, calories burned, and distance covered.
There's even a new feature called Exercise Goals that allows you to set targets for specific types of exercise, such as running, biking, or swimming.
Emergency SOS
The Google Pixel Watch is a new type of smartwatch that is designed to keep you safe in an emergency situation.
The watch has a feature called Emergency Services which allows you to select up to five trusted contacts who will be notified if you feel unsafe.
The watch will send your location to your contacts so they can come to your aid.
The watch also has a panic button that will immediately call the country-specific emergency contact like 911.
The Google Pixel Watch is an important step in keeping people safe in emergency situations.
Fitbit Premium
Google's new Pixel Watch is a top-of-the-line smartwatch that comes with a number of impressive features.
One of the most notable is its inclusion of Fitbit Premium, a subscription service that gives users access to a wide range of fitness tracking and coaching features.
With Fitbit Premium, you'll be able to track your steps, heart rate, and sleep quality, as well as set goals and receive personalized workout recommendations.
You'll also have access to exclusive content, including guided meditation exercises and nutrition tips.
Best of all, the Google Pixel Watch comes with six months of Fitbit Premium included, so you can start enjoying all these benefits right away.
YouTube Music Premium
YouTube Music is a streaming app that lets you listen to your favorite songs and watch music videos from up-and-coming artists.
With YouTube Music Premium, you can stream ad-free music, and download songs for offline playback, and background play.
Google is offering 3 months of YouTube Music Premium for free to anyone who buys a Pixel Watch.
This is a great opportunity to try out the premium features of YouTube Music and see if it's right for you.
If you're already a YouTube Music subscriber, you can still take advantage of this offer by simply linking your account to your new Pixel Watch.
Works Seamlessly with Pixel Phones and Earbuds
The new Google Pixel Watch was created with Pixel phone users in mind.
The watch works seamlessly with Pixel phones and Pixel earbuds, making it easy to stay connected while on the go.
The watch also features a built-in microphone and speaker, so you can make and receive calls without ever having to take your phone out of your pocket.
And because the watch is powered by Android Wear, you'll have access to all of your favorite apps and services right on your wrist.
Whether you're looking for a way to stay connected with your Pixel phone or simply want a stylish and functional smartwatch, the Google Pixel Watch is a perfect choice.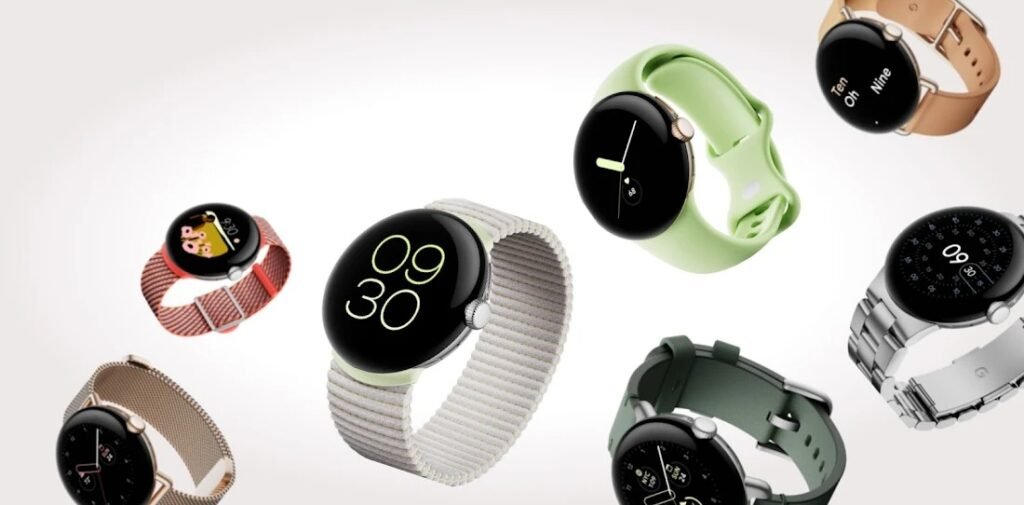 Price and Availability
The Google Pixel Watch costs between $399 and $349.
$399 – 4G LTE + Bluetooth/Wi-Fi
$349 – Bluetooth/Wi-Fi
It will be available for purchase from the Google Store and select retailers worldwide.
Conclusion
With its sleek design, robust feature set, and competitive price point, the Google Pixel Watch is one of the most popular smartwatches in the market.
What do you think Will the latest Google Pixel Watch be able to challenge the Apple Watch Series 7?
Let us know in the comments below what you think about the Google Pixel Watch and whether or not you'd be interested in purchasing one.
Stay tuned for more information about the exciting new Google products in the coming months.
To stay up-to-date with the latest technology updates, follow us on Instagram, Facebook & Twitter, or join our Telegram Group.