If you are looking for a high-quality sports smartwatch with advanced features, in this article we are telling you about the new smartwatch Garmin Forerunner 955 Solar, presented by Garmin.
What is Garmin known for?
Garmin is an American multinational technology company.
It is known for manufacturing high-tech smart watches and GPS-tracking systems.
They also design, manufacture, and market GPS navigation, communication, and information devices.
It was founded in 1989 by Gary Burrell and Min Kao in the United States.
The company's product line includes GPS units for automotive, aviation, marine, outdoor, and sports use; handheld GPS devices; dog-tracking collars; and fitness trackers and smartwatches.
Garmin has launched its new Forerunner 955 smartwatch with solar charging support in India.
This smartwatch is specially designed for athletes and outdoor enthusiasts who want to keep track of their performance and progress.
The Forerunner 955 is powered by Garmin's Solar Flare technology which allows the watch to recharge its battery using sunlight.
This feature is especially useful for athletes who train outdoors and need to keep their watch charged.
The Forerunner 955 also features a high-resolution color display, heart rate monitoring, GPS tracking, and smartwatch features.
The Forerunner 955 is priced at Rs. 63,990 in India and is available for purchase from Garmin's official website and select retailers.
What are the benefits of having a smartwatch?
A smartwatch is a wearable computer that is worn on the wrist. It typically has many of the same features as a smartphone, including the ability to make calls, accesses the internet, and send notifications.
However, a smartwatch also has health monitoring capabilities, such as the ability to track steps are taken and heart rate.
Additionally, many smartwatches can track sleep patterns and provide vibrating alarms to wake the wearer up.
Given the wide range of features offered by smartwatches, it is not surprising that they have become increasingly popular in recent years.
For many people, a smartwatch is an essential part of their daily lives.
Use of Garmin Forerunner 955 in Sports:
The Garmin Forerunner 955 is a top-of-the-line smartwatch that is specifically designed for athletes.
It includes all of the features that one would expect from a high-end watch, such as GPS tracking, heart rate monitoring, and smartphone notifications.
In addition, it also offers advanced training tools, such as the ability to create custom workouts and track performance data.
The Forerunner 955 is also one of the few smartwatches on the market that is water-resistant enough to be used for swimming.
Overall, the Garmin Forerunner 955 is an excellent choice for athletes who are looking for a high-performance smartwatch.
Let us look at the specifications of the Garmin Forerunner 955 in detail.
Read Also:
Garmin Forerunner 955 Solar Specifications:
Solar Charging Feature:
The Garmin Forerunner 955 series is a line of GPS running watches that come with a solar charging feature.
This feature allows the watch to be charged by exposure to sunlight, making it a great option for runners who are always on the go.
The solar charging feature works by absorbing light from the sun and converting it into electrical energy.
This energy is then used to charge the watch's battery. In order to maximize the solar charging feature, it is best to expose the watch to direct sunlight for at least two hours per day.
Additionally, the Garmin Forerunner 955 series is also compatible with standard USB chargers, so runners can still charge their watch even if they are not able to get outside and run.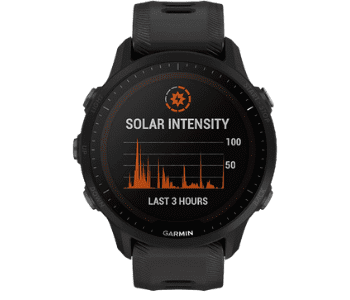 GNSS Positioning Technology:
Garmin's Forerunner 955 GNSS watch is the latest in a long line of GPS-enabled devices designed to help athletes train more effectively.
The watch features Garmin's GNSS positioning technology, which uses a combination of GPS, GLONASS, and GALILEO satellite signals to provide more accurate position tracking than traditional GPS devices.
Health Monitoring System:
The Garmin Forerunner 955 series is a line of health monitoring watches that offers a wealth of features for those looking to improve their fitness and wellbeing.
Perhaps most notably, the watches are equipped with sensors that can track sleep quality, stress levels, blood oxygenation, and respiration rate.
The watch also features a built-in barometer, altimeter, and compass, as well as the ability to connect to Garmin's Heart Rate Monitor for more accurate heart rate tracking.
The Garmin Forerunner 955 is sure to be a valuable tool for any athlete looking to take their training to the next level.
Additionally, the Forerunner 955's female health functions make it an ideal choice for women who want to track their menstrual cycle or pregnancy.
This wealth of data can be used to better understand one's health and make lifestyle changes accordingly.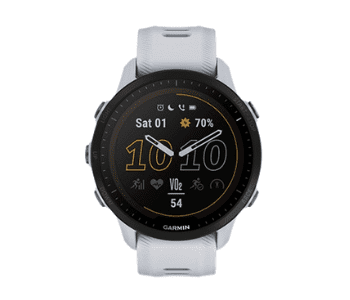 Battery Life:
The Garmin Forerunner 955 is a top-of-the-line GPS watch that offers an incredible battery life in different modes.
In smartwatch mode, it can last up to 20 days, and in GPS-only mode, it can last up to 49 hours.
In all-systems GNSS mode, it can last up to 22 hours while in all-systems GNSS mode with music, it can last up to 8.5 hours.
In Ultratrac mode, it can last an impressive 110 hours.
This watch is perfect for anyone who needs a reliable watch with a powerful battery.
Multi-Band Support:
The Garmin Forerunner 955 Solar is a high-end GPS running watch that supports multiple global navigation satellite systems.
This means that it can access more satellites, which results in more accurate tracking of your location and route. The watch also includes a number of other features that are designed to improve your running experience.
These include a built-in heart rate monitor, a PacePro feature that automatically adjusts your target pace based on the terrain, and the ability to create custom interval training workouts.
If you're looking for a top-of-the-line GPS running watch with all the bells and whistles, the Garmin Forerunner 955 Solar is a great option.
Conclusion:
Garmin Forerunner 955 Solar is a great running watch. The solar charging system is really cool and it's a nice feature to have on a running watch. Let us know in the comments below if you think that this would be a good addition to the Garmin Forerunner series.