Every millisecond counts in the world of gaming. To outwit opponents and fully immerse themselves in the virtual worlds they explore, gamers look for any advantage they can get.
The gaming monitor is one crucial piece of equipment that can significantly alter gameplay. Both competitive and casual gamers now demand gaming monitors with fast refresh rates and short response times.
This article will examine the significance of these qualities and some of the top gaming monitors on the market to elevate your gaming experience.
The Significance of Refresh Rate and Response Time
Before we dive into the world of gaming monitors, let's understand why refresh rate and response time matter so much in gaming.
Response Time: Eliminating Ghosting and Artifacts
The term "response time" describes how rapidly a pixel may switch from one colour to another and back again. It is commonly measured in milliseconds (ms). Ghosting and motion artefacts must be minimised to avoid them, especially in games that move quickly.
Ghosting is the term for the persistent shadow or trail that quickly moving objects on the screen leave behind. Reduced response times make ghosting impossible, guaranteeing that the image seen corresponds to the activity in real-time.
For gaming monitors, 1 to 2 milliseconds of response time is usually ideal. During games, monitors with faster response rates could show observable ghosting effects.
Refresh Rate: The Key to Smooth Gameplay
The number of times per second that the screen updates to show a new image is known as the refresh rate of a monitor and is measured in Hertz (Hz). A higher refresh rate makes games more fluid and slick.
Traditional monitors typically update the screen 60 times per second (or 60Hz refresh rate). However, gaming monitors with refresh rates of 120Hz, 144Hz, 240Hz, and even 360Hz are now readily accessible.
A greater refresh rate has the following benefits:
Motion blur is lessened as a result of faster refresh rates, which is important for games that move quickly.
Higher refresh rates may lead to less input lag, making your gaming experience more responsive.
Smoother animations and transitions give games a more realistic appearance.
Top Gaming Monitors with High Refresh Rates and Low Response Times
Samsung Odyssey Neo G8 S32BG85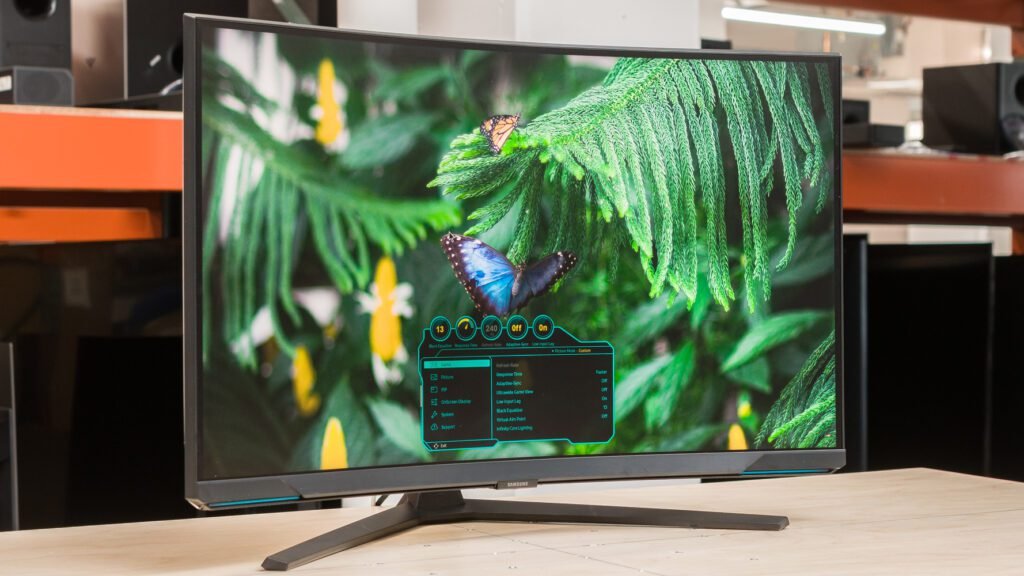 The Samsung Odyssey Neo G8 S32BG85, a terrific gaming display with a 4k @ 240Hz refresh rate, is the best 4k gaming monitor we've tested.
It's at least a good option if you intend to upgrade your PC but don't want to purchase a new display at that time. However, you still need a high-end graphics card to attain its maximum refresh rate.
The Samsung Odyssey Neo G7 S32BG75, a very comparable monitor with a 165Hz refresh rate instead, is another option to consider if you don't need such a high refresh rate. It also frequently costs less.
ViewSonic 24-inch OMNI XG2431 Gaming Monitor
The ViewSonic XG2431 is a more economical alternative to the two LG displays previously mentioned. The XG2431 is routinely available for less than $300, despite recent price changes.
It is relatively compact at 24 inches and only has a 1080p panel. It does, however, provide a 240Hz refresh rate.
The XG2431 is a fantastic choice for budget-conscious competitive gamers when you take that into account along with its lower resolution.
ASUS ROG Swift PG279QZ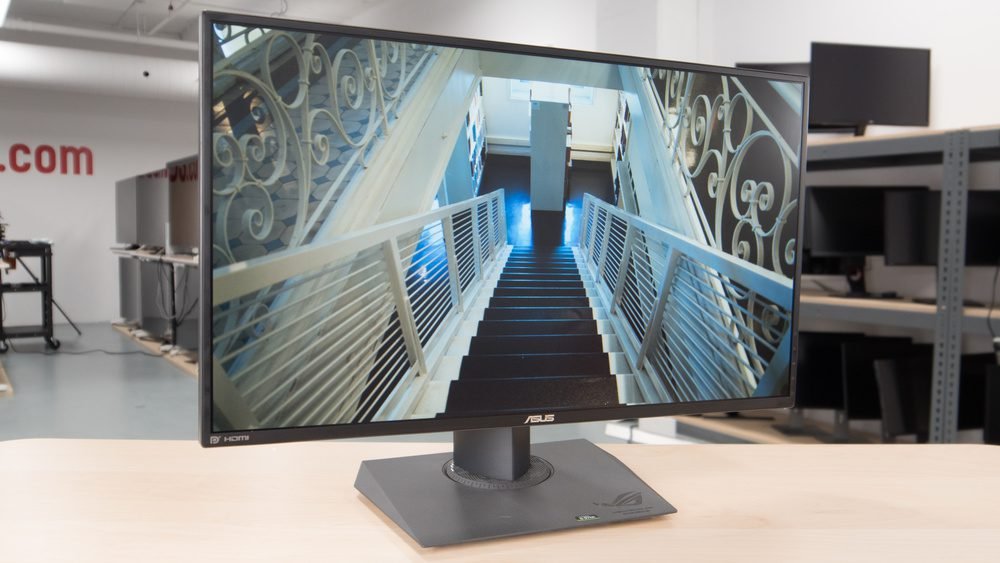 A high-end gaming computer monitor the ASUS ROG Swift PG279QZ is renowned for its superb colour accuracy and quick response time.
The 1ms reaction time and 165Hz refresh rate make for a fluid gaming experience. Because of the IPS panel's rich colours and wide viewing angles, it is appropriate for both gaming and creating content.
Sony INZONE M9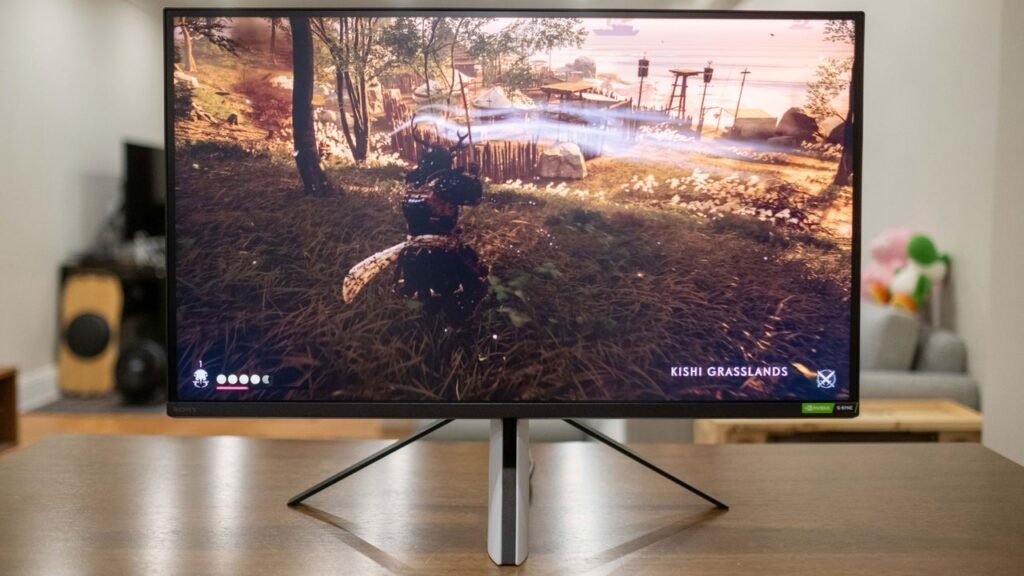 Sony INZONE M9 typically costs a little less and performs admirably. It has many of the same features and capabilities as the LG, however, it performs somewhat poorer and lacks the overclock capability.
Its full-array local dimming feature, nevertheless, is adequate and helps to improve the picture quality in low-light situations, thus it has higher picture quality than the LG. It still falls short of the Samsung Odyssey Neo G8 S32BG85 for that, though.
Alienware AW3423DWF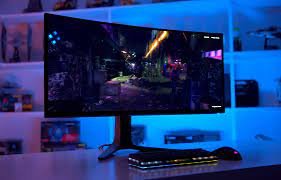 The AW3423DWF is now among the top selections for individuals who are determined on an ultrawide display. Alienware's QD-OLED display received a 92 out of 100 from Engadget Senior Editor Devindra Hardawar in his review from last May.
The AW3423DWF is without a doubt the priciest screen on this list, costing $1,299, but in exchange, you get a 21:9 gaming monitor with up to 175Hz refresh rate, 0.1ms response rate, and HDR True Black 400 performance. It is deficient solely in an HDMI 2.1 port.
Gigabyte M32U
As you lower your pricing range, you can still find some good 4K gaming monitors, and the Gigabyte M32U is another fantastic option. In terms of picture quality, it is inferior to the Sony INZONE M9 due to a weaker local dimming feature and greyish blacks in dim environments.
Other Gigabyte models, such as the Gigabyte M32UC, are available in the same price range if dark room performance is crucial to you.
Although it has a greater contrast ratio for deeper blacks, the M32U still provides the best performance for the money because it doesn't get as bright as the Sony and handles motion less well.
The M32U offers HDMI 2.1 bandwidth, VRR compatibility for an almost tear-free gaming experience, and a quick response time, which are all features you'd expect in a 4K gaming monitor.
Additional features include a frame rate counter and a few simulated crosshairs that the anti-cheat tool in your game won't be able to detect.
Conclusion
Gamers hoping to gain a competitive edge and improve their gaming experiences now depend heavily on gaming displays with fast refresh rates and short response times.
These monitors offer more fluid gaming, lower input lag, and the removal of motion artefacts like ghosting, whether you prefer fast-paced competitive games or immersive open-world adventures.
Think about your gaming tastes and your budget when selecting a gaming monitor. You can choose the ideal monitor to meet your demands thanks to the variety of options accessible, regardless of what you value most.
To stay up-to-date with the latest technology updates, follow us on Instagram, Facebook & Twitter, or join our Telegram Group.