The equipment used in art and design has changed greatly over time. Traditional brushes and pencils are a thing of the past as designers and artists increasingly use digital drawing tablets to realize their dreams.
These cutting-edge tools have revolutionized the creative process by giving designers and artists a flexible canvas to express their imagination and create unique works of art.
The characteristics and revolutionary effects that digital drawing tablets have had on the artistic and design communities will all be covered in this article.
Features and Capabilities of Modern Digital Drawing Tablets
Today's digital sketching tablets have come a long way from their early models. They provide an abundance of features and skills that enable designers and artists to push the limits of their creativity.
Let's examine a few of the salient attributes
High-Resolution Displays
Today, a lot of digital drawing tablets have high-resolution displays that show off artwork with amazing clarity and detail. For designers and artists who need to see their work precisely as they are creating it, this visual accuracy is essential.
Multi-Touch and Gesture Support
Some tablets provide a more natural and interactive experience by incorporating multi-touch and gesture capabilities. To improve productivity and workflow, artists can use motions like pinch-to-zoom and swipe-to-rotate the canvas.
Pressure Sensitivity
Pressure sensitivity is one of the most crucial components of contemporary digital drawing tablets. With the use of this technology, artists may modify the pressure that is delivered to the stylus to alter line thickness and opacity.
Conventional artists may easily adapt to digital art thanks to this feature, which replicates the organic feel of conventional art instruments.
Customizable Shortcut Buttons
The majority of digital drawing tablets have programmable shortcut buttons to speed up the creative process. These buttons make it simpler to use frequently used tools without disrupting the workflow by allowing artists to attach specific functions to them, such as undo, zoom, or colour selection.
Compatibility with Creative Software
With well-known creative applications like Adobe Creative Cloud, CorelDRAW, Autodesk SketchBook, and others, digital drawing tablets are made to function perfectly. This interoperability guarantees that designers and artists can easily use their favorite software tools.
Top drawing tablets
Wacom Intuos Pro
When it comes to drawing and graphics tablets, Wacom is a market leader. The Wacom Intuos Pro is the greatest drawing tablet available for professional artists, offering 8,192 levels of pressure sensitivity in the battery-free Wacom Pro Pen that comes with the device and virtually no lag.
Depending on your preferred shortcuts, you can customize anything from the tablet's ExpressKeys to the Pro Pen 2's buttons. The tablet's lightweight design makes it convenient to use on your desk or lap.
Gaomon PD1560
The 15.6-inch Gaomon PD1560 display is large, bright, and has a 1920 x 1080 resolution. It competes with the Wacom alternatives in certain aspects, but since it lacks a touch wheel and fancy multi-touch, we believe our top pick from XP-Pen is a better alternative.
It does share many of the characteristics of the Artist12 because of the 72% color gamut accuracy and the 8,192 levels of pressure sensitivity from the active pen.
Xencelabs Pen Display 24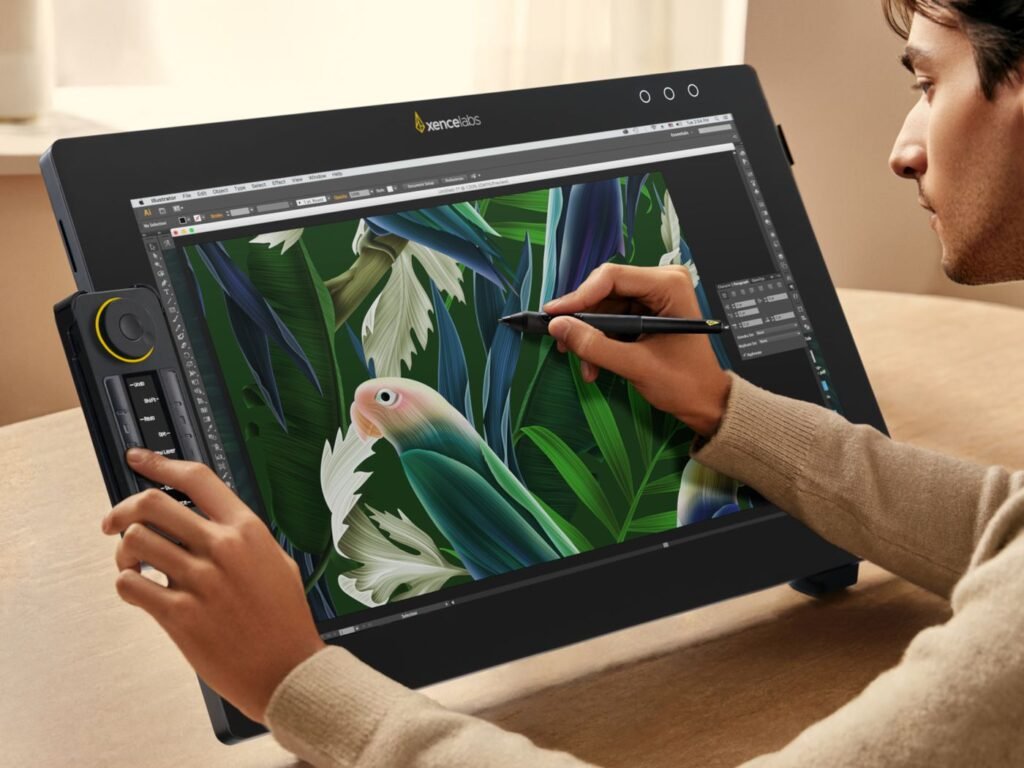 In our list of the top drawing tablets, Xencelabs takes the top spot, but we had to include another of their products because we adore them so much. The newest tablet from the company, the Xencelabs Pen Display 24, is presently up for preorder on the website.
What makes this tablet so fantastic, though? If you couldn't tell by the name, it's enormous. This screen tablet, which is 24 inches wide, is a colossal machine. The screen has a special anti-glare glass coating that is scratch- and smudge-resistant.
Huion Kamvas Pro 12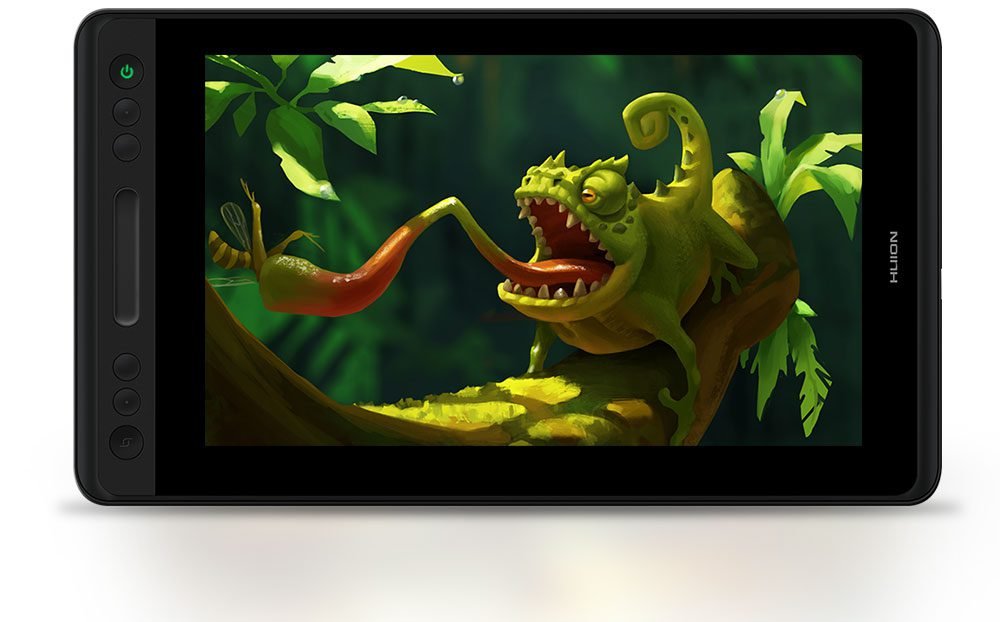 If you're on a tight budget, Huion drawing tablets have improved significantly over the past ten or so years. While some of its variants can cost up to $600, this $250 pen display tablet is a great low-cost alternative.
The canvas zooming, brush adjusting, and page scrolling on this tablet are all controlled by four user-defined express keys and a touch bar. You may modify these express keys, just like you do with the Wacom Intuos Pro.
The 16.7 million colors on the display are presented clearly thanks to the 120% sRGB color gamut volume, and the anti-glare technology works in brighter settings to lessen glare and minimize the distance between the pen nib and the pointer.
Choosing the Right Digital Drawing Tablet
It can be difficult to choose the best digital sketching tablet with the abundance of options on the market. Here are some things to take into account when choosing:
Size and Portability
The tablet's size is an important consideration. For thorough work, larger tablets offer more screen space, but they might not be as portable. For artists and designers who work on the go, smaller tablets are more practical.
Display Quality
Think about the display's quality, taking into account elements like color accuracy and resolution. Your artwork will look its finest on a high-resolution, color-accurate monitor.
Brand and Model
Find the brand and model that best meets your needs by researching various options. Making an informed choice can be aided by reading reviews and asking for recommendations from other designers and artists.
Budget
There is a wide variety of costs for digital drawing tablets. Look for a tablet that gives the characteristics you require within your price range while keeping in mind your budget. A high-quality tablet is an investment that will pay off in the long run.
Pressure Sensitivity
Verify the tablet's pressure sensitivity settings. A greater sensitivity setting gives you more control over your brushstrokes, which is crucial for artists who need to capture minute details in their work.
Compatibility
Make sure the tablet you select is appropriate for the applications you intend to use. Popular creative software is often compatible with tablets, but it's always a good idea to double-check.
Conclusion
Since their beginnings, digital drawing tablets have come a long way, developing into potent instruments that have transformed the creative business.
With the help of these tools, designers and artists can easily combine analog and digital processes, expanding their options for expression and innovation.
We can only speculate about the fascinating innovations that will be made possible by technology in the future for digital drawing tablets and the designers and artists who rely on them to realize their thoughts.
A digital drawing tablet can be the blank canvas that unleashes your entire creative potential, regardless of your level of experience or where you are in your creative path.
To stay up-to-date with the latest technology updates, follow us on Instagram, Facebook & Twitter, or join our Telegram Group.