Bose QuietComfort 45 are the wireless overhead phones presented by Bose.
Although the headphones have been launched globally in the year 2021 they have now been made available for sale in the Indian market.
Bose QuietComfort 45 (or QC 45) headphones are considered the successor of the popular Bose Quiet Comfort 35.
Why should we consider Bose QuietComfort 45?
Bose is a world-level US-based company. It is best known for manufacturing quality audio equipment including home audio systems and speakers, professional audio products and automobile sound systems, etc.
Bose has been offering great earbuds and over headphones for music lovers in the past as well.
It has a good reputation in the world of audio in terms of making quality audio equipment. So if you are looking for headphones from a reputed brand, you can consider the QuietComfort 45.
Read Also:
Best Wireless Headphones Under ₹30K
What should you look for when buying headphones?
There are many headphones from different companies available in the market. So it is difficult to choose the best among them which are equipped with the best features.
So, I suggest that when you are going to buy an overhead phone, you should look for some of the key specifications in them, which are as follows.
Design
Noise Cancellation Technology
Battery Backup
Connectivity
Other advanced features.
Let us now analyze the specifications of QuietComfort 45.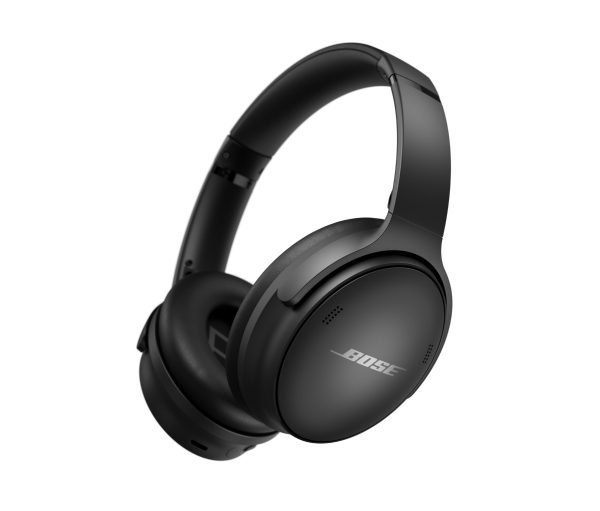 Bose QuietComfort 45: Specifications
Design:
The design of the Bose QuietComfort 45 is almost identical to that of the rest of Bose's flagship headphones.
The exterior of the headphones is beautiful and sleek to look at.
Its ear cups are covered with fine leatherette material.
The ear cups of the headphones are quite large in size and are filled with soft cushions. Due to this, they cover your ears well. This protects you from disturbance caused by outside noise.
The QC 45 is powered with various features so a number of control buttons have been provided on the earcups to give different commands.
Main ports are also provided on the earcups. There is a 2.5mm audio jack at the bottom of the left earcup. While there is a USB-C port at the bottom of the right earcup.
The weight of the headphones is just 238gm. It can be said that they are very light in weight.
The refined leather material, soft padded ear cups, and lightweight, all make the headphones comfortable to wear.
Their splendid finishing gives them an attractive look.
Control Buttons:
As mentioned above there are control buttons on both the ear cups. The functions of these buttons are as under:
Buttons on the right cup:
Top button right – press once, press twice, press thrice –
Volume more, more, and max.
Middle button right –
One press:
Play/pause, answer/end call
Two presses:
Next track
Three presses:
Previous track
Long hold:
Reject call
Bottom button right – press once, press twice, press thrice –
Volume low, lower, and lowest.
One press:
ANC mode
Two presses:
Mute call
Long hold:
Voice Assistant
All buttons work very smoothly.
Active Noise Cancellation:
When you are Calling, listening to music, or doing any important work while wearing headphones, the ambient unwanted noise may become a problem for you.
To deal with this problem, audio device makers are providing an active noise cancellation system in most earphones.
Bose QuietComfort 45 is equipped with the Bose's Acoustic Wave
Active Noise Cancellation technology.
The ear cups are fitted with tiny microphones that continuously measure external noise and produce sound waves similar to its sound waves. Thus they cancel out unwanted ambient noise.
It is capable of getting rid of outside noise to a great extent.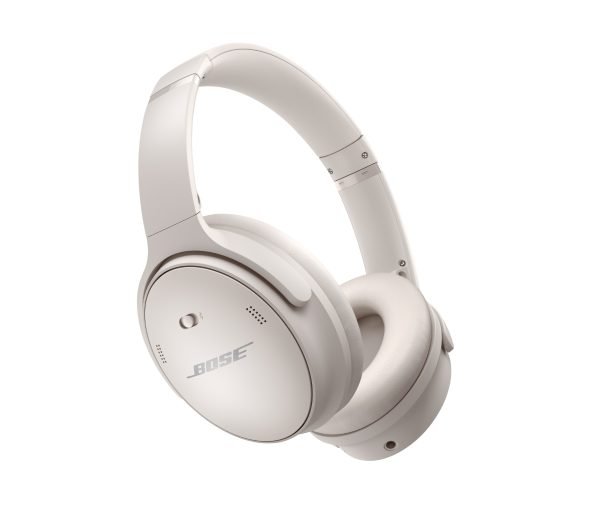 Aware Mode:
The device is also equipped with an aware mode.
Of course, the aware mode is also an important function of earphones. You get rid of extraneous noise when your device is on ANC mode. But when you need to know about your surroundings then you have to switch from ANC mode to aware mode. In this way, the aware mode helps you to connect with your surroundings.
This can be said to be a shortcoming of the device that there is no way to dismiss ANC other than to enable aware mode.
But in QC45, there is no way to disable ANC other than to enable aware mode.
Frequency Response:
We know that the human ears are able to hear the sound of frequency between 20Hz to 20000Hz.
Quality earphones are capable of reproducing sounds with a frequency ranging from 20 Hz to 20000 Hz so that all the sounds delivered by the audio source reach the listener.
The capacity of an audio device to reproduce the frequency of sound is called its frequency response.
If we talk about the Bose QuietComfort 45, its frequency response is 20 Hz to 20000 Hz.
It is certainly capable of reproducing the full spectrum of audible sounds including low, mid, and high frequencies of audio.
Battery Backup:
Bose QuietComfort 45 has a 24 hours backup on a single charge.
It can be said it has a good but not an excellent battery.
It can be charged fully in 2.5 hours via a USB-C port. Only a 15-minute charge can go for 3 hours.
The charging mode can be said to be good.
Connectivity:
Bluetooth 5.1 provides strong connectivity within 9 meters. The system can be paired with two devices at a time and can be switched between them.
Water Resistance:
The Bose QuietComfort has no IP rating. They are not water-resistant.
Color Variants:
Bose QuietComfort 45 headphones are available in two color variants:
Bose Music App Support:
Bose Music app support is available with the Bose QC45. It is available for Android-based devices as well as iOS.
You won't be able to get voice assistant and other advanced features in the absence of the app.
So you will have to download the Bose Music app to get the maximum output of the QC45 headphones.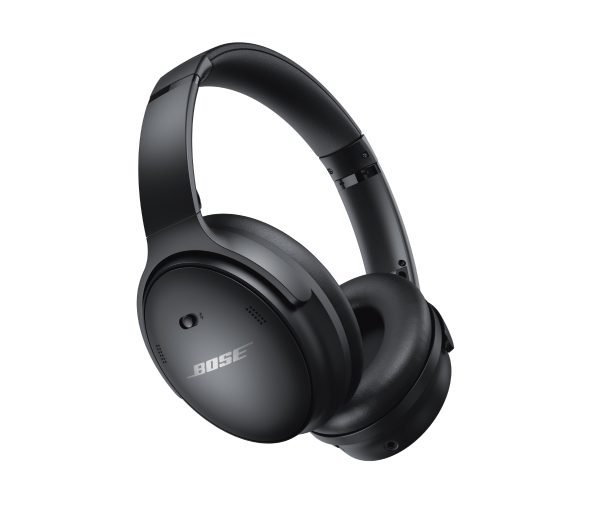 Should you buy Bose QuietComfort 45?
Of course, the Bose QuietComfort 45 is a good device. Bose is a reputed brand. It is an honor to have Bose headphones.
It is made of refined material. Its design is also very attractive.
It is equipped with several specifications in addition to advanced active noise cancellation technology.
However, despite the various merits, there are also some drawbacks.
Its battery backup cannot be called very good. It does not have water and sweat-resistant power.
Lastly, if we talk about its price considering its specifications, then I would say that it is quite expensive in comparison to its counterparts. If we talk specifically about India, then here it is very expensive.
Bose QuietComfort 45 Price: