Are you ready to rock the party? OK, boAt Stone 1400 30W is here. A Bluetooth speaker based on modern technology, that makes you feel a vibrant sound.
Whenever and where ever you like, you can carry it. Forgetting all worries, just switch it on and enjoy.
boAt Stone 1400 30W has various fantastic features, that are as under.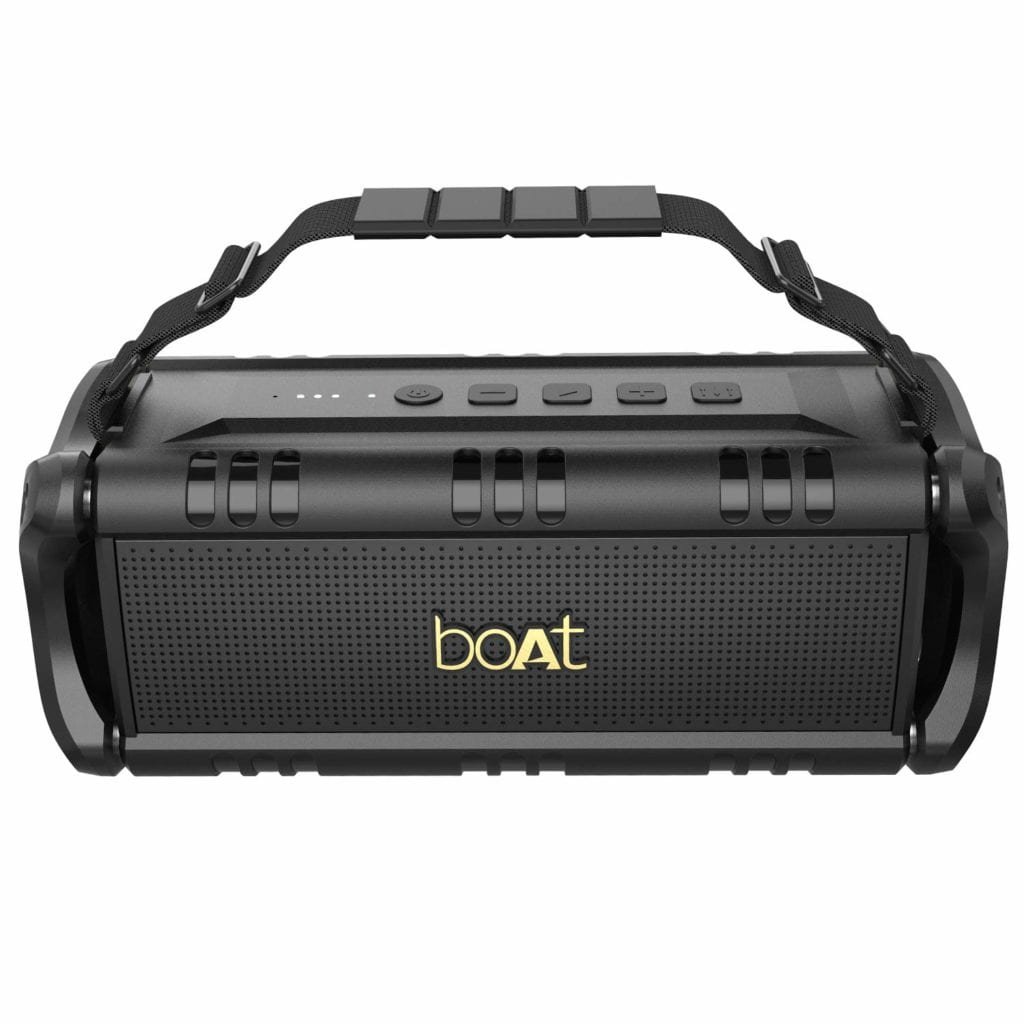 Features:
It has two audio channels.
It has two speakers.
The speaker's thickness is 11.8 cm & height is 11.9 cm.
It has an in-built microphone for receiving calls.
3000 gm is the weight of the speaker.
It's IPX5 waterproof.
It has 4.2v supported Bluetooth.
10 m in range of the Bluetooth.
Its frequency reaction is about 20Hz to 20kHz.
It has a C-Type USB cable.
Its battery life is 2500 mAh.
It can run up to 7-8 hours after a full charge.
It takes 4.5 hours to be completely charged.
The output of the speaker is 30W.
It can easily be used at the time of charging also.
Read Also
JBL Flip 5 Bluetooth Speaker Full Specifications
Bose SoundLink Micro – Speaker With Quality Sound
Dynamic Sounds:
BoAt Stone 1400 30W has a premium quality 70 mm outer driver and 30mm inner driver. The system is able to deliver High-Definition audio. There are buttons to control the sound's volume. So if you want to hear it alone, then you can keep the slight volume low. And if you want to use it at your kitty party, you can easily play the music on it.
Its loud HD sound can be able to create a perfect party mood.
Ran up to 7 hours:
Its battery life is good at 2500 mAh. And it has a C-Type portable cable to access charging anywhere as it can be used for up to 7-8 hours smoothly. So you can carry it outdoor also.
Water Resistance:
It has enough water resistance power with an IPX5 rating. It is claimed that it can resist water well too. So if you have the desire to take it to your pool party, yes, you can.
Integrated Control:
It has numerous buttons to control it as per your requirements. Button for volume, and the button for power off or on will help you to drive it comfortably. And the most interesting fact is that it has a built-in microphone that can permit one to take calls without controlling hand.
Frequency Response:
The system is capable of reproducing the full spectrum of frequency from 20 Hz to 20 kHz.
Connectivity:
The speaker runs on Bluetooth v4.2. Now that version 5.0 of Bluetooth is available, the old version 4.2 is being given in the speaker.
It would have been better if the system had the latest version of Bluetooth.
Warranty:
BoAt Stone 1400 30W Bluetooth speaker has a 1-year warranty. And in the purchasing box, you will get the warranty card.
Price:
Conclusion:
BoAt Stone 1400 30W is a powerful speaker having a 70mm driver which delivers HD audio. It has a full frequency response capacity, quality sound, and sufficient playtime.
If you want to get a powerful wireless speaker, it can, certainly, be a good option.