If you're in the market for a new smartwatch, but don't want to spend on a high-end smartwatch, check out our list of the best smartwatches for women under ₹5000.
We've compiled a range of watches that are both stylish and functional, so you can find the perfect one for your needs.
There are some FAQs, that people often ask:
Which smartwatch is best for females?
Smartwatches have become increasingly popular in recent years, with more and more people using them to stay connected and track their fitness goals.
However, most smartwatches on the market are designed with men in mind, leaving women with fewer options. Luckily, there are now a number of unisex smartwatches that are perfect for both men and women.
These watches often feature slimmer designs and smaller faces, making them more comfortable to wear for extended periods of time.
In addition, they typically come with a variety of strap options, so you can find one that best suits your style.
Whether you're looking for a fitness tracker or a way to stay connected, a unisex smartwatch is a great option for any woman.
Read Also:
Which brand is best for a cheap smartwatch?
There is no definitive answer to this question since there are many different brands and types of cheap smartwatches on the market.
Some good options for women include the Noise Smartwatch, Fire-Boltt, boAt, Chumbak, etc. However, it really depends on your personal preferences as to what type of smartwatch you're looking for.
If you want something more fashion-focused, then brands like Michael Kors and Daniel Klein might be a better option, but they are too expensive.
Ultimately, it's important to do some research before purchasing a smartwatch to ensure that you're getting the best value for your money.
Essential Features Smartwatch: You must consider before buying a smartwatch.
Nowadays, it seems like everyone has a smartwatch. And it's not hard to see why- these devices are incredibly versatile and packed with features that make our lives easier.
But what exactly makes a smartwatch so "smart?" Here are just a few of the essential features that you'll find on most smartwatches:
Design: Smartwatches come in all shapes and sizes, but most have a sleek and modern design that looks great on any wrist. Some models even allow you to customize the look with different faces and straps.
Heart rate monitors: This is one of the most popular features on smartwatches, as it allows you to track your heart rate during exercise or everyday activities. Heart rate data can be used to monitor your fitness level and see how your body is responding to different activities.
Pedometers: Another essential feature for fitness tracking, pedometers count the number of steps you take during the day. This information can be used to estimate the distance you've traveled and the calories you've burned.
Blood pressure monitors: This feature is becoming more common on smartwatches, as it can be used to track blood pressure levels over time. This information can be useful for managing conditions like hypertension.
Call & Messaging: Many people are drawn to their sleek design and multitude of features. One feature that is becoming more and more popular is the ability to place and receive calls and messages.
This can be a lifesaver for those who are constantly on the go and need to stay connected. With a smartwatch, you can easily see who is calling or messaging, as well as read and respond to messages.
This can be a great way to stay in touch with loved ones or colleagues without having to stop what you're doing.
Read Also:
Best Smartwatches Under ₹30000
Here are some best smartwatches for women under ₹5000 that you can buy:
boAt Xtend Smartwatch: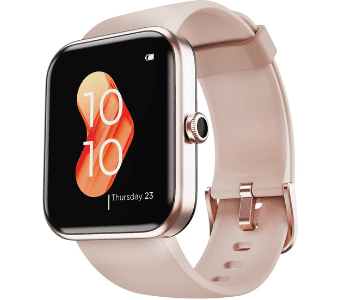 The boAt Xtend Smartwatch is the perfect choice for those who are looking for a stylish and functional smartwatch.
With Alexa built-in, you can easily set reminders, and alarms, and get answers to questions with just your voice. The 1.69″ HD display is perfect for checking the time or viewing notifications at a glance.
The watch also features a stress monitor that reads your HRV (Heart Rate Variabilities) to indicate stress levels.
Additionally, the watch monitors your heart rate and SPO2 (blood oxygen) levels.
With 14 sports modes and a 5 ATM water resistance rating, the watch is perfect for any activity. Finally, the battery life lasts up to 7 days on a single charge.
Fire-Boltt Talk 2 Smartwatch: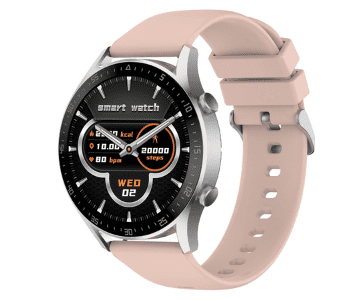 The Fire-Boltt Talk 2 Smartwatch is the perfect device for those who want to be able to make and receive calls directly from their watch.
This smartwatch features a Bluetooth speaker and microphone, as well as a dial pad and an option to access recent call history.
The 1.28″ TFT LCD Full Touch Display is perfect for viewing your favorite tunes, while the built-in mic allows you to enjoy HD Calling quality.
This watch also has a full metal body for durability and long-lasting wear.
Plus, with 60 Sports Modes and SPo2 Monitoring, this watch has everything you need to stay healthy and active.
Noise ColorFit Pulse Grand: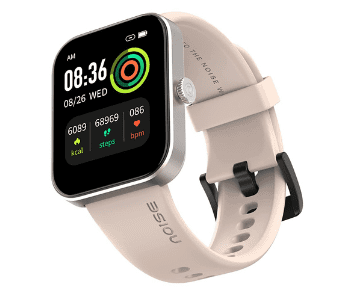 The Noise ColorFit Pulse Grand Smartwatch is perfect for those who want to stay connected and active.
With a 1.69″ LCD display, this watch offers a rich and immersive viewing experience.
It also comes with 60 sports modes, so you can pick the one that best suits your needs.
Plus, the instant charge feature lets you enjoy more than a day's worth of battery life in just 15 minutes of charging.
And if that's not enough, the Noise Health suite provides valuable insights about your health, including 24/7 heart rate monitoring, stress management, blood oxygen level tracking, sleep monitoring, and menstrual cycle tracking.
Plus, the IP68 waterproof design means you can take this watch anywhere without worry.
Chumbak Squad Smartwatch: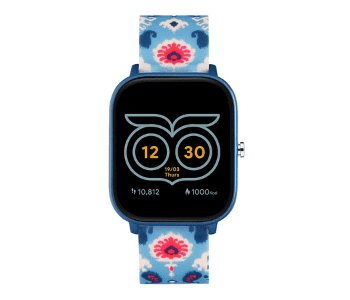 Introducing the Chumbak Squad Smartwatch- Vintage Paisley, powered by Pebble.
This stylish watch comes with 6 iconic original Chumbak Bands, a 1.4′ full touch screen with dynamic display, and full touch control.
It's the perfect accessory for any outfit, whether you're dressing up or dressing down.
The Squad Smartwatch is more than just a pretty face. It also offers real-time and 24X7 health monitoring, continuous blood oxygen monitoring SpO2, tracks menstrual cycle, monitors sleep quality, and continuous heart rate & blood pressure tracking.
With a step pedometer, it monitors your calorie burn for 7 sports modes- walking, running, cycling, skipping, badminton, basketball, etc.
Noise Pulse Buzz Smartwatch: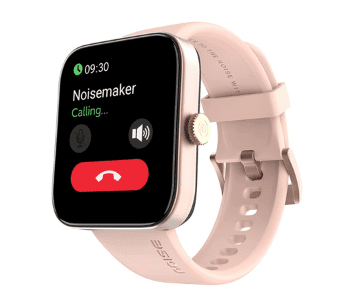 Introducing the Noise Pulse Buzz Smartwatch! Stay connected to the world with Bluetooth calling, answer calls, store favorite contacts, and dial from recent call logs.
The 1.69" TFT LCD is perfect for keeping an eye on your day. With 60 sports modes, make fitness your priority and track your progress.
You can also choose from a wide variety of watch faces to complete your look for the day.
The Noise Health Suite keeps a track of your well-being and health, right from your wrist.
Conclusion
So those were some of the best smartwatches for women that are available in India for under ₹5000.
We would love to know your thoughts on these watches and if you have any other suggestions, do let us know in the comments below.
Stay tuned for more such posts and don't forget to subscribe to our newsletter so that you never miss out on anything.