In this article, you will get complete information about the Best Earbuds Under 20000.
Earbuds have influenced our lives so much that nowadays they have become a daily use item.
Headphones were first developed around 1890 in the late nineteenth century.
In the beginning, the headphones were developed with the aim of keeping the telephone operator's hands-free While operating the telephone.
In 1891, the first in-ear headphones were patented by a French engineer named Ernest Mercadier.
Since then, the headphones have made a long journey. During this period they have undergone various technical developments.
Today audible devices are available to us in different forms like headphones, wired earphones, wireless earphones, and true wireless earbuds.
Why the Earbuds are so popular in a new generation?
True Wireless Earbuds are the latest form of audible device.
They are multi-functional and equipped with advanced technology.
Since they are lightweight and free from wires the users find them very easy to use.
Through earbuds, the user can also receive a call while listening to music.
Therefore, users consider them as all-time companions and want to wear them most of the time.
The youngsters can often be seen wearing earbuds and enjoying music while jogging in the park or exercising in the gym.
Due to having been a multifunctional device, earbuds have become a necessity for today's youth.
For this reason, earbuds have created a distinct identity in the world of audible devices.
In view of the growing market of earbuds, almost all mobile manufacturers and audio equipment manufacturers are presenting their earbuds.
If we talk about price, the earbuds are available at different prices from the economic price range to the premium price range.
If you are looking for quality earbuds in the medium price range, then you can find earbuds of your choice within Rs 20000.
When buying earbuds, the following characteristics should be noticed.
This will help you choose the best product for you.
Read Also:
Best Earbuds Under ₹5000 (TWS)
Best Earbuds Under ₹10000 (TWS)
Best Earbuds Under ₹25000 (TWS)
Essential Features of Earbuds:
Drivers Size
Bluetooth Version
Active Noise Cancellation
Frequency response
Shape and Design
Water Resistance Power
Battery Backup
Latency Rate
Finger Touch Function
Auto pairing
For your convenience, information is available here about the best earbuds under 20000.
All the earbuds belong to renowned brands.
You can select the best one from them according to your choice.
Read Also – 10 Essential Features of TWS (True Wireless Earbuds)
Best Earbuds Under 20000:
1. Sony WF-1000 XM4
The Sony WF-1000XM4 True Wireless Earbuds are specially designed to provide an optimal listening experience.
The Integrated Processor V1 cancels more noise than ever, and the new driver with more performance delivers outstanding sound quality.
The earbuds are easy to charge wirelessly, and the total battery life of 32 hours – 8 hours with charging and 24 hours with a case, provides plenty of listening time.
The IPX4 rating makes the earbuds resistant to water and splashproof, so you can enjoy your music even in the most challenging environments. The Bluetooth 5.2 connection ensures seamless streaming, and the speak-to-chat technology automatically reduces volume during conversations.
The Sony – Headphones Connect App for Android/iOS provides an intuitive way to control your listening experience. With these features, the Sony WF-1000XM4 True Wireless Earbuds are sure to become your go-to choice for listening to music on the go.
Top Features:
ACTIVE NOISE CANCELLATION – Sony's WF-1000XM4 earbuds feature Active Noise Cancellation which cancels more noise than ever before. This allows you to focus on your music and enjoy your listening experience without any distractions.
INTEGRATED PROCESSOR V1– The V1 integrated processor was specially developed by Sony, and it cancels more noise than ever before. This allows you to enjoy your music without any distractions.
QN1e CHIP – The QN1e chip is a noise-canceling chip that was specifically developed by Sony. It helps to reduce unwanted background noise so that you can focus on your music and enjoy it.
Click here to CHECK PRICE
2. Bose Sport Earbuds
Bose Sport Earbuds are specially designed for your workout. They also feature secure and comfortable ear tips that won't fall out, even during tough workouts. Additionally, the earbuds are weather and sweat-resistant, making them ideal for use during any type of exercise. Finally, the clear calls feature allows you to take calls without worry, even in noisy environments. Plus, the simple touch controls make it easy to manage your music while you're on the go.
Top Features:
Bose Music App:
The Bose Music App is a free app that lets you set custom controls for your earbuds, check your battery life, and receive software updates when they become available.
The app works well on both Android and iOS operating systems and is an essential part of the Bose Sport earbuds experience. With the app, you can customize the sound of your earbuds to your unique hearing, and you can fine-tune the touch controls so they work the way you want.
You can check your battery life at any time, so you can use your earbuds all day long without any worries. Whether you are listening to your favorite songs or working out at the gym or going for a long drive.
And finally, with the app you'll always have access to the latest software updates, ensuring that your earbuds are always up to date.
Secure and comfortable fit:
Stehier Max Tips has an innovative design. which helps your earbuds stay in the ear.
Reliable Bluetooth Connectivity:
Have you ever been frustrated with your earbuds losing connection? Bose Sport Earbuds Bluetooth has got you covered with a range up to 9m. Bluetooth connectivity is important in earbuds because it allows for a hands-free experience.
Whether you're working out at the gym or just want to be able to move around freely, Bluetooth connectivity gives you the freedom to move without having to worry about tangled wires.
Click here to CHECK PRICE
3. Sony WF-SP800N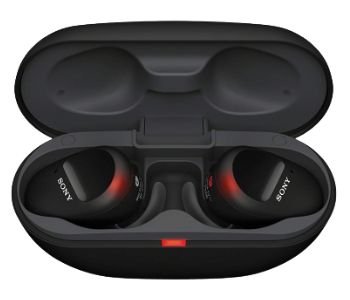 The Sony WF-SP800N is a great pair of truly wireless earbuds. It comes with an Advanced Active Noise Cancellation (ANC) feature and offers extra bass, & adaptive sound control.
It has a massive battery pack that provides a total of 26 hours of playtime without ANC (13 hours with earbuds & 13 hours with a case).
If you keep your earbuds on ANC mode, you will get a total of 18 hours of playtime (9 hours with earbuds & 9 hours with a case).
The earbuds feature 6mm drivers for powerful sound, and the bass is enhanced by an acoustic port and a Bass Boost mode.
The earphones are IP55 rated for sweat and water resistance, so you can use them while exercising without any hassle.
The Sony WF-SP800N also has touch controls on the buds that allow you to manage your music and phone calls.
Overall, these are great earbuds for those who are looking for ANC, Extra Bass, and long battery life.
Other Specifications:
Bluetooth version – 5.1

Wireless range: 10 m

Battery life: 26 hrs

| Charging time 2.5 hrs

Driver Unit Size – 6 mm

IP55 Rated
Click here to CHECK PRICE
4. Apple Airpods Pro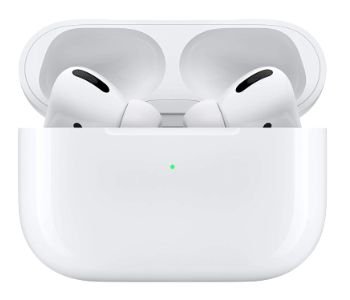 Apple AirPods Pro is the latest version of Apple's wireless earbuds.
They feature Active Noise Cancellation (ANC), transparency mode, a new H1 chip for improved performance, and other smart features.
The earbuds are also Qi-compatible, meaning they can be charged wirelessly.
The AirPods Pro are also sweated and water-resistant, making them ideal for working out.
They come with three different-sized ear tips so you can find a comfortable fit.
Additionally, the earbuds are equipped with Apple Voice Assistant (Hey Siri).
On the downside, the AirPods Pro is more expensive than the standard AirPods, and they don't have quite as long battery life.
Whether you're looking for a better great sound & built quality the Airpods Pro is a great choice for you.
Top Features:
ANC: Apple AirPods Pro has Active Noise Cancellation (ANC). So you can block out the world around you and focus on your music.
Transparency Mode: They also have a Transparency mode, which allows you to hear what's going on around you without taking them out.
Spatial Audio: Airpods Pro is equipped with very advanced features (Spatial audio with dynamic head tracking). This allows the user to experience a more immersive sound when listening to music.
Click here to CHECK PRICE
5. Jabra Elite 7 Pro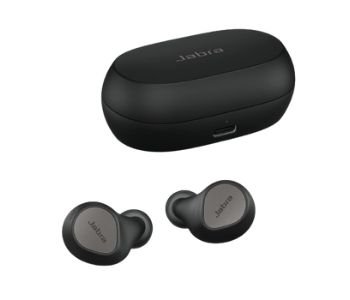 Jabra's Elite 7 Pro are the company's first pair of true wireless earbuds with active noise cancellation (ANC), and they're also its most feature-packed model yet.
Jabra has equipped the Elite 7 Pro with six built-in microphones (four for call quality and two for noise cancellation).
Jabra has a very advanced MultiSensor technology and a Transparency Mode that lets you hear your surroundings without removing the earbuds.
The Jabra Elite 7 Pro also features an IP57 rating for dust and water resistance.
And they come with a charging case that offers up to 30 hours of playtime. As for the sound quality, the Jabra Elite 7 Pro delivers excellent clarity and detail.
The bass is tight and punchy, and the highs are well-balanced. The Jabra Elite 7 Pro is an excellent pair of true wireless earbuds that checks all the boxes.
So if you're looking for a pair of true wireless earbuds Jabra Elite 7 Pro is the best choice for you.
Top Features:
HearThrough Technology: Jabra Elite 7 Pro is equipped with smart HearThrough technology that allows you to adjust how much of the outside world you want to hear.
Whether you're on a call or streaming music, the HearThrough feature can be turned up or down so that you can control how much of your surroundings you want to hear.
This is especially useful in noisy environments, where you can choose to hear just your music or also the sounds around you.
MultiSensor Voice Technology: Jabra MultiSensor Voice uses 4-mic technology and advanced bone conduction sensors to deliver next-level call quality.
This gives you the power to make calls in any environment, whether you're in a noisy office or making a conference call, the MultiSensor Voice ensures that your call will be of the highest quality.
Click here to CHECK PRICE
To stay up-to-date with the latest technology updates, follow us on Instagram, Facebook & Twitter, or join our Telegram Group.