As an alternative to oil-driven cars, almost all the car manufacturing companies are working on electric power-driven cars.
Very soon Sony's VISION S, Ford Mustang Mach E 2021 may be available for us. All these cars will be electric power-driven cars.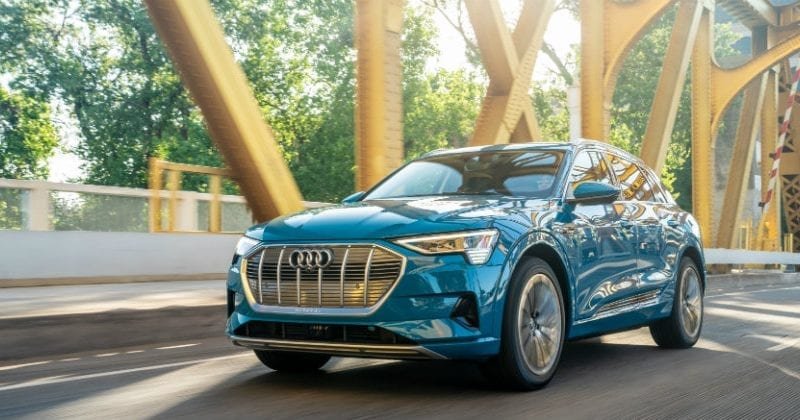 Mercedes Benz has introduced its concept car VISION AVTR at CES 2020 Las Vegas, USA and told that it is also going to give super electric cars to the world.
Audi, the giant car manufacturer, is also doing a lot of work in this field.
Audi is to manufacture 11 full-electric vehicles by the year 2025.
In this sequence, it has introduced its E-Tron ​​SUV, which is a fully electric car.
In the case of electric vehicles, some factors are very important as their charging time, the distance they cover in a single charge and their pickup, etc.
All these factors have been taken care of in Audi's E-Tron ​​SUV.
It has a capacity to run up to 400 km in single charging with a motor power of 300 KW.
The "boost mode" is a special feature in this car. In this mode, the car can perform better.
Motor:
Audi e Tron is powered with two electric motors for both axles of the vehicle that drive all the four wheels. The 125 KW motor is given at the front and 140 KW at the rear. Both motors have a combined power of 265 KW.
In Boost mode, the motor can deliver the power of 300 KW or 408 BHp.
Running capacity:
Audi e Tron ​​can run 400 km in a single charge.
Charging Time:
It can get an 80% charge in just 30 minutes. It can be recharged with an AC charger of 11 KW and an optional charger of 22KW.
Acceleration:
Audi E Tron ​​can get speed from 0 to 100 kmph in 6.6 seconds in normal mode. Since it becomes more powerful in boost mode so it can pick up from 0 to 100 kmph in just 5.7 seconds.
Top speed:
Audi e Tron ​​can run at a top speed of 200 kmph.
Virtual Mirror:
Audi e Tron ​is equipped with a very special feature of Optional Virtual Rear View Mirror (ORVM).
It is the first time when ORVM has been given in any car in the world.
These mirrors are powered with cameras that project the rear image on the under-display screen.
Battery pack:
Audi e Tron is equipped with 432 cells in 36 modules which are packed under the seats which have a combined weight of 699 kg with the power of 95 Kwh.
Launching:
The vehicle is expected to come in the first semester of 2020.
Conclusion:
Audi e Tron ​​is a powerful SUV. It has all the specifications which we can expect in an electric car. It can get charged rapidly and run 400 KM in a single charge.
These features make it a great electric car.