Introduction
Asus, a renowned name in the world of technology and gaming, has unveiled its latest gaming console, the Asus ROG Ally.
Packed with powerful features and advanced hardware, the ROG Ally promises to deliver an immersive gaming experience like never before.
With a sleek design and a range of high-end specifications, this console is set to redefine the gaming landscape. Let's dive into the details of this highly anticipated gaming console.
Asus ROG Ally Features
Design and Stunning Display
The Asus ROG Ally has a sleek and modern design, making it visually appealing for gamers.
Its compact form factor makes it highly portable, allowing gamers to indulge in their favorite titles wherever they go.
The console features a vibrant 7-inch display that provides stunning visuals, ensuring every detail in games comes to life.
With a resolution of 1080p, gamers can enjoy their favorite AAA titles and indie games in all their glory.
Powerful Performance
Under the hood, the ROG Ally is powered by AMD's Z1 extreme chipset, which ensures seamless performance and lightning-fast speeds.
Equipped with AMD RDNA3 onboard graphics and 4GB of VRAM, this console offers impressive visual fidelity and smooth gameplay.
The combination of the chipset and graphics allows gamers to experience their favorite titles with stunning graphics and high frame rates.
Ample Storage and Memory
To cater to the storage needs of gamers, Asus has equipped the ROG Ally with 16GB of LPDDR5 RAM and 512GB of NVMe storage.
This generous storage capacity ensures quick loading times and ample space for games, media, and other content.
Additionally, the console provides the convenience of expandable storage via a microSD card slot, allowing gamers to store more games and multimedia files without any hassle.
Immersive Audio and Connectivity
Audio plays a vital role in creating an immersive gaming experience, and Asus understands this.
The ROG Ally comes with two Dolby Atmos-certified speakers that deliver rich and dynamic sound.
Whether it's the thumping bass or the crisp highs, gamers can enjoy an audio experience that complements the stunning visuals. Furthermore, the console features a 3.5mm headphone jack for personal audio preferences.
In terms of connectivity, the Asus ROG Ally offers a Type-C port, allowing gamers to connect external peripherals effortlessly.
The inclusion of WiFi 6E ensures a stable and lag-free online gaming experience, while Bluetooth 5.2 connectivity enables seamless pairing with wireless accessories.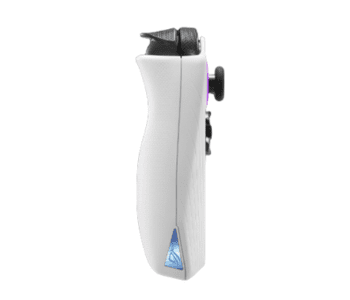 Gaming Ecosystem and Compatibility
Asus has designed the ROG Ally to be compatible with a wide range of gaming platforms and services.
The console comes with full support for Steam, the EA Sports App, Xbox Game Pass Ultimate, PC Game Pass, the Epic Games Store, GOG Galaxy 2.0, Android apps, and various other game platforms.
This broad compatibility ensures that gamers have access to an extensive library of games and can enjoy their preferred titles without any limitations.
Long-lasting Battery and Convenient Charging
To ensure uninterrupted gaming sessions, the Asus ROG Ally is equipped with a 40Wh battery that offers impressive battery life.
The console supports 65W charging, enabling gamers to quickly recharge their devices and get back into the action. Whether gaming at home or on the go, the ROG Ally provides a reliable power solution.
Conclusion
With its powerful specifications, stunning display, immersive audio, and broad compatibility, the Asus ROG Ally is set to become a game-changer in the world of gaming consoles.
Packed with features that cater to the needs of both casual and hardcore gamers, this console offers an unparalleled gaming experience.
Asus continues to demonstrate its commitment to innovation and pushing boundaries, and the ROG Ally is a testament to that. Gamers worldwide can look forward to diving into their favorite virtual worlds with this cutting-edge gaming console.
To stay up-to-date with the latest technology updates, follow us on Instagram, Facebook & Twitter, or join our Telegram Group.