Snippet: Are you looking for an all-in-one desktop PC that delivers excellent speed, and sound and has an appealing slim design with multiple color options? If yes, read our in-depth review on Apple iMac 24″.
APPLE! This brand certainly does not need any introduction. Right? It is one of the most valuable companies globally that produces popular digital gadgets incorporating Macs, iPhones, iPods, and iPads.
Today, we will discuss Apple's recently launched desktop PC – the Apple iMac 24-inch. This product is finally on sale, and if you are wondering if you should buy it or not, then read this complete article. 
In this article, we will shed light on the complete review of the iMac 24-inch. So, without wasting much time, let us start this article.
Let us first check its brief overview, so if you are in a rush, you can get a quick overview of this product.
| Pros | Cons |
| --- | --- |
| Striking and Slim Design | You cannot adjust screen height or rotation |
| Improved speaker, webcam, and microphone | No external GPU options |
| Bright, colorful 4.5K display | Limited connectivity |
| Strong performance due to M1 processor | Charging the mouse is still awkward |
After a quick overview of the Apple iMac 24″, it is time to dive deep into this product.
Design
iMac 24-inch's new design is beautiful and slimmer. This desktop PC is just 0.45 inches thin. The product comes with various new coats of paint, including yellow, green, pink, orange, purple, silver, and blue. It is lighter in weight, approximately 4.48kg as compared to the previous 21.5-inch iMac.
Therefore, whenever you unbox this product, you will notice the biggest design change is how light this PC is. Don't you think it is impressive? The product comes with reduced depth and footprint. So, it is easy to carry and install anywhere in your home or office.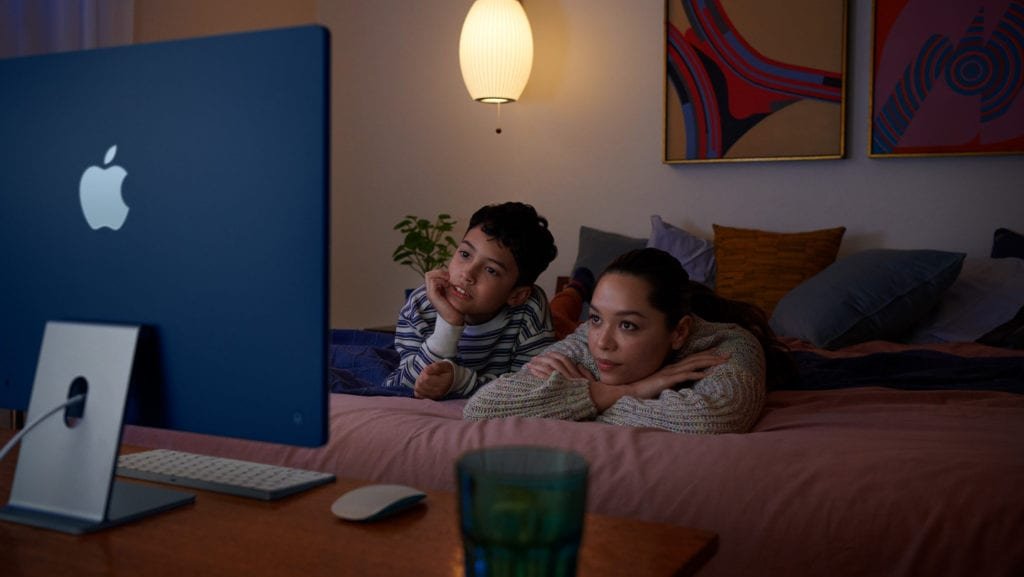 Price & Options
The iMac 24-inch is readily obtainable in the market with three standard configurations. Its base model starts at $1,299. In that model, you will get an 8-core M1 CPU. However, the base model is not available with all features and colors.
For the midline 24-inch iMac, you need to pay $1,499. In that, you will get an M1 chip along with 8 CPU cores, 8 GPU cores + 256 GB storage, 8 GB of RAM, an ethernet port, and a magic keyboard with Touch ID support.
If you want to purchase an outstanding model, then you have to pay $1,699 for it. In that, you will get an M1 chip with octa-core CPU and GPU + 512 GB of storage, 8 GB RAM, ethernet jack, Touch-ID Magic keyboard, 2 Thunderbolt 4 ports, and 2 USB 3 ports.
Performance
When it comes to the Apple iMac-24 inch, its first M1 chip delivers outstanding CPU performance. On this PC, you will get plenty of power for speedy multitasking. This all-in-one desktop PC is quite powerful to handle productivity software like Microsoft Office, photo editing, and video editing jobs.
Ports
Talking about ports, this product's base model does not have enough ports. And, ports that are present are almost all on the back of the display. However, you can choose the model in which you can put the Ethernet jack on the power adapter. It is an excellent design choice.
Display
Apple iMac 2021 comes with a striking display. Its 4.5K display makes watching movies and playing games quite enjoyable. This 24-inch new iMac comes with 4480 * 2520 resolution and that also with 218 pixels per inch. It supports P3 wide color space and True Tone.
If you are concerned about the quality of images and videos, then trust us, it will look great on this display. 
Audio
In Apple iMac 2021, movies and music feel rich and vibrant. The best thing that you will observe in this is that it provides great bass and decent spatial audio effects.
Webcam
Do you know what the great thing about this PC's webcam is? Its webcam is 1080p that delivers excellent image quality with the help of the M1 chip.
And, another great thing about its webcam is its video quality is excellent. Therefore, you will look your best on all your zoom calls. 
Graphics and Games
One downside of the iMac 24-inch is that although it has an M1 processor and 16 GB of RAM, it still struggles with the latest 3D games. However, less demanding games look stunning on its 4.5K display.
Software and iOS apps
Talking about software and iOS apps, the M1 chip lets the new iMac 2021 run most iOS apps natively. All Apple arcade games look impressive and run well on the 24-inch 4.5K screen.
Keyboard and mouse
Another feature we are not satisfied with is its Magic Keyboard and Magic Mouse. Although they are well-designed, they are way too small. However, this PC's trackpad is quite spacious and usable.
Winding Up
In summary, the Apple iMac-24 inch is neither the most powerful nor the most versatile desktop PC, but if you are searching for the best all-in-one desktop PC for everyday home computing, then you should surely invest in it.
To clear your confusion precisely, let us give you an apparent reason for who should buy it and who should not.
It's a Green Signal from our side if…
If you are searching for the best all-in-one computer that is the perfect combo of excellent design, performance, and beauty, then you should certainly invest in it.
Are you a budding content creator, or social media influencer? Then, this PC's excellent webcam and microphone will make streaming an enjoyable task for you.
If you love the big screen, then its larger screen will be a delight. 
It's a Red Signal from our side if…
If you do not have a budget to spend, then this product is certainly not for you.
If your need is heavy-duty graphics, then you should not buy this product.
Usually, most all-in-one PCs are difficult to upgrade yourself, and the new iMac also falls into the same category. So, do not buy this PC if you like to have RAM/storage or any other kind of component upgrading.