Snippet: Are you an Apple product owner, searching for a privacy-friendly tracker to quickly find your lost items? If yes, you are at the right place, the Apple AirTag is perfect for you.
Do you want a device that can trace your misplaced belongings?
If yes, The Apple AirTag is the perfect pick for you.
When we have to go somewhere and we find that we have lost our car keys, we get very upset. In such a situation, we think that there should be someone who finds our lost key and gives it to us.
Thanks to Apple to solve this problem.
For a long time, it was being speculated that Apple is going to introduce a device for its users that will help them find their lost things.
After all, the speculations proved to be true and Apple introduced a tracking device named Apple AirTag.
Through this device, you will be able to recover such things which you have lost unknowingly.
Kaiann Drance, Apple's vice president of Worldwide ‌iPhone‌ Product Marketing, says,
"We're excited to bring this incredible new capability to iPhone users with the introduction of AirTag, leveraging the vast ‌Find My‌ network, to help them keep track of and find the important items in their lives."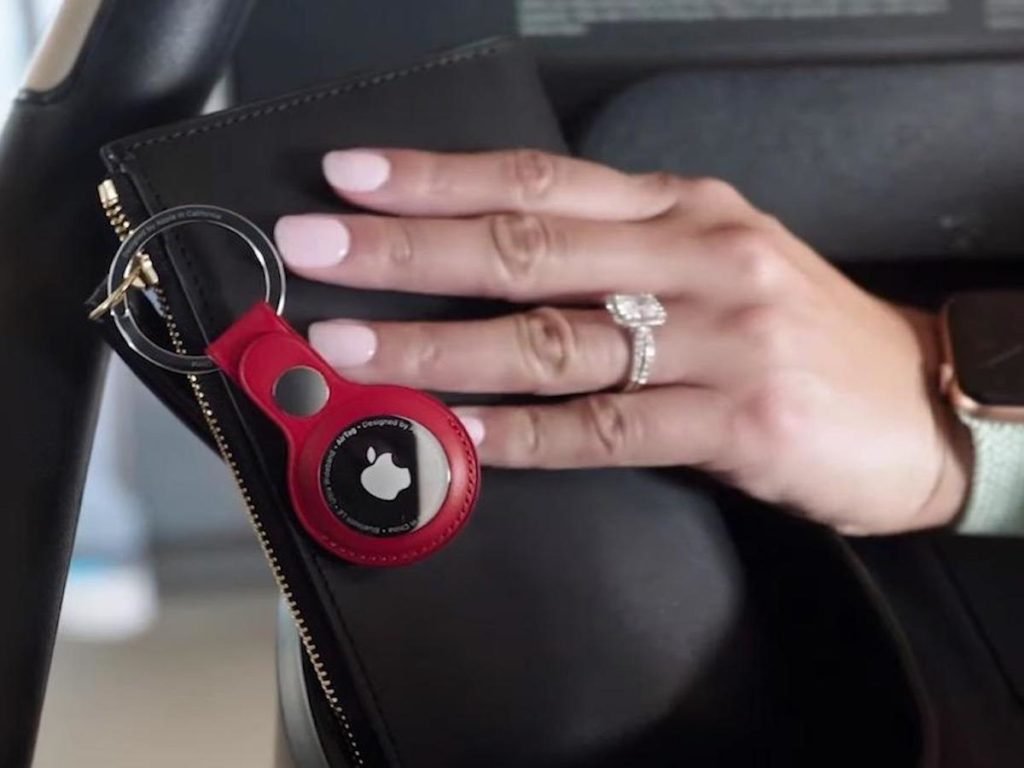 This blog will discuss a few pros, cons, key specifications, and features of this product. It will let you know whether you should invest in this product or not.
Pros And Cons
| | |
| --- | --- |
| Reason to Buy | Reason Not to Buy |
| Excellent for finding misplaced items | No Android compatibility |
| Lightweight, compact, and waterproof | Expensive if used with accessories |
| Reliable and accurate | It does not work with Android |
| It comes with a replaceable battery. | Do not come with an altimeter. So, you cannot account for height/floors. |
| Not too costly | Lacks the exciting AR feature |
Apple AirTag Key Specifications
| | |
| --- | --- |
| Size | Diameter – 1.26 inches Height – 0.31 inch |
| Weight | 0.39 ounce |
| Splash, Water, and Dust Resistance | IP67 rated |
| Connectivity | Bluetooth for proximity finding apple-designed U1 chip NFC tap for lost mode |
| Sensor | Accelerometer |
| Speaker | In-built speaker |
| Environmental Requirement | −20° to 60° C |
| Battery | User-replaceable CR2032 coin cell battery |
| Range | 29 feet |
Read Also
Apple iPad Pro Review –The Most Powerful iPad
Apple AirPods Max – Best On-Ear Headphone That Delivers Top-Notch Sound
Features:
Design:
This device's design is lightweight and portable.
The overall design is rated with an IP67 rating.
You need optional accessories like keys, bags, and more to attach to this device.
This product comes with a shiny circular design.
Its diameter is 1.26 inches or 31.9 mm, while its thickness is .31 inches or 8 mm, and its weight is 11 grams.
Performance:
When you use this device, you can precisely find your missed item.
The product comes with a privacy feature that means the device cannot track your location.
Its lost mode feature enables a person that finds your AirTag to contact you.
Battery Life:
This fantastic device comes with a CR2032 battery.
According to Apple's claim, it lasts up to a year before it requires replacing.
The battery of this device is simple to replace.
Price & Availability:
If you want to purchase a single Apple AirTag, it can cost you around $29. 
You can purchase a pack of 4 by paying approximately $99.
If you want to attach this small device to keys, bikes, or other items, you need to buy an optional key loop or fob. It will cost you around $29 which comes in silicone or leather. 
Apps:
This device is all controlled through the Find My App.
All settings can be done with the help of an iPhone or iPad.
However, for that, you need to upgrade to iOS 14.5.
Tracking Hardware:
The best thing about this device is that it comes with lots of tracking hardware inside it.
The device works using a combination of technologies such as Bluetooth, U1 chip, and NFC.
U1 chip is used for precision finding, Bluetooth helps in proximity finding, and NFC tap for Lost Mode.
One of the fantastic features of this tiny device is that setting up it is a hassle-free process.
You can easily pair it with your Apple Cloud ID, and you are all set to use this fantastic product.
How does Apple AirTag work?
Apple AirTag is an easy way to search for your lost things.
When you have an AirTag, first you have to pair it with your Apple ID. Once paired with your ID it will be displayed in your FindMy app.
In case, you want to keep many items paired with your FindMy app, you will have to take an individual AirTag for every item.
By the way, a set of 4 AirTags is also available on the market.
You can attach one to your wallet and keep another in your backpack and so on.
Also, they are on your radar in the Find My app.
If you have misplaced your key or wallet anywhere, you need not worry. If your useful item is attached to your Apple AirTag, you have just to say, "Hye Siri, find my key (or wallet)."
Or your lost item is lying nearby you, within the Bluetooth range- like under the couch or in a room beside you, your Apple AirTag will trace your item.
It will create a sound. Just follow the sound and your search is completed.
When you ask your AirTag to find something attached to it, your AirTag sends out a Bluetooth signal. This signal is detected by nearby devices in the Find My network. Thus you find your lost things.
AirTag ensures your privacy:
The whole process of finding the misplaced articles through a Bluetooth signal is entirely encrypted.
Therefore, you need not worry about your privacy. It is claimed to be fully secured.
Price:
Wrapping Up:
In a nutshell, The Apple AirTag acts as an insurance policy, as it guarantees to recover the misplaced item attached to it.
Even then, if you are wondering, whether you should buy an Apple AirTag or not, then here is the answer to it.
You Should Purchase An Apple AirTag If…
You require a precise direction to find your missing item.
You're worried about your privacy.
You want to personalize the look.
You Should Not Purchase An Apple AirTag If…
You're on a tight budget.
You do not own an iOS device.
You want to share your location tracker.