Amazon Echo Show 5 coming in June with a 5.5-inch screen in India at ₹8,999
Amazon Echo which is colloquially known as Alexa is a smart speaker developed by Amazon.
This connects to the voice-controlled personal assistant which is called Alexa which response to our requests. It is done by registering your voice in it.
Amazon released its Echo series on November 6, 2014. It is launching more of these series and has come up with Amazon Echo Show 5 which will release this June. This device is known to be smaller than the Amazon Echo series range.
This has a 5.5-inch display with the provision of a video call. Amazon Echo Show was one of the recent products.
Don't Miss – Amazon wearable device: That can read human emotions
Amazon Echo Show has a 10.1-inch display with an improved speaker and mesh casing. Now Amazon has gone a step ahead and is going to release Amazon Echo show 5 with a smaller display.
This is placed at an entry-level device where people can get home this product at affordable prices. This brings home Amazon assistant Alexa with the tablet-like screen which gives us easier interaction.
This has privacy settings. Amazon has built-in an extra button for this, when toggled will electronically disconnect the microphone and camera.
So, whenever somebody watches any audio or videotapes this gives us an indication which will help us not to worry if they are being watched without permission.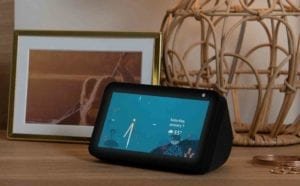 This brings the concept of a smart home like the other Echo products. This will try to manage our house when the Internet of Things devices are connected to the same.
Because of its compact size, it is portable and affordable at the same time.
Amazon has started accepting pre-orders for this product which is going to be released in June 2019.
So, install your Amazon Smart device soon!