The giant American company Amazon's True Wireless Earbuds named Amazon Echo Buds 2nd Gen have now been available in India.
Amazon is known for offering various types of products and services like retail goods, ebook readers, artificial intelligence, consumer electronics, retail stores, etc.
Since the use of earbuds has increased a lot for some time now. Since earbuds are truly wireless they are comfortable to use. Due to its usefulness, it is no longer just a status symbol but has become a necessity.
Nowadays most smartphone users prefer true wireless earbuds in comparison to wired earphones. Due to this, the demand for earbuds has increased a lot.
Keeping in mind the huge market of Earbuds, Amazon has also entered the field of manufacturing earbuds.
In the earbuds line up, Amazon has introduced Echo Buds 2nd Gen which are now being made available in India as well.
The all-new Echo Buds are available in two variants as under.
Wired charging option
Wireless charging case option
The earbuds with the wireless charging case option are a bit costlier than the earbuds with the wired charging option.
Amazon Echo Buds 2nd Gen: Specifications
Amazon Echo Buds 2nd Gen is equipped with advanced features like active noise cancellation, dynamic drivers, wireless charging capability, Alexa support, etc.
Driver Size:
The driver is one of the most important components of an audio device. It uses the driver which converts the electric current into sound. So the sound we hear is generated by the drivers.
The Amazon Echo Buds 2nd Gen is equipped with dynamic drivers of 5.7mm. The drivers are able to provide a sweet sound.
Read Also:
JABRA ELITE 75T: True Wireless Earbuds
Active Noise Cancellation System:
When you are talking or listening to music, the ambient noise becomes a problem. To get rid of this problem most of the premium quality earbuds are being equipped with active noise cancellation technology.
Amazon Echo Buds 2nd Gen is powered with an Active Noise Cancellation (ANC) system.
When you want to turn on the ANC you have to press and hold the earbud or just to say, "Alexa, turn on noise cancellation."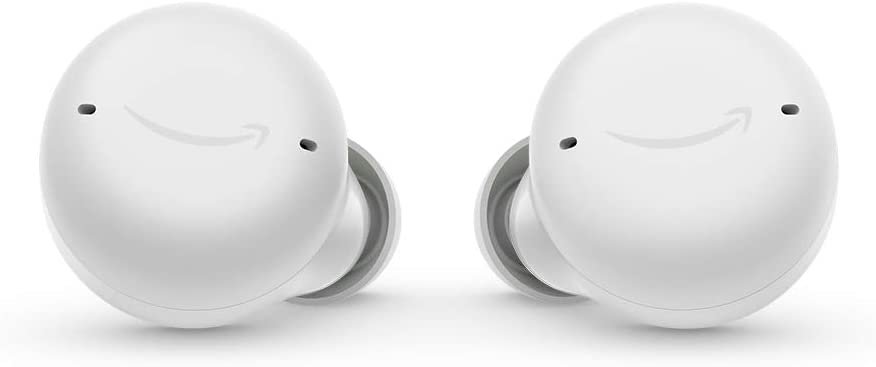 Passthrough Mode:
When you want to hear what is happening around you, then you can activate Passthrough Mode.
To turn on the pass-through mode you have to press and hold either earbud or just say, "Alexa, turn on passthrough."
When your pass-through mode is on, you can adjust the amount of ambient sound you hear through the setting in the Alexa app.
This way you can listen to the sounds around you while you are calling or enjoying music. That is, you can stay connected to both by balancing the sound generated from your device and the sound coming from outside.
Water Resistance:
For getting protection from water and sweat Amazon Echo 2nd Gen has IPX4 rated water resistance power.
The IPX4 rating means the earbuds have sufficient protection against water, sweat, dust, etc.
Battery Backup:
In the matter of battery-based equipment battery backup is one of the important factors.
If we talk about Amazon Echo Buds 2nd Gen, they offer up to 5 hours of music playback on a single charge with Active Noise Cancellation and Alexa wake word ON.
Apart from this, they can also be charged twice additionally from their case. Thus they are capable of giving a total of 15 hours of music playback.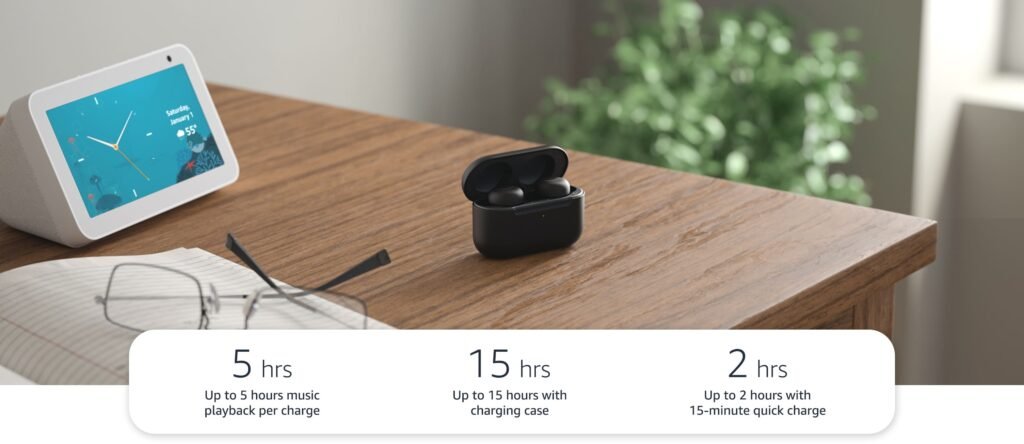 You can know battery status at any time:
If you want to know about the battery status of your earbuds during use, you can do so even while wearing them.
For this, you have just to say, "Alexa, what is my battery status."
You can check the battery status in the Alexa app also.
Besides the above, when your earbuds are inside the case, you can also check the battery status by the LED lights on the front of the earbuds when you open the case.
Charging Mode:
The earbuds available with a wired charging option will be charged via USB-C.
The earbuds with wireless charging case option can be charged with a compatible Qi-certified charging pad, which will be purchased separately.
Connectivity:
Bluetooth v5.
Connectivity range 10m.
Comfortable Fitting:
In the case of earbuds, their fitting in the ears of the user is also an issue. If their size does not suit the ear of the user then the user feels uncomfortable.
Keeping this problem in mind these days earbuds makers are also providing 3 or 4 ear tips of different sizes along with the earbuds. So that users can use ear tips suited to their ears.
Amazon Echo Buds (2nd Gen) come with four ear tip sizes and two wingtip sizes. You can tailor the most comfortable fit for you.
The easy Ear Tip Fit test in Alexa App will help you to get the most suitable fit for you.
Touch Control:
Although you can control the earbuds by giving commands to Alexa, a capacitive touchpad is also available on each earbud. With its help, you can give commands to the earbuds without engaging Alexa.
By default, earbuds get command by touch control as under.
One tap for play/pause.
Two taps for the Next track/Answer or End call.
Three taps for the previous track.
Long press to turn on ANC or Pass through.
The above setting is by default, however, you can customize the settings as per your choice with the help of the Alexa App.
Alexa Support:
Amazon Echo Buds 2nd Gen is equipped with various advanced features.
However, the main attraction of them is they have Alexa support.
By using the Alexa app you get the various facilities, some of them are as under.
ANC control
Equalizer control
Enable wake words
Battery status
Find my device
Customize tap controls
Ear Tip Fit test
Work out data
Power saving mode
Move my music
Eco-friendly:
If you are a nature lover and ask whether Amazon Echo Buds 2nd Gen are eco-friendly also.
The answer is – "yes".
Amazon has a badge on the Echo Buds page which says, "Climate Pledge Friendly".
Of course, it means "eco-friendly".
Should you buy Amazon Echo Buds 2nd Gen?
After looking at the specification of Amazon Echo Buds 2nd Gen, they can be called a good presentation from Amazon.
Amazon is a trusted brand. The goods and services offered by him are of high quality.
As far as the Echo Buds presented are concerned, they are equipped with all the features that one would expect from a good earbud.
Although I think there was scope to do something better in them. As the size of its drivers could be increased further so that the sound quality could be made better.
Apart from this, the duration of their battery backup could also be improved. Nowadays there are earbuds available in the market which give very good battery backup.
Well, if you ignore some of these things, then you find that the earbuds are equipped with many smart features. Especially they have the support of the Alexa app, which gives you many benefits.
Finally, it can be said that with many advanced specifications, the Amazon Echo Buds 2nd Gen is a great presentation in their price segment.
Buying them will prove to be a good deal.
Price:
In view of the advanced features of earbuds, their price is genuine.